Italian Love Cake is a super fun cake mix dessert made in a 13x9 inch pan. I found the recipe on Food.com, formerly known as Recipe Genius, and prior to that Recipezaar. It's always been a great source of interesting recipes, and Italian Love Cake is one of them.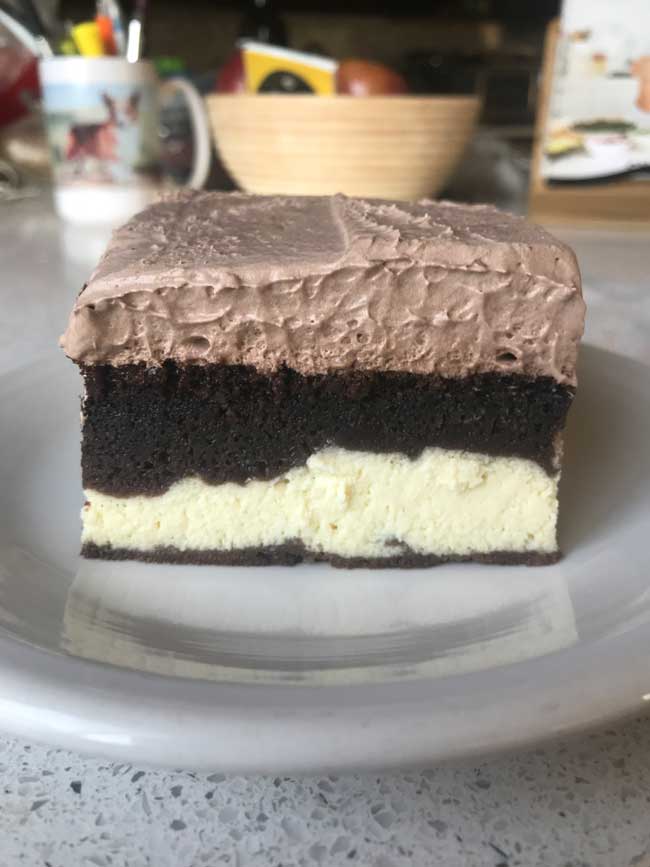 The cake seems like an American-Italian recipe that you'd find in church cookbooks from the eastern part of the United States in that it's "Americanized" with the cake mix, pudding mix and Cool Whip, but has Italian dessert qualities such as being less sweet, both cake-y and creamy and really pretty.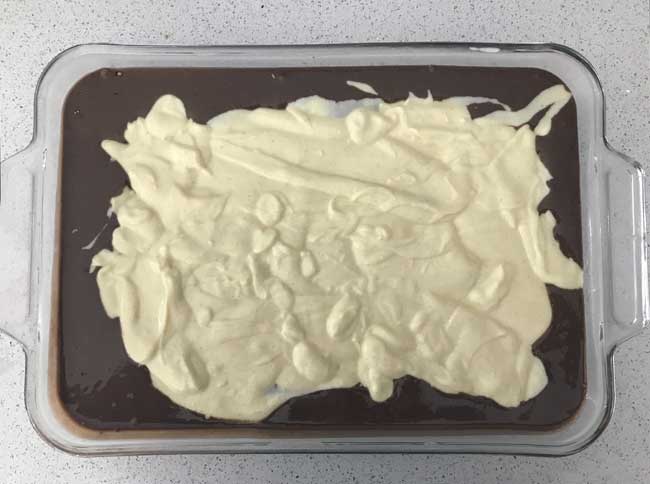 Italian Love Cake is also easy! You start with regular cake mix -- any brand will do. Then you mix the batter as directed and pour it in the pan. The second step is to mix together some ricotta, eggs and vanilla which you pour over the top.  Here's a lovely photo of mine before it went in the oven.
And here it is after.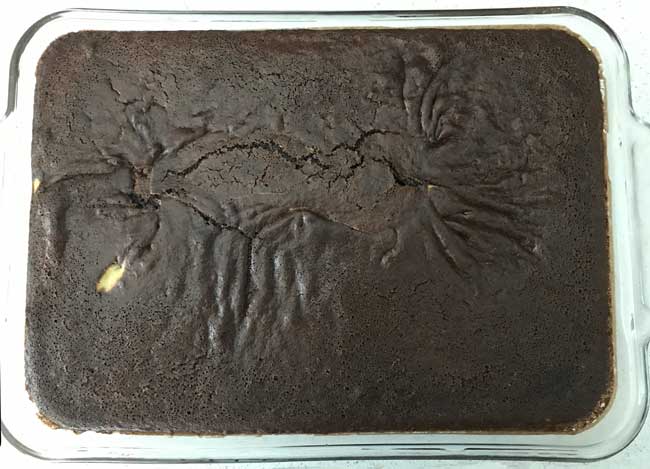 Once cooled you mix together some pudding mix and milk, fold in some Cool Whip, then spread over the top.
How Much Pudding Mix in Italian Love Cake?
Recipes differ. Some versions call for a 5.1 oz box of pudding mix while some call for 3.9. And the amount of whipped topping varies too. I went with the 3.8 oz box of pudding mix and used 1 ½ containers (12 oz weight total) of Cool Whip. You could get away with using 1 8-oz carton or maybe 2, but I liked the flavor of 1 ½ cartons. 
Serving and Freezing
Italian Love Cake makes a brilliant presentation. I used a glass dish because I was in a glass dish mood and it baked up perfectly at 325F. It looks pretty in the dish, but is beautiful when cut and plated. Since there was no way we could eat it all at once, I lifted the cake from the glass dish, cut it in half and froze half. So I'm happy to say it freezes quite well.
Recipe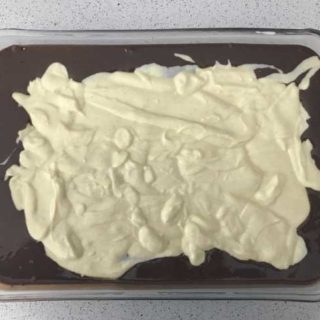 Italian Love Cake
Italian Love Cake made with cake mix, ricotta cheese and Cool Whip.
Ingredients 
1

15.25 oz package Betty Crocker Super Moist Chocolate Fudge Cake Mix

1 ¼

cups

water

3

large eggs

½

cup

vegetable oil
Ricotta Cheese Mixture
1

32 oz container whole milk ricotta cheese

4

large eggs

¾

cup

sugar

1

teaspoon

vanilla

or vanilla bean paste
Whipped Topping:
1 3.8

oz.

package instant chocolate pudding mix

1

cup

cold whole milk

2

8 oz containers whipped topping**
Instructions 
Preheat your oven to 350 degrees F if using a metal pan and 325 degrees F if using a 9x13 inch glass baking dish. I used 325 and a 9x13 inch glass baking dish. Grease bottom of the pan (or dish).

In a large mixing bowl, prepare the cake mix as directed on package. In this case that would be Betty Crocker Super Moist, so you mix the mix, water, eggs and oil and beat for 2 minutes. Pour into the baking pan.

In another bowl, beat together the ricotta cheese, eggs, sugar, and vanilla until smooth.

Spoon or pour the cheese mixture evenly over the top of the cake batter.

Bake the cake at 350 for 1 hour or 325 for 1 hour and 5 minutes(if using a glass dish) or until the cake seems firm to touch. Remove from the oven and allow to cool completely.

To make the topping, whisk together the pudding mix and milk. Fold the whipped topping into the pudding, then spread all over the cake. Cover and chill overnight (or for at least 4 hours minimum).
Notes
Use 1 carton of whipped topping plus as much as you need from the second carton. I used 1 ½ cartons.