Yesterday a reader notified me of a broken link to an old recipe by Alice Medrich called Browned Butter Brownies with Walnuts.  While fixing the link, it occurred to me that I hadn't made those brownies in a while and that I should do so immediately.  Then while fumbling around trying to find a square pan, I saw my 9-inch cast iron skillet and decided to use that instead.  So here they are, Cast Iron Skillet Brownies with Browned Butter and Walnuts.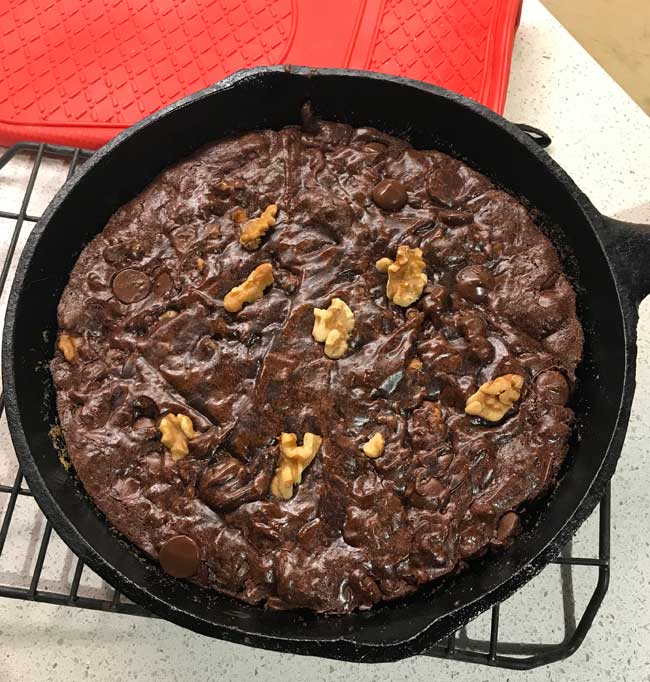 The recipe flows nicely because you brown your butter in the skillet, leave a little butter residue behind instead of greasing (though with a seasoned skillet, that shouldn't be an issue), then you bake the brownies in the skillet for crispy edges and chewy centers.  For Cast Iron Skillet Brownies, I would advise NOT leaving out the walnuts.  There are plenty of recipes for brownies without nuts, but this recipe needs them.  The question is, does it really need the skillet?  Probably not.  The brownies look  awesome in the skillet and it does give them chewier edges, but feel free to just use an 8 inch pan as in the original.
6.5 Inch Cast Iron Skillet
I recently tested this recipe in a 6.5 inch cast iron skillet and it worked perfectly. All you have to do is halve all of the ingredients. I prefer using natural style cocoa because I just like the flavor better, but I made the 6.5 inch version with dark Dutch cocoa and they were pretty good too.
Recipe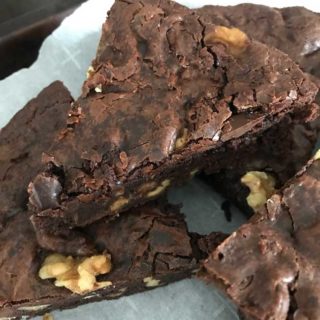 9 Inch Cast Iron Skillet Brownies with Browned Butter and Walnuts
An easy brownie recipe baked in a 9 inch cast iron skillet.
Ingredients 
10

tablespoons

unsalted butter, cut into 1-inch pieces

(140 grams)

1 ¼

cups

sugar

(250 grams)

¾

cup

unsweetened cocoa powder, natural or Dutch

(60 grams)

2

teaspoons

water

1

teaspoon

vanilla extract

¼

teaspoon

salt

2

large

large eggs, cold

⅓

cup

plus 1 tablespoon unbleached all-purpose flour

(54 grams)

1

cup

toasted walnut pieces

½

cup

bittersweet chocolate chips
Instructions 
Preheat oven to 325 degrees F.

In a 9 inch cast iron skillet, melt the butter over medium heat, swirling or stirring gently.  It will crackle, foam and eventually start to brown.  Allow it to brown just until it is fragrant, then remove from heat and carefully (use your best oven mitt!) pour into a mixing bowl, leaving a thin coating of residual butter in skillet. Whisk or just stir in the sugar, cocoa powder, 2 teaspoons water, vanilla and ¼ teaspoon salt.

Let the mixture cool for about 5 minutes.  It will still be hot. Add eggs to hot mixture 1 at a time, beating well after each egg is added.   Add flour and stir until blended. Beat or whisk 60 strokes. Stir in nuts.  At this point batter should be just slightly warm, but not so warm it will melt the chocolate chips.  Stir in ½ cup of chocolate chips and scrape batter into the cast iron skillet.

Bake brownies for 25 minutes.  They should appear shiny and set.  Let cool completely, then cut into wedges and gently pry from the skillet.