Aside from the drawbacks of being left with a challenging-to-clean pan and 14 egg yolks, angel food cake is one of my favorites, and over the years I've tried several different recipes. Still, the angel food cake I keep going back to is the one from Good Housekeeping Baking. There's the usual angel food cake flavored with vanilla and almond extract, and now this chocolate angel food cake.
This cocoa-heavy chocolate angel food cake is also made with 14 egg whites and leaves you with a pan even more difficult to clean than the vanilla flavor. Is it worth it? Yes! Like vanilla flavor, chocolate angel food cake, while a little plain by itself, is the perfect blank slate for adding plain or flavored whipped cream and whatever type of berries are in season. To date, I've made the chocolate variety once as a loaf and once as a full cake. I'm still partial to the vanilla flavor, but this was an interesting change.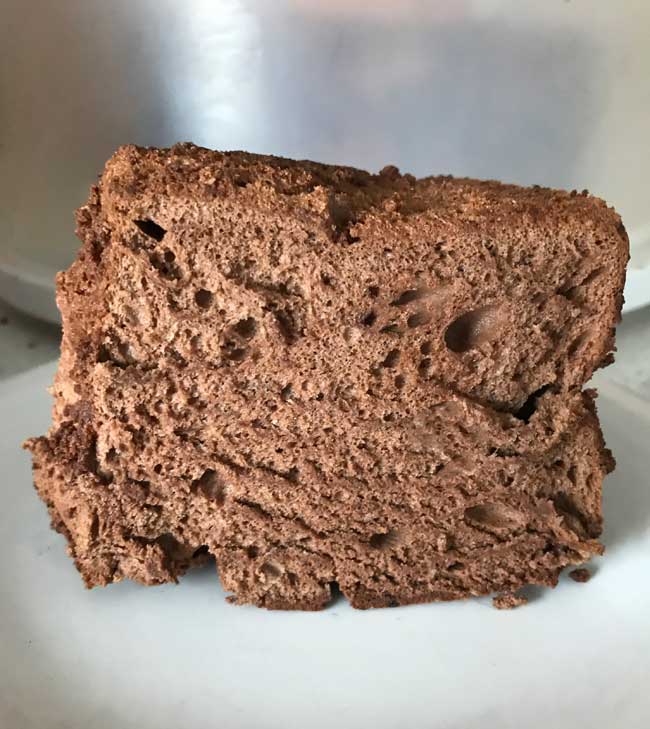 If you like the idea but don't have the right pan (or don't need a full batch) and want to try making chocolate angel food cake in a loaf pan, here's a link to Loaf Pan Chocolate Angel Food Cake.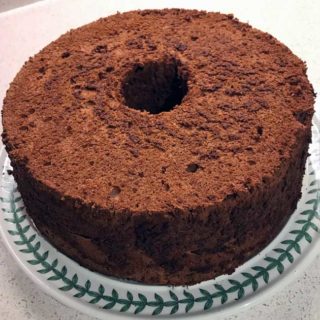 Chocolate Angel Food Cake
Chocolate Angel Food Cake
Ingredients 
14

large egg whites

3/4

cup

cake flour

84 grams

1/2

cup

unsweetened cocoa powder

40 grams

1 ½

cups

sugar

divided use (300 grams)

1 ½

teaspoons

cream of tartar

1/2

teaspoon

salt

1 ½

teaspoons

vanilla extract
Instructions 
Put the egg whites in the bowl of a stand mixer and bring them to room temperature.

Sift together the cake flour, cocoa powder and ¾ cup (150 grams) of the sugar. After sifting, stir well and make double-sure everything is well mixed. Set aside.

Add the cream of tartar to the egg whites and beat with the whisk attachment until frothy. Continue beating, increasing speed gradually, until the egg whites are soft, but not quite stiff. Continue beating, gradually adding the remaining sugar one tablespoon at a time, until the egg whites are thick and billowy. Beat in the salt and vanilla.

With mixer on lowest speed, gradually add the sifted flour mixture. When flour mixture is fully blended, remove from the stand and with a heavy duty scraper, fold in any unevenly mixed cocoa mixture.

Scrape the cake batter into the angel food cake pan. It should come a little over half way up the sides.

Bake at 350 for 35 to 40 minutes. Remove from the oven and turn upside down on the pan's legs. Allow the cake to cool for about an hour, then carefully slide a knife between the edges of the pan and the cake and push the cake out. Slide the knife between the cake and the pan bottom to loosen.

Let the cake cool completely.
Notes
If using extra large eggs, you'll most likely only need 12.