Our refrigerator died this weekend, and since we don't have a spare we had to use up all the cold food including some eggs.  This Lemon Chiffon Cake was the result. I was pretty unhappy about losing the refrigerator, but on the bright side we have this cake!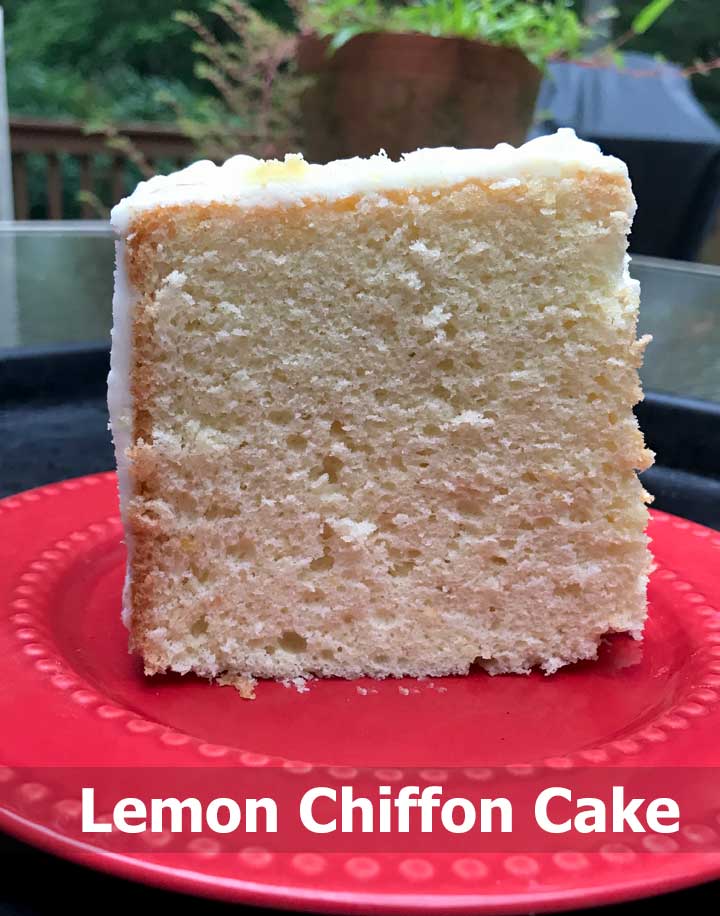 This cake was a success, and not just because it used 7 of the eggs. The texture is fluffy and soft and the lemon flavor is just right. The recipe is based on one from Jean Anderson's American Century Cookbook with a few changes here and there including a frosting, which I skimped on thinking that Chiffon Cake didn't really need it. That's why my cake is not so pretty. I made half batch of frosting and just slapped it all over the cake dragging the crumbs along with it. To be honest, I was in a bad mood and it was a purposeful attempt at making an ugly cake, and I felt better after doing it :). Just make the full batch of frosting and your cake will be beautiful.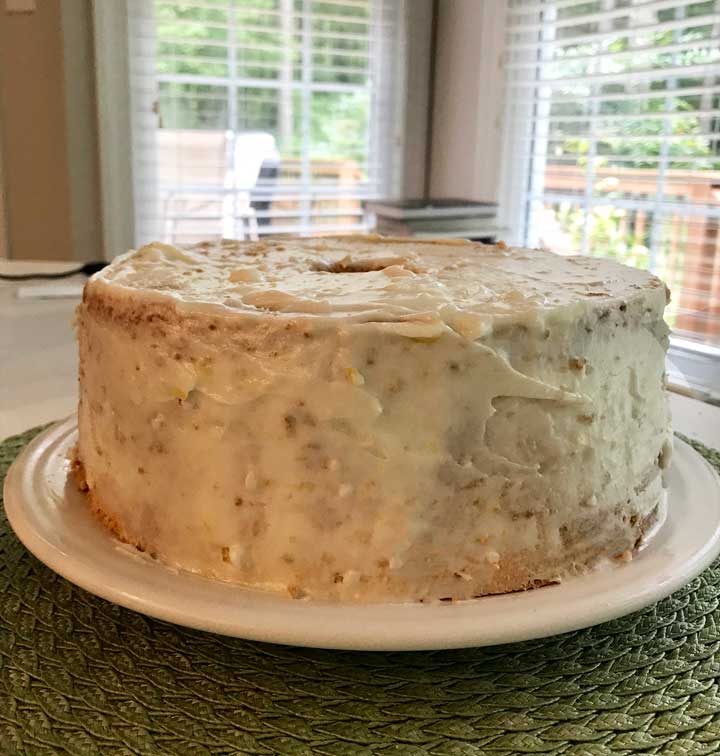 Best Lemon Chiffon Cake Ever!
Appearance aside, this cake is going in my permanent Chiffon Cake collection which maybe includes three recipes at the most. I've made Chiffon Cake a time or two, but they've never been particularly memorable. This one was. I'm going to make it again soon and try a few variations from the book. They're listed in the notes.
Room Temperature Eggs
By the way, did you know American eggs that have been refrigerated aren't supposed to be left out for more than two hours? I had a murky idea about egg safety, but I read up on it. It seems American eggs are washed, which removes their protective film leaving them vulnerable to bacteria. So unless your eggs are fresh and have never been refrigerated, you are not supposed to leave them out for more than two hours.
Recipe
Lemon Chiffon Cake
A light textured lemon cake made with eggs and oil.
Equipment
Removable Bottom Tube Pan
Ingredients 
7

large eggs

separated and brought to room temperature

2

cups

all-purpose flour

250 grams (I used 250 grams White Lily)

1 ½

cups

sugar

300 grams

3

teaspoons

baking powder

1

teaspoon

salt

½

cup

light tasting olive oil

or use canola

¾

cup

water

4

teaspoons

grated lemon zest

1 ½

teaspoons

vanilla extract

½

teaspoon

lemon extract

½

teaspoon

cream of tartar

FROSTING:

6

tablespoons

butter

softened 84 grams

3

cups

confectioners' sugar

360 grams

4-½

teaspoons

grated lemon zest

¼

cup

lemon juice

or as needed

Dash salt
Instructions 
Preheat oven to 325°.

Sift together the flour, sugar and baking powder until evenly mixed. You can sift once or twice depending on how lumpy your flour is. Stir in the salt until it is blended evenly. Put this mixture in a large mixing bowl.

In a medium size bowl, whisk the egg yolks. Drizzle in the olive oil, whisking all the while, then pour in the water and whisk until evenly blended. Stir in the lemon zest, lemon extract and the vanilla.

Add the egg yolk mixture to the flour mixture and stir with a heavy duty scraper or mixing spoon until evenly mixed.

Using a hand held mixer or the whisk attachment of a stand mixer, beat the egg whites and the cream of tartar until stiff peaks just start to form. With a heavy duty scraper or large spoon, fold ¼ of the egg whites into the egg yolk mixture. Continue folding in egg whites ¼ at a time.

Fold mixture once or twice to make sure everything is evenly blended, but don't overmix or you'll deflate the whites.

Gently spoon batter (or pour, but do it gently) into an ungreased 10-in. tube pan. Cut through batter with a knife to remove air pockets. Bake on lowest oven rack 50-55 minutes or until top springs back when lightly touched. Immediately invert pan; cool completely in pan, about 1 hour.

Run a knife around sides and center tube of pan. Remove cake to a serving plate.

To make the frosting, combine the confectioners' sugar with the softened butter and beat until blended. Begin adding lemon juice a tablespoon at a time, stirring until creamy. Beat until smooth, then beat in zest. Spread over cake.
Notes
I haven't tested any of the variations yet, but these are some suggested in the book: For Butterscotch Chiffon, prepare as directed but substitute 2 cups of NOT PACKED brown sugar (probably about 300 grams if not packed) for the granulated sugar. Omit the lemon zest and the lemon extract.  For Orange Chiffon, omit or just reduce the vanilla to ½ teaspoon, omit lemon zest and lemon extract and use 3 tablespoons of grated orange zest.  Also, substitute orange juice for the water.  For Chocolate Chip Chiffon Cake, increase the sugar to 1 ¾ cup.  Just before pouring into the pan, add 3 oz of freshly grated semisweet chocolate.