Buttermilk Pie — An Unexpected New Favorite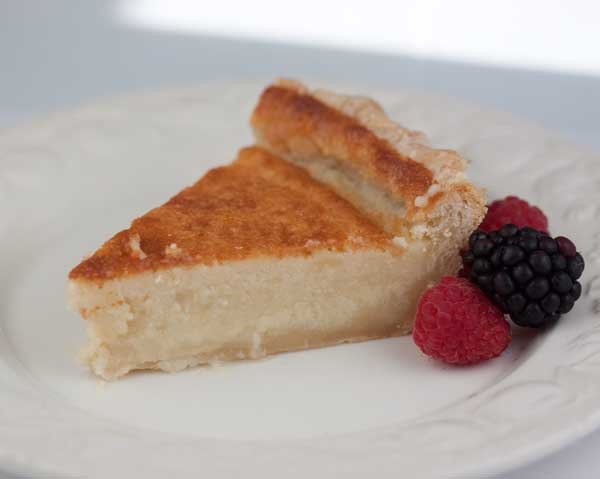 Buttermilk pie was never high on my list of desserts until a few years ago. My sister-in-law brought one to Thanksgiving dinner and everyone went crazy over it. If she'd made that buttermilk pie, I would have asked for the recipe, but she'd bought it from a lady in town who made pies, so I knew I'd have to try a few recipes to get a match.
It took me a while, but I did make a buttermilk pie (also known as Magnolia Pie) a few months ago using buttermilk powder. It was excellent, and I knew I'd be making buttermilk pie again.  That day came yesterday when I had a cup of good buttermilk to use up.  This most recent buttermilk pie was definitely the best.  Some key steps are to use really good butter, don't melt the butter completely – just soften it until goopy, use good vanilla or Nielsen Massey Vanilla Paste
, and use a good all-butter crust. I'm torn on whether I like crusts with shortening & butter or all-butter, but in this case the flavor of the all-butter pie was spectacular with the buttermilk filling. I used the New York Times All-Butter Crust recipe, used European style butter, and let the dough rest before rolling, and rest in the pie dish after it had been lined.
Buttermilk Pie
Buttermilk Pie made in the traditional fashion but with less sugar and no lemon. Use the best butter and vanilla extract you can find.
Ingredients
9 inch deep dish unbaked pie crust
1 stick (4 ounces) high quality unsalted butter
1 cup plus 3 tablespoons sugar
3 large eggs
1 1/2 teaspoons good quality vanilla extract
3/8 teaspoon salt
3 tablespoons all-purpose flour
1 cup fresh, well-shaken buttermilk
Instructions
Preheat the oven to 350 degrees F. The rack should be in the lower third of the oven.
In a microwave-safe bowl, melt the stick of butter using a low setting such as 30 or 40% power. You want the butter to be soft and goopy rather than liquid. Let it cool slightly. If you melt it at a low heat it won't be too hot to begin with.
In another bowl, beat the eggs with a handheld electric mixer.
In a mixing bowl, combine the goopy, soft butter with the sugar and beat with the mixer until light. Add the beaten eggs and beat for a couple of seconds or just until mixed. Beat in the vanilla and salt.
With a large mixing spoon or silicone scraper, stir in the flour. When flour is incorporated, very gradually add the buttermilk, stirring until blended.
Pour into the pie shell and bake for 45 to 50 minutes or until top is lightly browned and center is slightly jiggly. If you use a ceramic pie dish such as an Emile Henry, you might need to add an extra 10 to 15 minutes (60 to 65). If pie is looking very brown toward the end but is not quite set, cover with a sheet of foil.
When the pie is done, it will not be completely stiff, but it should not be too loose and shaky, either. It should be just slightly jiggly while hot and should set as it cools.