Today's recipe is an addition to the ever growing cookie bark recipe collection. First there was the scratch Brownie Bark, then came Snickerdoodle Bark, Monster Cookie Bark, and a delicious Lemon Muffin Mix Cookie Bark. Now there's Pumpkin Cake Mix Cookie Bark. Scratch pumpkin bark is tricky since the moisture in pumpkin tends to make the bark cake-y, but pumpkin cake mix solves that problem.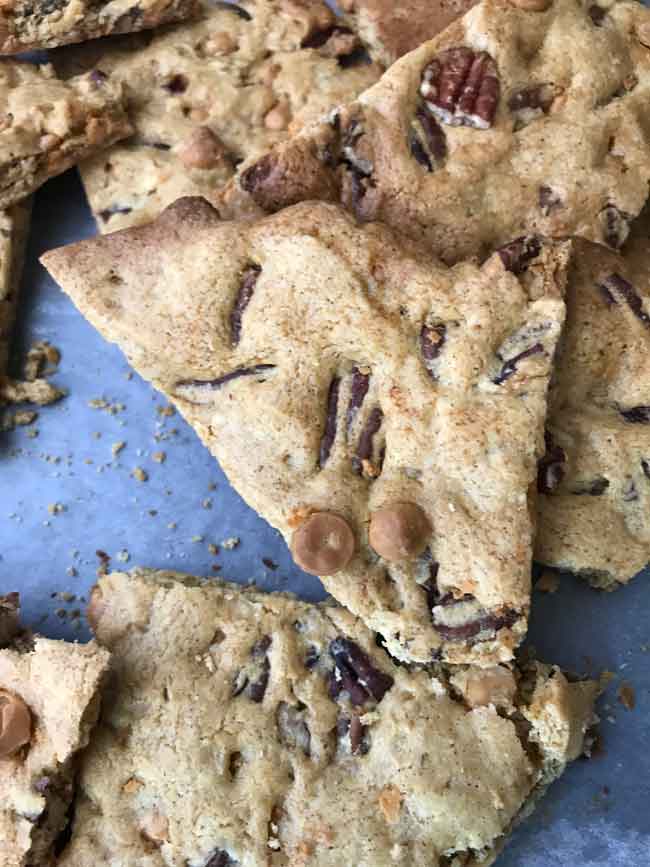 Perfectly Pumpkin Cake Mix
The cake mix I use is Pillsbury's Perfectly Pumpkin which you can find at Target during the holiday season starting in late September or early October. Target usually puts it with the Halloween things, so if you don't see it on the baking aisle check the Seasonal section. It's also available on Amazon, so that's an option as well.
Hershey's Cinnamon Chips
The recipe also calls for Hershey's Cinnamon Chips, which like Hershey's Salted Caramel flavored chips are magical unicorns of the baking aisle. I usually only see the cinnamon chips when I don't need them and then when I do need them they're gone. When I first made this recipe I was lucky to have some, but when I made a batch today I had to use butterscotch chips because the four grocery stores I went to didn't have cinnamon. The picture above is with butterscotch chips, while the old picture below is from when I made it with cinnamon chips.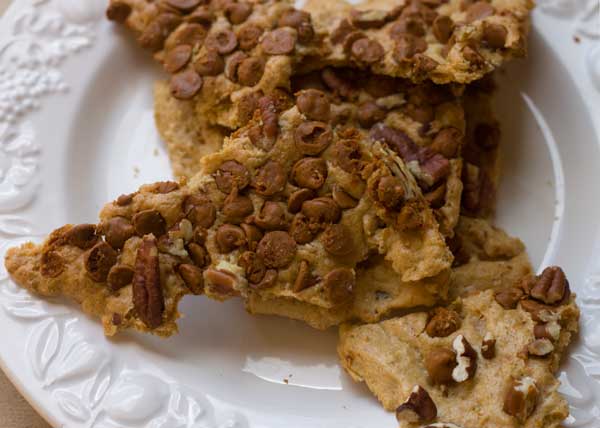 If you have a scale and don't want to make a full batch of this, the recipe is easy to halve. Just weigh out half a box of cake mix powder and halve everything else.  Also, don't be deterred by the powdered milk.  Sure, you could try just leaving it out and it might be fine, but powdered milk is a handy ingredient to have around and you can always reconstitute it when you need milk for baking but don't have any in the fridge.
Cake Mix Flavor Variations
And finally, let me know if you try this with a different flavor cake mix. I love the idea of mixing and matching cake mix flavors with different types of candy and nuts, but so far I've only made this version with the pumpkin.
Recipe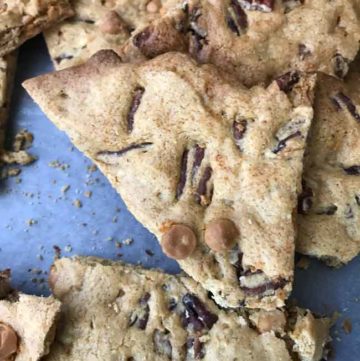 Pumpkin Cake Mix Cookie Bark
If you're not in the mood for pumpkin cupcakes, use a 15.25 oz of pumpkin flavored cake mix to make cookie bark.
Ingredients 
2

egg whites

1

15.25 oz box of Perfectly Pumpkin Cake mix

4

tablespoons

vegetable oil

melted coconut oil or grapeseed oil

4

tablespoons

of water

2

tablespoon

of dry milk powder

1

teaspoon

of vanilla

½

cup

oats

old fashioned or quick both work

1

cup

cinnamon chips

more if desired or butterscotch flavored

1

cup

toasted and chopped pecans
Instructions 
Line a large rimmed baking sheet with parchment. If your baking sheet is smaller than 13×18 inches, use two sheets or cut the recipe in half. Preheat the oven to 325 degrees F.

With an electric mixer, beat the egg whites until soft and foamy (not stiff). Add the cake mix, oil, water, milk powder vanilla and oats and stir until you have a very soft dough. Stir in the chips and nuts.

Dampen fingers and press the dough into a large slab about 12×14 inches. It should be very thin.

Bake for 20 minutes. Remove from the oven and score with a pizza cutter. Separate the pieces just a little bit. Turn off the oven and put the tray back inside. Allow the bark to sit in the "off oven" with the door closed for another 5 minutes. Note: If your bark is very brown around the edges, you can skip putting it back in the oven and just let it cool on the sheet.