Walnuts were on sale recently so I loaded up, forgetting that I'd already bought a bunch the week before. But having too many walnuts around is never a bad thing -- especially when you also have all the ingredients for banana bread. And this recipe was the result. It's adapted from the recipe on the back of the Diamond Walnut bag, but slightly different in that I added a little vanilla, used yogurt instead of buttermilk and used melted coconut oil for the oil. I wish I'd tried this one sooner because the nuts add so much flavor. I always think of them as adding texture to bread, but in this case they just really enhance the flavor as well.  This one gives the Starbucks Banana Bread Copycat some competition!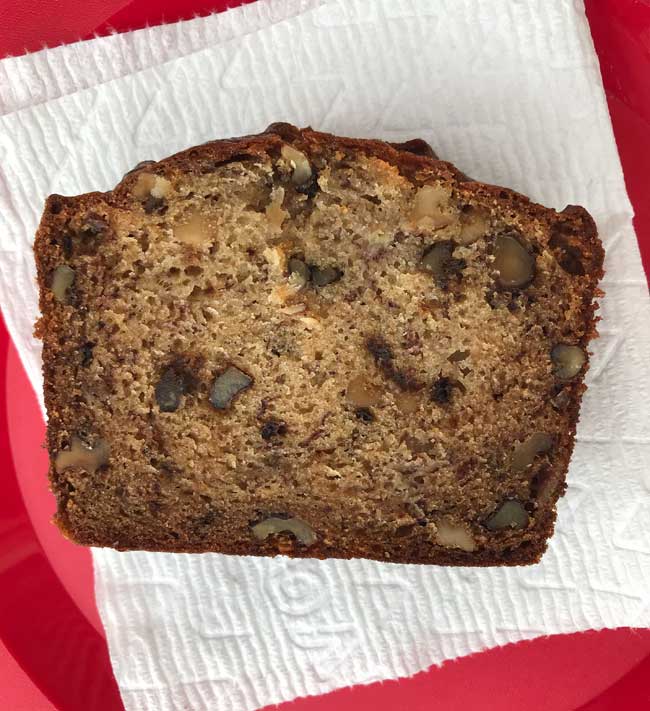 Diamond Walnut Banana Bread
1 ⅓ cups walnuts, chopped
1 ¾ cups flour (7.8 oz)
1 teaspoon baking soda
½ teaspoon salt
2 large eggs
1 ⅓ cups granulated sugar
1 teaspoon of vanilla (my addition)
1 ¼ cups (I used 11 oz by weight) mashed bananas
3 oz yogurt or ⅓ cup buttermilk (I used yogurt)
⅓ cup vegetable oil or melted coconut oil (I used coconut oil)
Preheat oven to 350 degrees F. Lay walnuts on a tray and bake for about 8 minutes or until they are aromatic and start to release their oils. Set aside to cool.
Meanwhile, grease an 8 ½ by 4 ½ or a 9x5 inch loaf pan and line with a strip of parchment (or just dust with flour).
In a bowl, mix together the flour, baking soda and salt. Set aside.
In a mixing bowl, beat the eggs, sugar and vanilla together. Add the bananas and yogurt and stir until blended, then add the flour mixture and the walnuts and stir until blended. Lastly, stir in the oil.
Bake for one hour at 350, shielding top with foil during last 15 minutes of baking if needed.
Allow bread to cool in the pan, then carefully remove and let cool completely.