I'm pretty comfortable making almond toffee, but pecan pralines are a different story. I just haven't been able to pick one recipe that makes the kind of praline I'm looking for -- a praline that is firm but snaps, melts in your mouth and has some dairy flavor to it. And most importantly, which works every time. Now I think I've got one!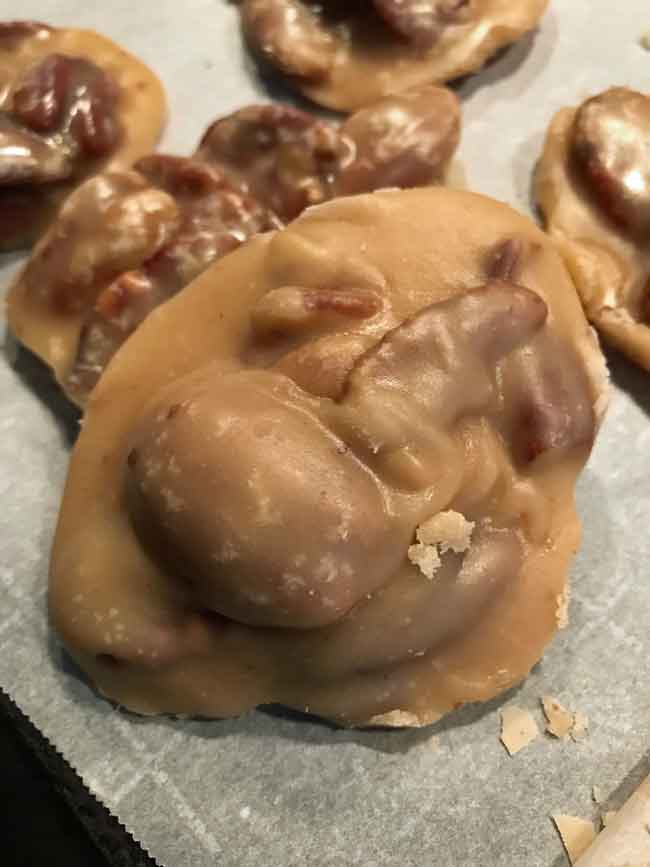 The original recipe is originally from Emeril, who knows a thing or two about making Southern style pralines!  It's a 5 star recipe, but I still made a few of changes including increasing the pecans, adding the vanilla and removing the candy around 235/236 rather than 238/240F.  I also toast the pecans and toss them with a little butter and salt.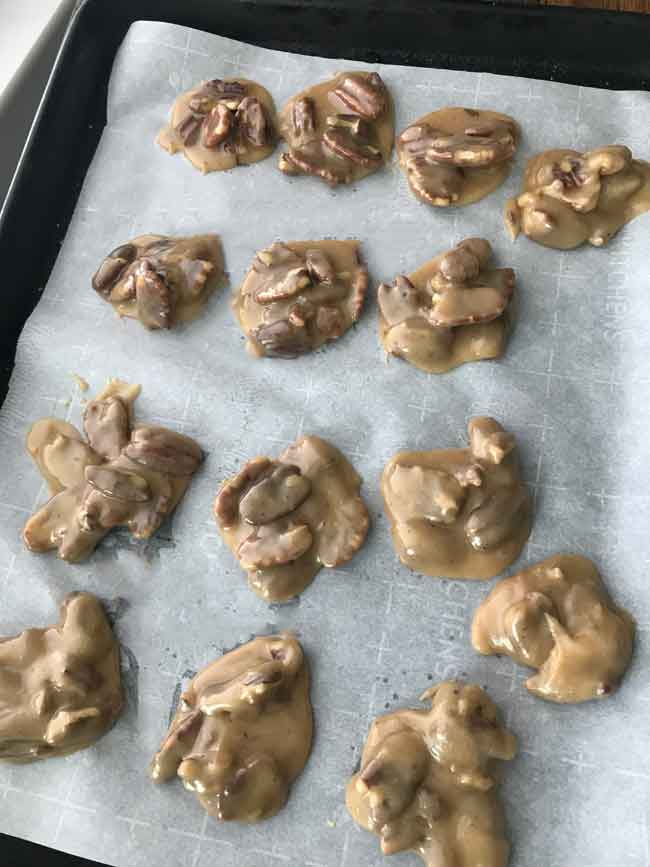 Tips for Making Pecan Pralines
Here are some tips that I've found helpful.
Use the right size pan.  I'm currently using a 3 quart saucepan called The Green Pan which works really well for candy.  Using a bigger pan will cause the sugar mixture to boil quickly and using a smaller pan will do the opposite, so it's best to stick with the 3 quart size for this recipe.
Keep the sides of the pan and spoon clean to keep sugar from crystallizing on the side.  The Green Pan is nonstick and I haven't had any problems with crystallization, so maybe it's safe to say using a nonstick pan for candy is a good idea?
Toast the pecans first.  I've tried pralines with toasted and untoasted pecans side-by-side and the toasted ones win hands down.
Don't let temperature of the sugar mixture rise too rapidly, and you shouldn't have to stir constantly -- just enough to prevent burning.
Use a wooden spoon to stir the praline mixture and be patient. If you cooked the candy to soft ball stage at a slow and steady pace it should thicken.
I take the pan off the heat around 235 or 236 knowing that the temperature may rise a little after.  This might vary depending on your pot, so if you remove your candy from the heat at 235 or 236 and the pralines don't set, try 238 or 240 the next time.
I use a deep fry candy thermometer because I like to watch the heat rise slowly.  Some candy makers like using the instant read thermometers, but I have no experience with those.
If you have more tips, let me know and I'll add them!
Here are some other recipes I've tried recently.
Marshmallow Pralines
I made them in a 3 quart pan and probably should have used a larger one because the melted marshmallows wanted to boil over. It took forever to come to temperature and forever to set. There are better uses for marshmallows, but it was fun to try them in pralines.
Pralines from Allrecipes.com
Said to be like the pralines you get in Savannah.  I made them with evaporated milk and they were pretty good, but next time I'd use half & half or cream for more fat to cut the sweet.
Dinner at Tiffany's
Very good, but took a long time to set and were very soft.  Probably should have taken off the heat at 238 or 240.
Vegan Pralines from Spruce Eats
These were actually really good!! I used the Country Crock Plant Butter (as usual) and almond milk.
Recipe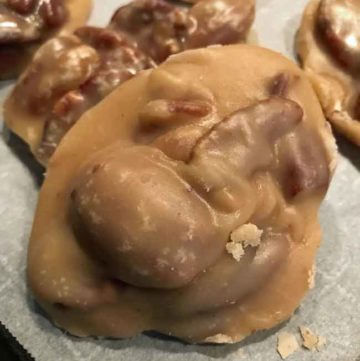 Southern Style Pecan Pralines
Pralines made with cream, two kinds of sugar and butter.
Ingredients 
1 ⅔

cup

pecan halves plus 1 teaspoon butter and a pinch of salt.

4

tablespoons

unsalted butter

(60 grams), cut into chunks

½

cup

cream or half & half

1

cup

granulated sugar

200 grams

½

cup

light brown sugar

100 grams

2

tbsp

water

¼

teaspoon

salt

1

teaspoon

vanilla
Instructions 
Line a baking sheet or flat surface with parchment paper.

Lay the pecans on a rimmed baking sheet and bake at 375 for 7 minutes or until they start to release their oils. Pull from oven and toss with about a little butter and a sprinkling of salt. Set aside to cool completely.

In a 3 quart saucepan, heat the 4 tablespoons of butter until it is partially melted, then add the ½ cup cream and heat butter and cream together just long enough to melt the butter. Remove from heat and (off heat) add both sugars and water stirring until mixture is uniformly blended. If sugar mixture has splashed up onto inside walls of pan, wipe it clean. Also, clean the spoon .

Set the pan back on the stove and insert a deep fry candy thermometer in center. Heat over medium, stirring only occasionally, until candy reaches 235 to 236 (soft ball stage). You don't have to stir constantly at first. Let it heat up until it gently starts simmering, then allow it to simmer/low boil with the temperature rising slowly and steadily. This should take 10 to 12 minutes.

Remove from heat and add salt, vanilla and toasted pecans, then stir with a wooden spoon for several minutes until mixture is thick enough not to flow everywhere when dropped from a spoon. Note that it may seem hopelessly loose at first, but if you heated it to soft ball stage it will start to thicken. When it does, quickly drop by large spoonfuls onto the parchment paper.

Let the pralines set, then peel off the parchment.
Notes
For the pecans, I like to use halves.  Feel free to use pecan pieces or chopped pecans if you prefer.  If you use pecan pieces, you'll only need about 1 ½ cups.
Soft Ball Stage: I take the pan off the heat around 235 or 236 knowing that the temperature may rise a little after.  This might vary by circumstance (your pot, how fast the temperature has risen, etc.), so if you remove your candy from the heat at 235 or 236 and the pralines don't set, try 238 or 240 the next time.