I call this recipe Best Ever Almond Toffee because it always gets rave reviews from people who eat it and make it. Some people even have written to say they've won contests and started businesses with the recipe!  That always makes me so happy, because this toffee really is a little different.  It's thick, chunky and has a light and crisp texture with a lot of little air pockets.  The technique differs from other recipes in that almonds are added early on, and baking soda is added at the very end to aerate the candy.
Like with other candy recipes, this one takes a little practice. So even though I've done my best to explain the process, you may need to make it a couple of times to get the hang of it. To help along the way, here are a few tips.
Almond Toffee Making Tips
Forget the "attach-to-the-pan" kind of candy thermometer and get a deep fry candy thermometer. If you have a fancy digital candy thermometer, that might work too. However, part of making this recipe is watching the mercury rise slowly and steadily so I'm not sure that would work as well for those new to candy making.
Sliced almonds look like this.
Cadbury Dairy Milk Chocolate works really well for the topping, but you can also top it with your favorite dark chocolate.  I tend to change up the chocolate depending on my mood.
A good way to pack this is in little cellophane twist-tie bags or of course, Paper Mart's (see packaging ideas section) tin-tie bags.
The finished candy should look something like this, though sometimes it's lighter in color. I think different brands of butter yield different results, but I haven't experimented enough to give you a definite reason. I'm usually so swamped with toffee requests I don't have time to be that methodical, and by the time the holidays are over, I'm tired of making toffee and can't deal with it until the next holiday season.
The recipe below is a fairly small batch. Once you master this size, you might want to double it.
High altitude? Check out the note at the bottom.
Recipe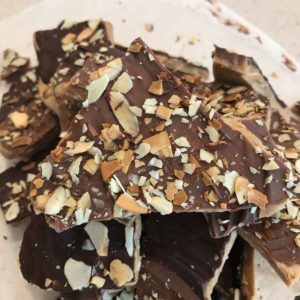 Best Ever Almond Toffee Revisited
Best-Ever Almond Toffee made with sliced almonds.
Ingredients 
1 ½

cups

sliced almonds

divided use

2

sticks unsalted butter

room temp or soft but not cold

1

cup

granulated sugar

½

cup

warm water

½

teaspoon

salt

½

teaspoon

baking soda

8

ounces

good quality dark or milk chocolate

chopped
Instructions 
Toast ½ cup of the almonds in a dry skillet. Set aside to cool.

Line a large rimmed sheet pan or jellyroll pan with parchment paper and set next to stove.

Place butter in a heavy bottomed, medium sized (3 qt) saucepan and melt over medium heat. When butter is mostly melted, stir in sugar, warm water and salt.

Set a deep fry thermometer in the pan, being careful that bulb is not touching bottom, and cook without stirring over medium heat until mixture reaches 240 degrees F.

At 240 degrees, add the remaining 1 cup sliced almonds to sugar mixture and begin stirring constantly, keeping heat at medium, until mixture reaches 295 degrees F. If temperature is not rising at a slow and steady rate, raise heat a tiny bit until mercury starts rising

When mixture reaches 290 (make sure it's no less than 290 and no more than 295 degrees F), immediately remove from heat and stir in baking soda. It will bubble up and lighten a bit and seem almost fluffy. Pour into parchment lined pan. The mixture should be kind of a liquid blob at this point and if you are on track, the saucepan will be clean when you dump the blob of candy onto the parchment. Mixture will begin to firm, and butter may pool and separate. Do not pour off any excess butter. Do not panic, because if you cooked the toffee to between 290 and 295, your candy should set. Sometimes it just takes longer.

While candy is still very hot and in the process of setting, scatter chopped chocolate across top of hot and let chocolate melt into and over the candy as candy firms. Using back of a spoon, spread melted chocolate evenly over candy. Crush your toasted almonds and sprinkle over melted chocolate. Let candy cool for a ½ hour or more at room temperature. Transfer to refrigerator and chill for about 1 hour to firm chocolate.

When chocolate is set is set, lift candy from pan by grasping parchment. Break candy into large chunks.
Making Almond Toffee at High Altitude
From a reader named Steve: I finally had some time today to try the almond toffee recipe. I
experimented with the first batch I made and followed your recipe. I pulled
the mixture at 295 degrees and the heat carryover pushed it a bit over 300
degrees. It came out fine. It was so tasty I made another batch right away.
So if any other readers are wondering about adjustments for high altitude
for this recipe, I wouldn't recommend any. It is an easy recipe to follow
and very delicious. I am adding this to my MUST make recipes for Christmas
gifts.........Steve