Everyone is trying new things this week, so I did too — Hot Chocolate Mug Cake. Until yesterday I was resistant to the idea of microwave chocolate mug cake, but lately I've had trouble finding ingredients for baking projects, and they just made sense. So mug cake it is, and a 5 minute one at that!  This recipe is about as easy as they come.  It cooks in less than a minute and is perfect for topping with ice cream.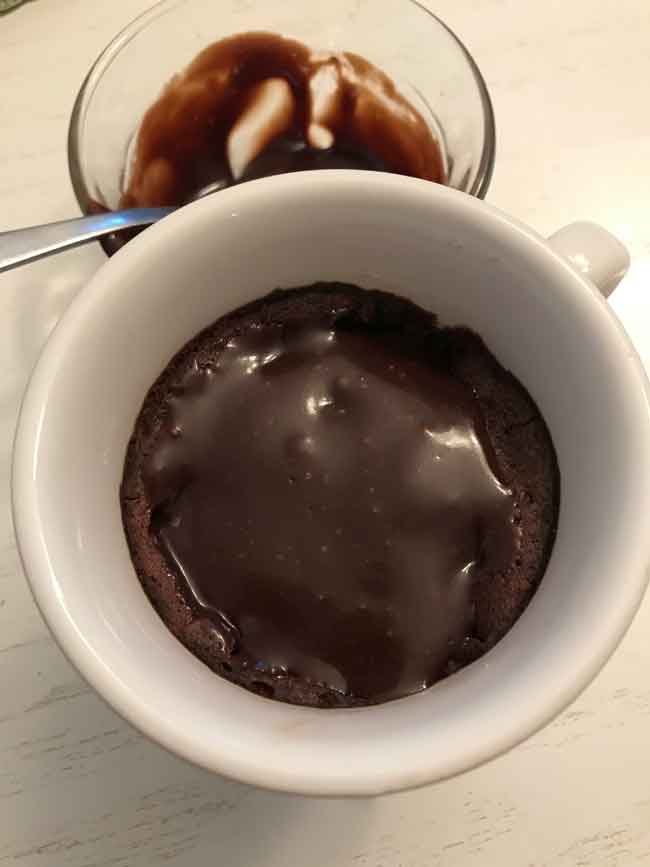 This recipe is based on one from 5-Minute Mug Cakes. It's a fun little book with loads of recipes that take around 5 minutes to make.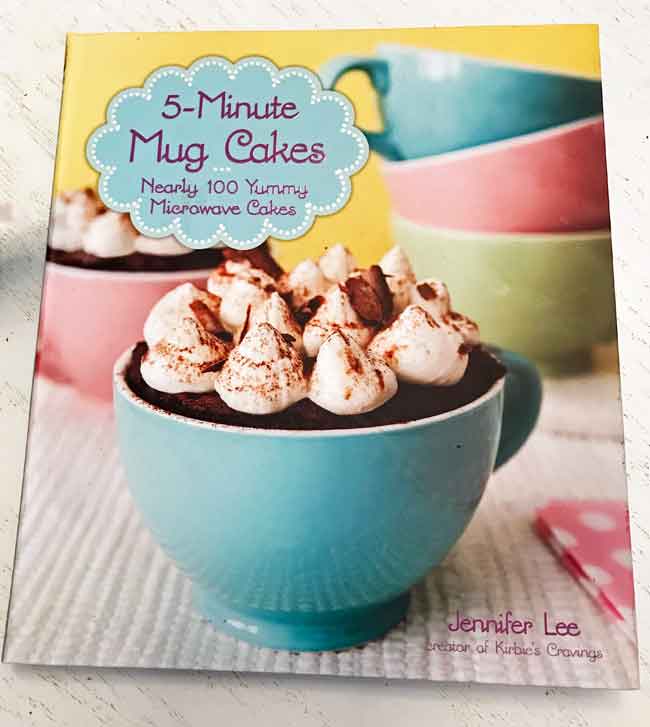 And this is one of the most simple chocolate mug cakes recipes out there. After making this mug cake, I browsed through other recipes on the Internet and found many had the same number of ingredients as a full cake!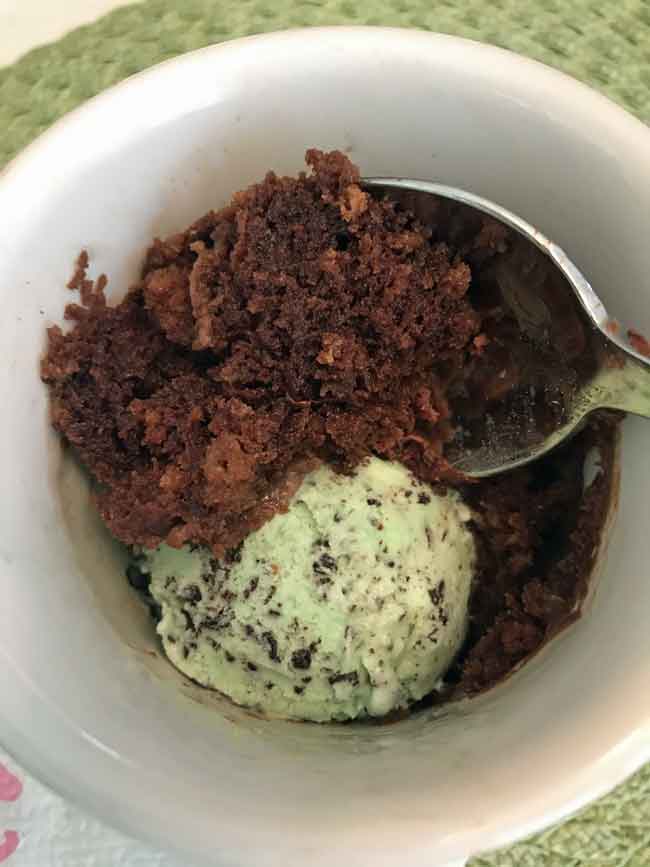 Applesauce Makes Chocolate Mug Cake Better!
I love this particular chocolate mug cake recipe because it comes together so seamlessly with the melted chocolate chips.  But unfortunately I had issue with dryness. The book calls for a microwave time of 1 minute to 75 seconds, but at 1 minute my cake was kind of dry.  Adding a little unsweetened applesauce really helped.  The applesauce does not make the cake taste like apple, but rather curbs the dryness.  Theoretically mug cakes are supposed to be served fairly quickly, but with the applesauce the cake stays soft for hours.
Before discovering the applesauce trick I came up with a quick stir-together icing to curb the dryness. I'm leaving the icing recipe in the notes, but if you add the applesauce and maybe throw a few chocolate chips on top, you shouldn't need it.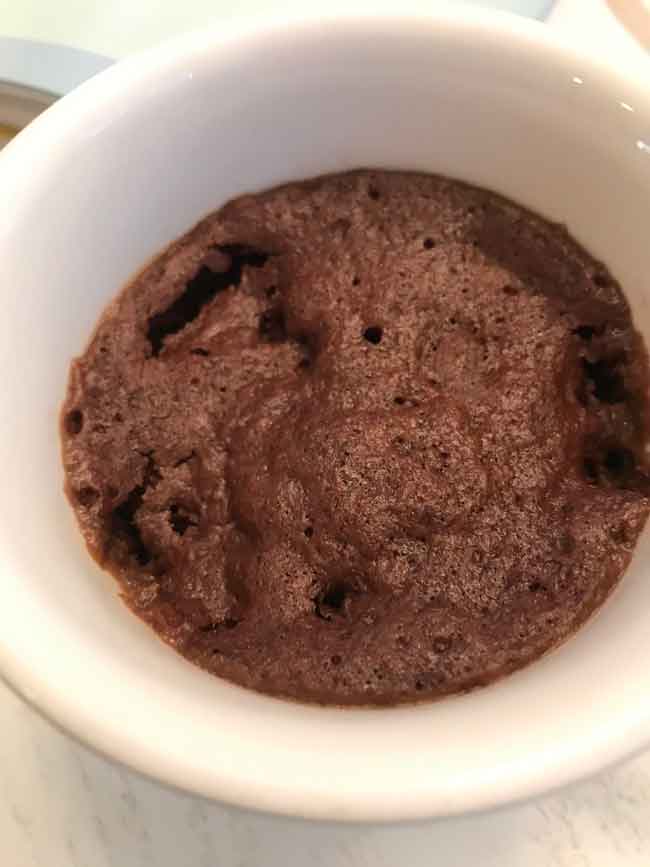 Hot Chocolate Mug Cake Climbs!
By the way, mug cake will have you looking at mugs in a new light. There are many mugs I'd be scared to put in the microwave, but since most mug cakes bake in a minute, it's easy to find a mug that can withstand 50 to 60 seconds of microwaving.  You may want to use an oversize mug the first time so that the batter doesn't rise and possibly spill all over the place. This batter, especially with the applesauce, does climb! For this chocolate mug cake you should use a mug that is at least 12 oz. If you halve the recipe, you can go as low as an 8 oz.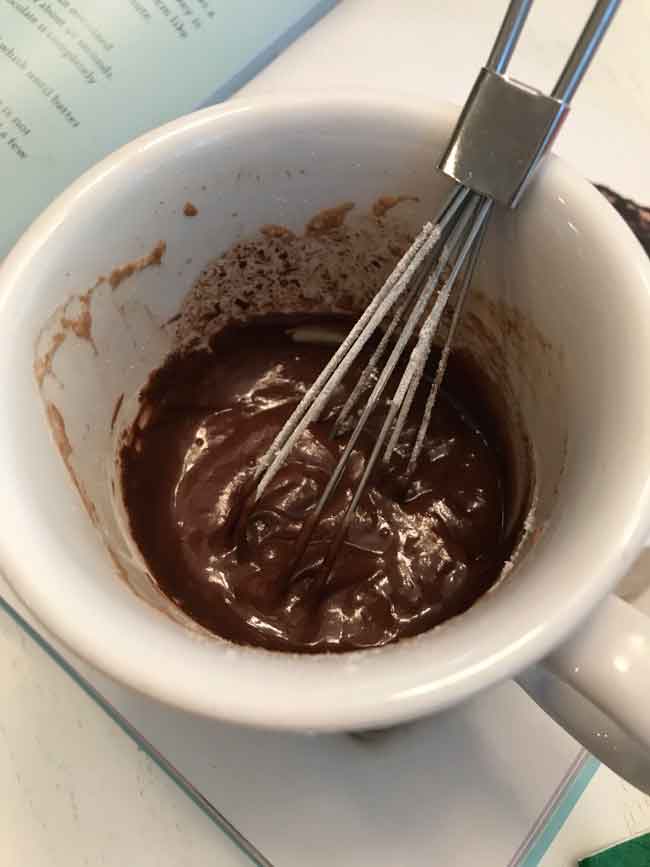 In my opinion, the best way to serve mug cake is with ice cream. I did some experiments with halving and found half version was perfectly cooked in 50 seconds. If you halve the recipe, you also have the option of using an 8 oz custard cup. It doesn't look so nice here, but it was pretty with whipped cream and ice cream on top.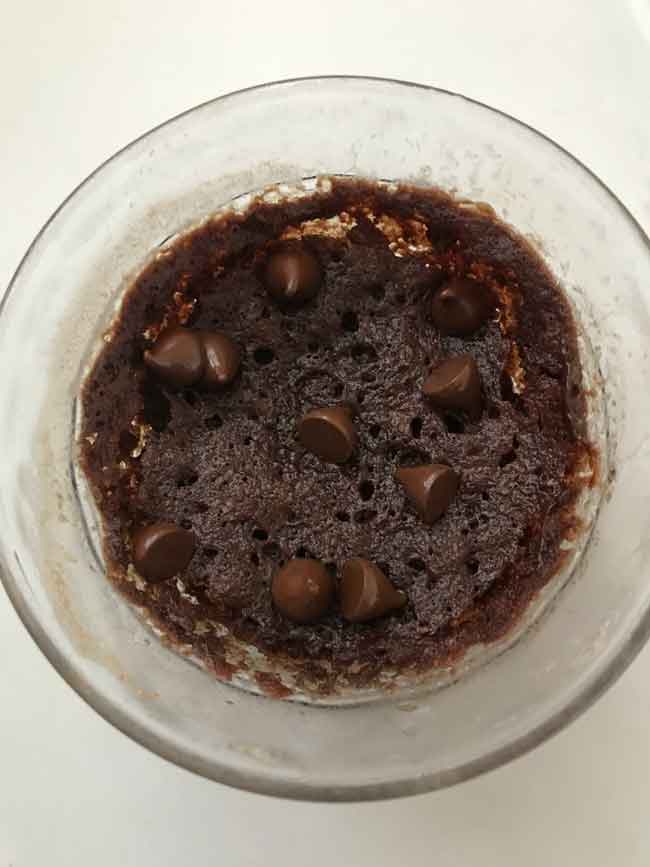 More Easy Cakes (and a Brownie Cookie)
Recipe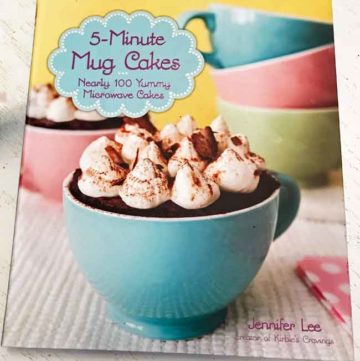 Basic Chocolate Mug Cake
Super easy mug cake you can make it less than 5 minutes!
Ingredients 
4

tablespoons

semisweet chocolate chips

45 grams (Ghirardelli)

3

tablespoons

milk, 2%

45 ml

2

tablespoon

all-purpose flour

16 grams, stir it and don't pack

1/4

teaspoon

baking powder

1 1/2

teaspoons

vegetable oil

2

teaspoons

unsweetened

applesauce
Instructions 
Combine milk and chips in a 12 oz mug or larger much. Microwave for 25-30 seconds (keep an eye on it!). Stir until chips melt and mixture is smooth.

Add the flour, baking powder and oil and stir until smooth. Stir in the applesauce. If you want, you can also stir in a tiny pinch of salt.

Microwave for 55 seconds. If cake is not done (which may happen in less powerful microwaves), heat for 10 to 15 seconds more. Scatter a few chocolate chips across the top and let stand for 5 minutes before eating..

Top with ice cream or whipped cream.
Notes
To make the optional frosting, combine 1 tablespoon of chocolate chips with 1 tablespoon butter.  Microwave on high for about 30 seconds, then stir well.  Add 1/2 tablespoon half & half and microwave for another 20 to 30 seconds, then stir until smooth.  Stir in 2 1/2 tablespoons of confectioners' sugar and about 1/8 teaspoon of vanilla.  This should give you enough to drizzle over 2 mug cakes.
To serve to, prepare the batter in one mug, then spoon half of the batter into another mug or custard cup.  Microwave for 50 seconds.
I tested in a 1200 watt microwave.