The last apple coffee cake was so good I had to make another one. This is a dark, soft, tight crumbed applesauce cake baked in a loaf pan.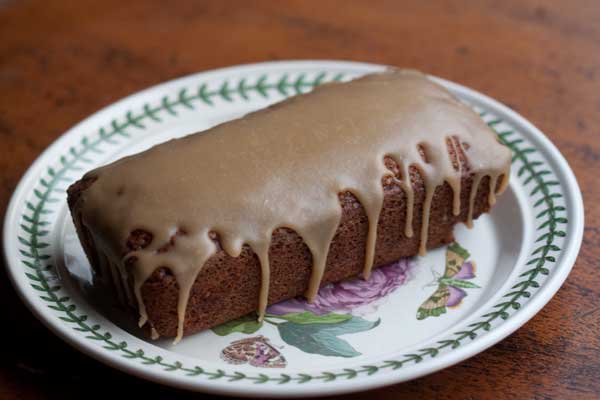 Originally from Food 52, I changed a Bundt cake version to loaf pan form. It's terrific, and the caramel icing is fool-proof. Also, it freezes well — at least before you ice it. I made this yesterday, froze it, unwrapped it and iced it before serving.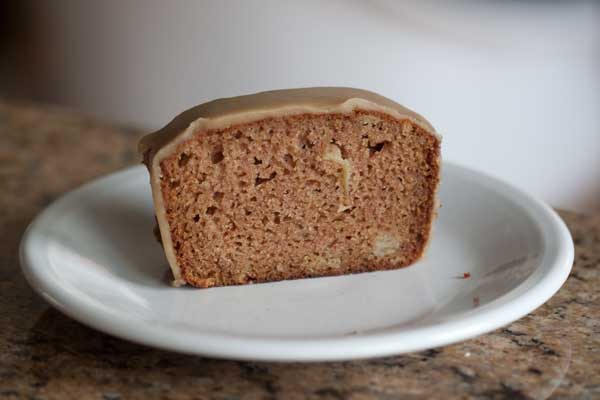 As for the applesauce, I used homemade unsweetened. That sounds like a lot of work, but basically all you do is boil some chopped apples with water and a little lemon juice, then mash.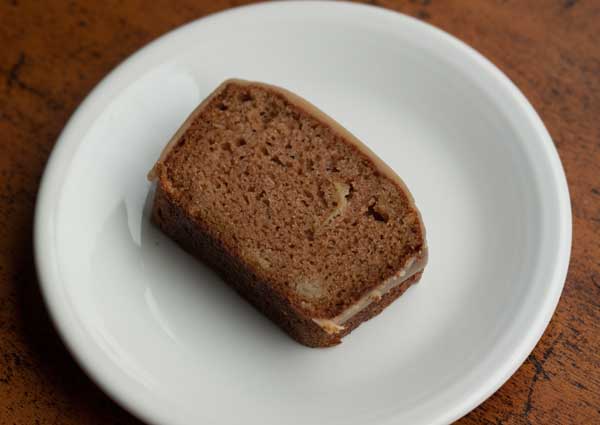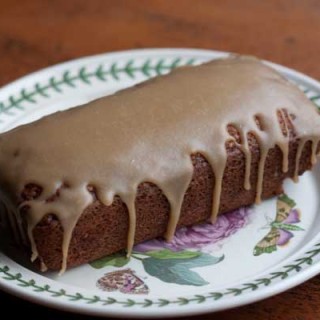 Applesauce Loaf Cake with Caramel Icing
An easy applesauce cake baked in a loaf pan and drizzled with caramel icing.
Ingredients 
1

cup

all-purpose flour

4.5 oz

3/4

teaspoon

baking soda

1/4

teaspoon

salt plus a pinch

1/8

teaspoon

ground black pepper

1

teaspoon

cinnamon

1/2

teaspoon

ground ginger

1/8

teaspoon

ground allspice

1

large egg

1/2

cup

sugar

1/4

cup

light brown sugar

3/4

cup

unsweetened applesauce**

1/3

cup

vegetable oil

1/2

teaspoon

vanilla

Caramel Icing

2

tablespoons

butter

cut into chunks

1/4

cup

packed light brown sugar

2

tablespoons

plus 2 teaspoons heavy cream

1/8

teaspoon

kosher salt

1/3 to 1/2

cup

sifted confectioners' sugar

Dash of vanilla

optional
Instructions 
Preheat oven to 350 degrees. Grease and flour an 8x4 inch loaf pan.

Sift together the flour, baking soda, salt, pepper and spices and set aside.

In a mixing bowl, whisk the egg with both sugars until light. Whisk in the applesauce, oil and vanilla until smooth. Fold in the dry ingredients. Do not overmix.

Pour the batter into the loaf pan and bake for 38 to 42 minutes or until a cake tester inserted in the center of the cake comes out clean. Let the cake cool for 10 minutes in the pan set on on a rack, then turn it out and let it cool completely.

When cake is cool, put a piece of foil underneath the rack and make the glaze.

Combine butter, brown sugar, cream and salt in a saucepan and set over medium heat. Bring to a boil, stirring constantly. Boil for one minute, and then pull it off the heat.

Leave the pan to cool for a couple of minutes (I did not do this), and then whisk or stir in just enough of the powdered sugar to get a pourable consistency. Add the vanilla if using. Immediately pour the glaze over the cake, Let the glaze set before serving the cake.
Notes
To make the applesauce I chopped up a pound of apples (about 2 large), put them in a pot with 2 tablespoons of water and a little lemon juice, then simmered uncovered for about 25 minutes or until soft. The apples were so soft that all I needed to mash them was a spoon. I left the skins on since a lot of people like skin-on applesauce, but for this recipe it's best to take them off before making the sauce unless you want apple skins in your bread. Also, if the applesauce seems to watery or runny, just let it sit in the pot until the water steams off. Blot it with a paper towel.