This six inch ice cream cake was inspired by one of my favorites, September 7th Cake. I love the lightness of September 7th Cake, but it's kind of a pain. Maybe not for you, but it is for me. So I came up with this ice cream cake, which is a little different from the others here on Cookie Madness (Carvel Copycat and Chocolate Loaf Cake Ice Cream Cake).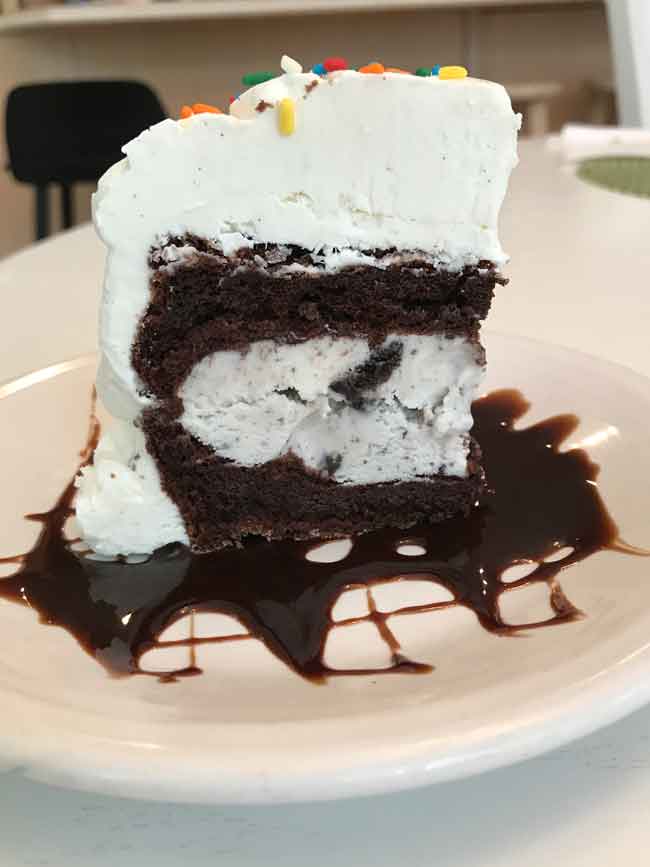 Instead of regular chocolate cake, the two layers are souffle-like. They puff up in the oven and collapse as they cool.  And while they are not the prettiest layers, their texture takes so well to being frozen. But again -- not attractive. Here's a picture of my cake during the building process. It looks like it's falling apart, but really the souffle cakes just developed ridges which are actually kind of convenient for containing the ice cream.  Just be prepared for some not-so-pretty-at-the-start layers.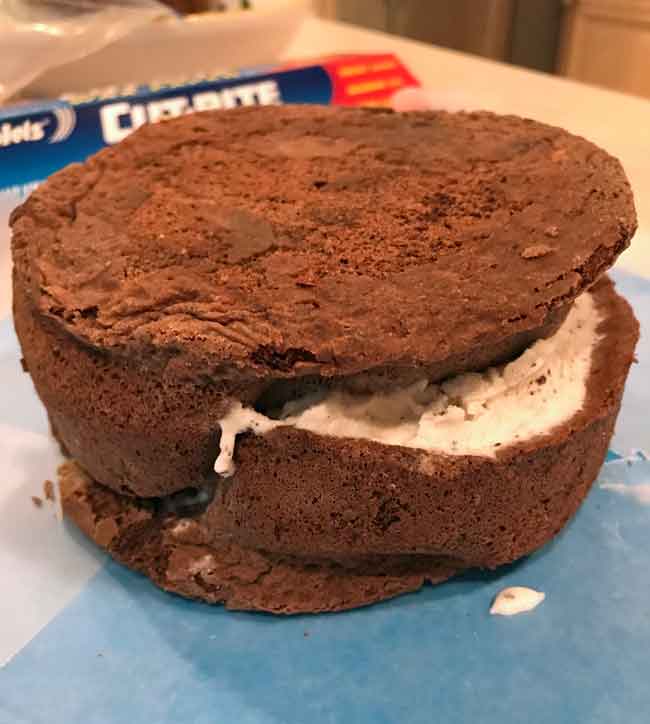 Here's the cake  after I covered the whole thing with whipped cream. Next time I might try chocolate whipped cream or a mixture of whipping cream, marshmallow fluff and vanilla, which won't freeze as hard. Whipped cream freezes hard, but it's fine because you can just let it sit and soften.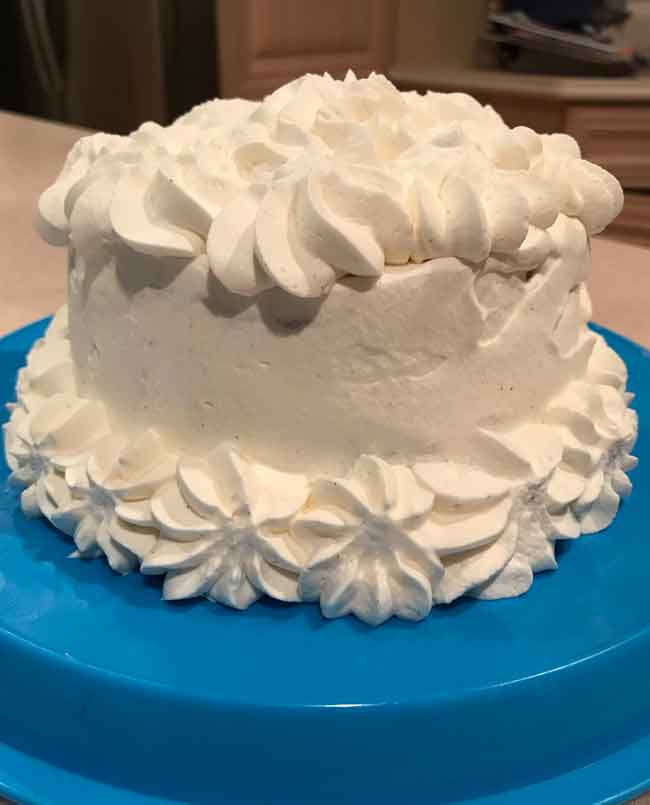 The other nice thing about this cake and all ice cream cakes is you can vary the flavors. I filled this cake with Food Lion Cookies & Cream ice cream. Normally I'd use a higher butterfat ice cream like Ben & Jerry's, but I was in a mood and wanted to save money. The Food Lion ice cream was fine. I wouldn't advise using a slow churn or a lower fat ice cream because those tend to get icy if you let them soften and refreeze.
Recipe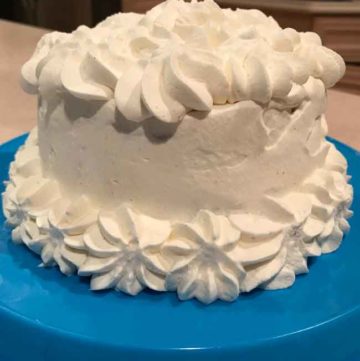 Six Inch Flourless Ice Cream Cake
An ice cream cake with souffle like layers made in six inch round cake pans.
Ingredients 
3

large or extra-large eggs

¼

cup

plus 2 tablespoons sugar

75 grams

2 ½

tablespoons

unsweetened cocoa powder

⅛

teaspoon

salt

1

pint

favorite ice cream

softened

3-4

cups

sweetened whipped cream or whipped topping**

Chocolate Syrup, Sprinkles, Broken Cookies

Optional
Instructions 
Preheat oven to 350. Grease two 6 inch round cake pans and line the bottoms with rounds of wax paper. Grease the wax paper.

In the bowl of a stand mixer using the whisk attachment, beat the egg whites and the pinch of salt until soft peaks start to form. Gradually add 3 tablespoons (half) of the sugar and continue beating until the whites are stiff. Scrape the beaten whites into a second bowl while you beat the yolks. No need to clean whisk or bowl. If using a handheld mixer, you can just whip the whites in one bowl and the yolks in another.

Add yolks to stand mixer bowl and beat for about a minute. Gradually add remaining 3 T. sugar, and continue beating for about 3 more minutes. Add the cocoa powder and stir until blended and smooth.

Fold about half of the whites into the chocolate mixture, then fold the chocolate mixture into the remaining whites. Turn into pans. If you have a scale and want to make sure the batter is evenly divided, weigh about 4 ounces of batter into each pan. Smooth tops.

Bake for 30 minutes or until layers spring back when pressed with fingertip and begin to come away from sides of pan. When you pull them from the oven, don't be shocked at how unattractive and misshapen they were. Loosen warm cakes with a knife, then remove layers from pan, remove paper, and invert again to let layers cool right side up. They will buckle and sink and still look terrible, but that's okay! You'll fix all this later.

When cakes cool, wrap loosely (or slide them into a freezer bag, but don't seal) and put in the freezer for about an hour so they'll be a little firmer when you spread on the softened ice cream.

When cakes are slightly firm from freezing, spread softened ice cream over the top of one cake and cap with the other. Stick cake back in the freezer while you make the sweetened whipped cream, or if using whipped topping just proceed.

To make whipped cream, beat 1 ½ cups of cream until soft peaks just start to form. Add ⅓ cup of powdered sugar and 1 teaspoon of vanilla and beat until peaks are stiff.

Spread a thin layer (this will be kind of a crumb layer) all over the cake and put it in the freezer until the whipped cream is firm. Meanwhile, put the remaining whipped cream into a big pastry bag with a star tip. If you don't have a pastry bag you can skip this step. Keep the whipped cream chilled.

When ready to continue frosting, add another layer of whipped cream and pipe stars around the edges of the cake. Before serving, drizzle with chocolate sauce, add sprinkles, whatever.

Let the cake stand for about 12 to 15 minutes before serving. If you want, you can cut it and plate while frozen solid, then let the plated pieces soften.