I'm not sure why I never posted Laura Bush's Cowboy Cookies, but here's the recipe for anyone interested in Texas size cookies made with oatmeal, chocolate chips, nuts, coconut and most importantly -- a full tablespoon of cinnamon. I think that's what makes Mrs. Bush's cookies special.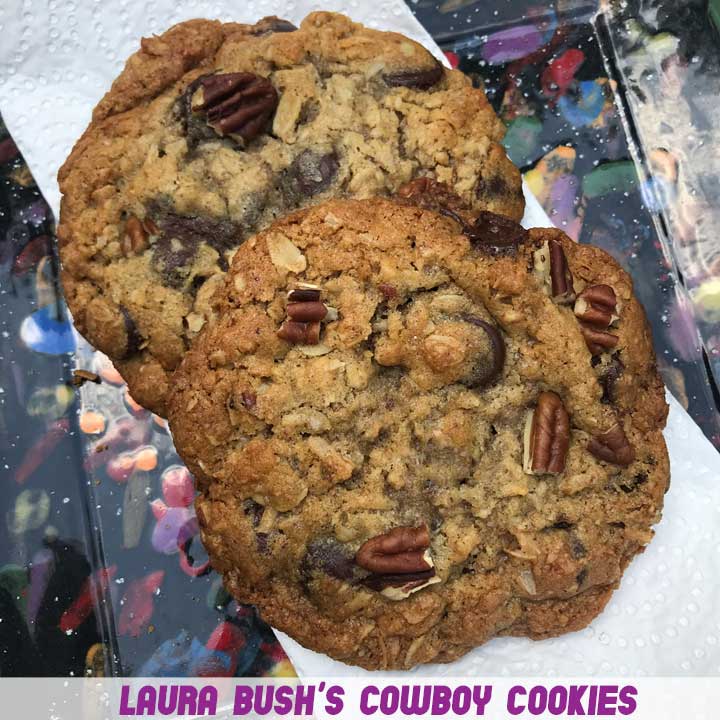 Laura Bush Cowboy Cookies History
A little history on the recipe. Laura Bush's Cowboy Cookies are from the 2000 Family Circle First Lady vs. First Lady cookie contest in which Laura Bush's Texas Governor's Mansion Cowboy Cookies went up against Tipper Gore's Ginger Snaps.  Laura Bush's cookies beat the Ginger Snaps, but that's probably because the Bush cookie have chocolate and it's not really fair to put up anything chocolate against ginger anyway, right?
Also, the Cowboy Cookies are very large. Large cookie vs. Gingersnap? Tipper would have been on a more level playing field if she'd entered Colossal Ginger Cookies. Seriously, they are the best ginger cookies but I'm biased. Back to Cowboy Cookies. Here's the dough before I baked it into a giant cookie.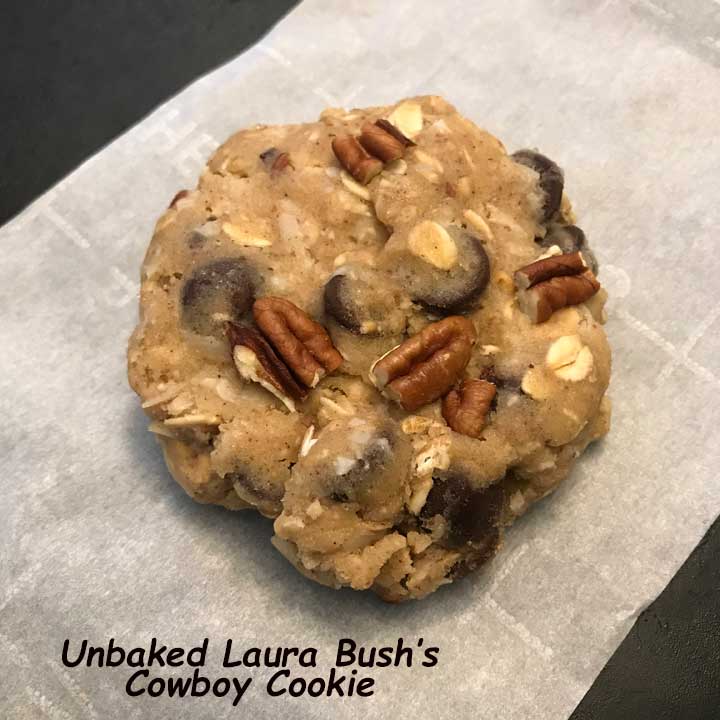 You can stick with the 6 large cookies or make 12 smaller ones.  That's right, only 6 or 12 cookies.  This is a small batch recipe -- ⅓ of the original to be exact. You can make a batch of Laura's AND a batch of the Colossal Ginger Cookies mentioned above. Maybe throw in a batch of Monsters.
Recipe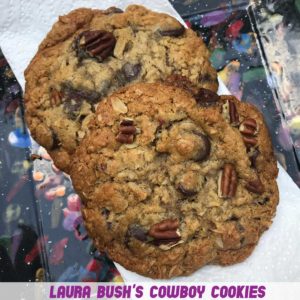 Laura Bush's Cowboy Cookies
Small batch version of Laura Bush's giant cookies
Ingredients 
1

cup

all-purpose flour

125 grams

1

teaspoon

baking powder

1

teaspoon

baking soda

1

teaspoon

ground cinnamon

½

scant teaspoon salt

¼ if using salted butter

½

cup

unsalted butter

114 grams

½

cup

granulated sugar

100 grams

½

cup

packed light brown sugar

100 grams

1

egg

1

teaspoon

vanilla extract

1

cup

semisweet chocolate chips

1

cup

old-fashioned rolled oats

⅔

cups

flaked coconut

sweetened or unsweetened

⅔

cups

chopped pecans

lightly toasted if you have time
Instructions 
Preheat oven to 350 degrees F.

Mix together the flour, baking powder, baking soda, cinnamon and salt. Set aside.

In a mixing bowl, using an electric mixer, beat the butter until creamy. Add both sugar and continue beating for 2 minutes, scraping the side of the bowl. Add the egg and beat just until mixed, then beat in the vanilla.

With a heavy duty scraper, stir in the flour mixture until fully blended, the then stir in the chocolate chips, oats, coconut and nuts.

Divide the dough into 12 portions. Shape into balls and press them down slightly to make disks. Bake immediately or chill and bake a few dough portions at a time. Bake time should be about 15 minutes for smaller cookies (12) or 18 minutes if you make the cookies large size.