I was going to call this "Doughnut Coffee Cake" because the nutmeg reminds me of a doughnut in coffee cake form. However, after further research I discovered it is called Cowboy Coffee Cake. It's a streusel coffee cake where the streusel is made by simply scooping out some of the flour/sugar/butter mixture and setting it aside to use as the topping.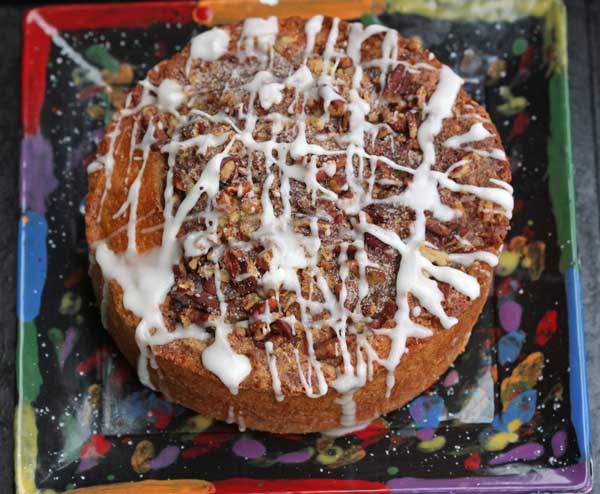 Cowboy Coffee Cake Name Origin
It's possible the name came from the idea that cowboys were resourceful and couldn't use a hundred different bowls. I am not quite sure, but if this is the way cowboys made cake, I'd like more cowboy recipes! This cake was just so relaxing to make — a good "baking therapy" cake because of its ease of preparation and scent. Plus, you can vary the spices. The first time I made it I used nutmeg, but the second time I got a little adventurous and used Cake Spice, which is a blend of cinnamon, anise, nutmeg, allspice, ginger and cloves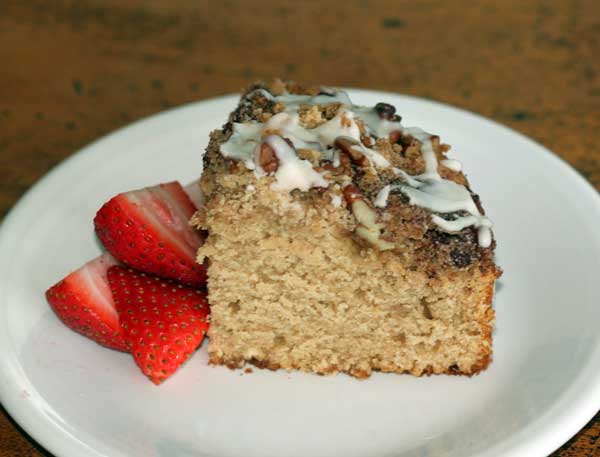 Pan Sizes
Cowboy Coffee Cake can be made in a 9 inch square pan or in a 9 inch round springform. If you have a little 6 inch round cake pan, you can halve the recipe. A 6 inch cake should feed 4 to 6.
Recipe
Cowboy Coffee Cake
Cowboy Coffee Cake is a buttermilk spice flavored cake topped with streusel, pecans and a drizzle of icing.
Ingredients 
2 1/2

cups

all-purpose flour

12 oz or weigh out 12 oz pastry flour

1

cup

firmly packed light brown sugar

7 oz

3/4

cup

granulated sugar

5.25 oz

2

teaspoons

freshly ground nutmeg or 1 tablespoon cake spice

1/8

teaspoon

ground cloves

omit if using cake spice

1

teaspoon

salt

3/4

cup

6 oz unsalted butter, melted

2

teaspoons

baking powder

1

cup

buttermilk

at room temperature

2

whole large eggs

room temperature

1

teaspoon

vanilla

1

cup

toasted chopped pecans

2

tbsp

granulated sugar mixed with 2 tsp ground cinnamon for sprinkling
Glaze
2

teaspoons

butter

melted

213

cup

plus a tablespoon powdered sugar

1/2

teaspoon

vanilla

1

teaspoon

Water or as needed
Instructions 
Preheat the oven to 350° F. Grease a 9-inch round springform pan.

In a mixing bowl, whisk together the flour, brown sugar, granulated sugar, nutmeg, cloves and salt.

Pour in the melted butter and stir until the mixture resembles coarse crumbs (you can use your fingers if you need to). Remove 3/4 cup of the mixture and put in a small bowl; set aside.

Add the baking powder to the mixture left in the mixing bowl and stir well.

Add the buttermilk, eggs and vanilla and beat with an electric mixer at medium speed until smooth — no longer than 1 minute. If there is still a lump or two, that's okay. Don't overbeat.

Scrape the batter into the prepared pan and smooth the surface.

Sprinkle crumb mixture over the top, then scatter the nuts over it and sprinkle with the sugar-cinnamon mixture.

Bake for 45 to 50 minutes or until the cake springs back when touched and a skewer inserted in the center comes out clean; if the top begins to brown too quickly during baking, cover loosely with aluminum foil.

Set cake on a wire rack to cool. Loosen sides of springform, but do not remove. Allow the loosened cake to cool, then remove the sides of the pan.

When the cake is completely cool, make the icing and drizzle it across the top. To make the icing, mix the melted butter and sugar together in a 2 cup Pyrex measuring cup or a small bowl. Add the vanilla, then begin adding water about a teaspoon at a time, stirring constantly, until the mixture is smooth and can be drizzled.
Notes
For a half version, use a 6 inch round cake pan. If desired, line the inside with foil and grease foil, then lift cake from pan.