I eat English muffins every day, but it wasn't until this past weekend that I finally tried making English Muffins from scratch.   Thanks to Alton Brown, I can now make big, tall, high rising English muffins similar to the mail order muffins.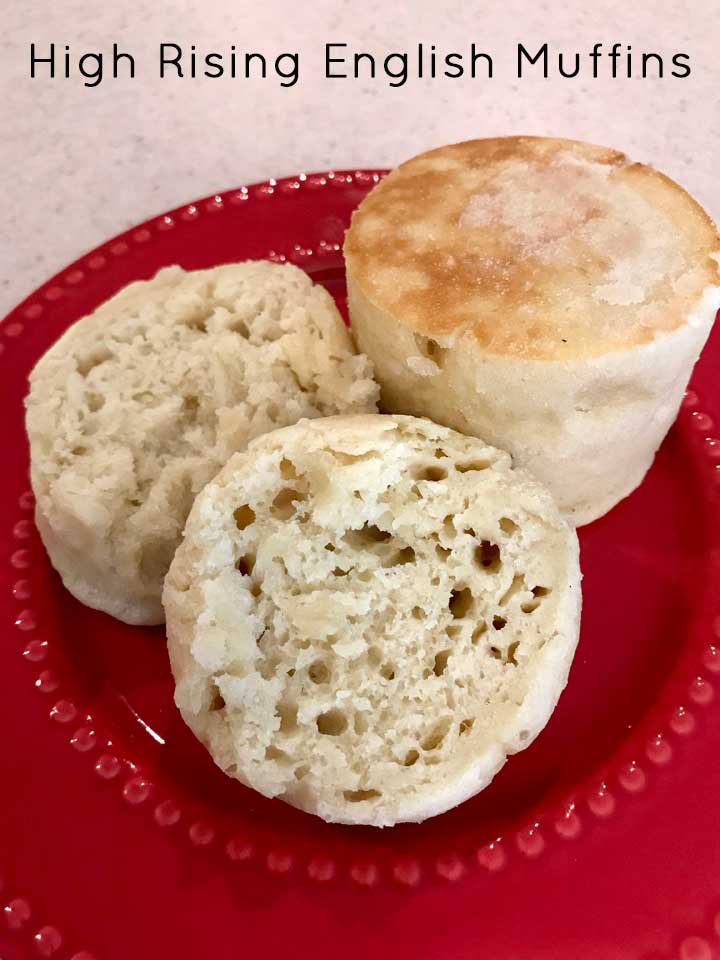 Of course things didn't go as smoothly as planned. The recipe is actually really simple, but Alton makes them on a griddle preheated to 300 degrees F. I don't have a griddle and had to figure out what 300 was on the stove-top. Didn't quite nail it.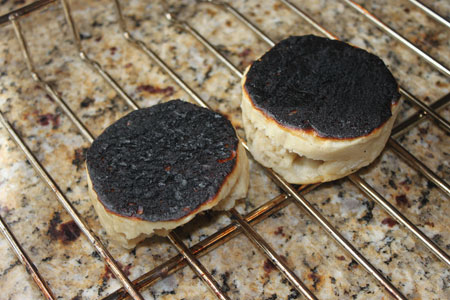 Despite nearly setting off the smoke alarm, I was happy to see that the muffins rose like champs and even though the outside was charred, the insides were like actual English muffins.  Progress! So I reduced the heat and switched from my heavy metal Viking pan to a non-stick pan with a bottom that wouldn't get quite hot as the metal.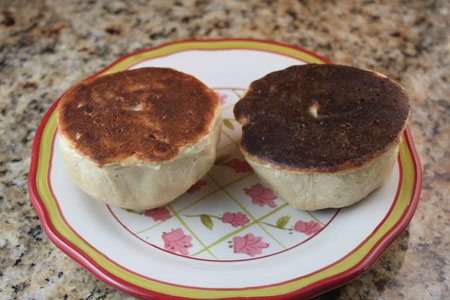 Unfortunately, this English muffin recipe calls for rings.  Argh. Alton calls for 3 inch rings and offers up tuna fish cans with the lids and bottoms cut off as an option. My idea was to make rings out of non-stick foil, and it worked!    In fact, the rings were so durable I used them for all the muffins and couple probably use them again.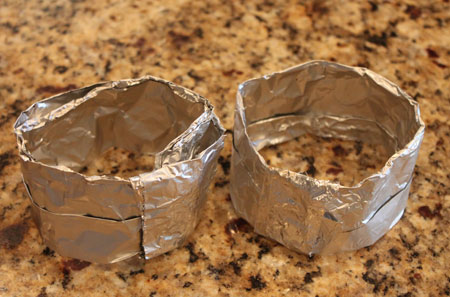 A few other notes. Alton calls for 2 cups of sifted flour but doesn't include a weight.  I weighed out 9 oz/250 grams of flour and that seemed to work.  I also incorporated a little white whole wheat into the dough (which was more like thick, gloppy, oatmeal) and  it worked just fine. Alton's recipe also calls for powdered milk – an ingredient I hardly ever have. I took one reviewer's advice and used 2% milk in place of the 1 cup of water. It worked out well.
So here's a link to Alton Brown's English Muffin Recipe, and here's my version with milk instead of milk powder, foil rings, and skillet.
Update:  Now that I'm making English muffins more often I'll probably buy some rings, but I've also found that my round cookie cutters (from the Atteco 11 piece set) work quite well. 
Recipe
English Muffins
English Muffins with nooks and crannies
Ingredients 
1

cup

milk

1

tablespoon

sugar

1

teaspoon

salt

divided use

1

tablespoon

shortening

1

packet

active dry yeast

2 ¼ teaspoons

⅛

teaspoon

sugar

⅓

cup

water

2

cups

of flour

9 oz
Instructions 
Heat milk in a microwave-safe measuring cup just until it boils. Add sugar and ½ teaspoon of salt and stir to dissolve. Stir in shortening and let cool to about 120 degrees F.

In a separate bowl or measuring cup, combine the yeast and ⅓ cup of warm (115 degree) water. Let rest until yeast bubbles.

In a mixing bowl, combine the flour, yeast mixture and milk mixture. Beat thoroughly with wooden spoon. Cover the bowl and let it rest in for 30 minutes in a warm place.

Preheat a lidded sauté pan or skillet to 300 degrees (on my stove, it was low). A pan with non-stick surface won't cook the bottom quite so much, but if all you have is a regular metal bottom pan, you can use that. I didn't grease either pan.

Add the remaining ½ teaspoon of salt to mixture and beat thoroughly. Place metal (or homemade foil) rings onto the skillet.

Using a heaping ⅓ cup measure, spoon dough into 2 ½ to 2 ¾ inch rings. If you want really large muffins you can use 3 inch rings. Cover skillet and cook for 5 to 6 minutes. Remove the lid and turn rings using spatula or tongs. Cover with the lid and cook for another 5 to 6 minutes or until golden brown. You may have to alter the cook time. You can definitely cook the muffins in the skillet and you don't need an oven, but you have to be patient and start with a lower heat. It's best to start low and increase heat if needed. Cool on a rack. Remove rings and cool. Split with fork and serve.