One of my pet peeves is crushed cereal at the bottom of the box, but over the years I've learned a few ways to use it. My favorites are Chocolate Chip Cookies with Bran Cereal, Chocolate Chip Bran Bars and Bran Bread. And now I have a new one: Bran Cereal English Muffins.
Bran Cereal English Muffins are originally from All Bran's collection, but I modified the recipe to use with a stand mixer & dough hook and added 1 tablespoon of sugar which enhanced the flavor but didn't make the muffins sweet.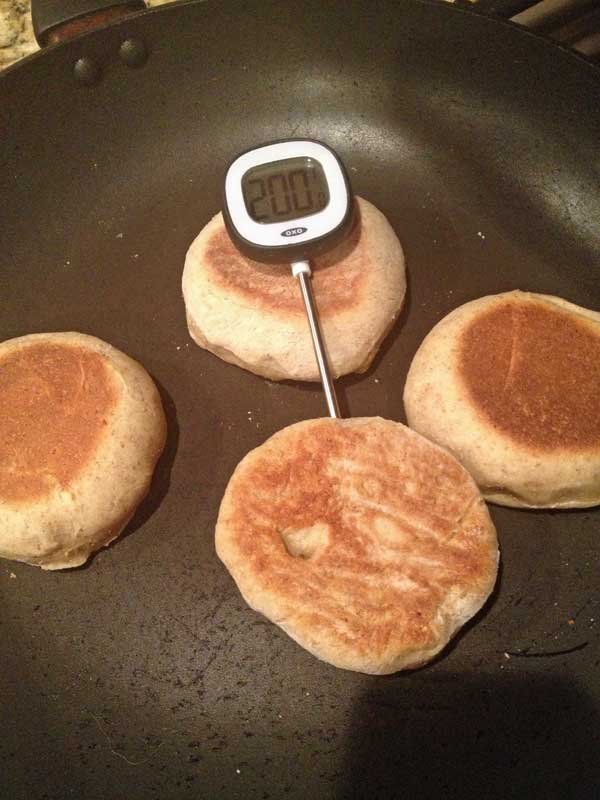 They took a while to bake since the "baking" process is just letting them cook very slowly on low in a skillet, but the process was relaxing and kind of fun.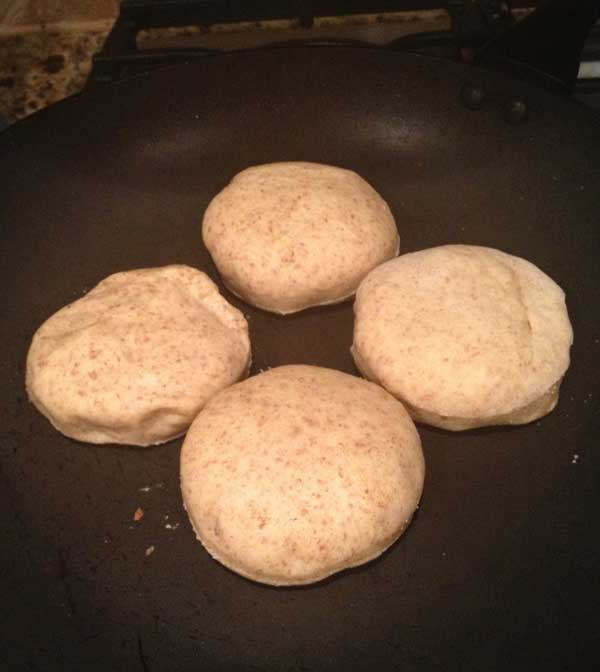 We enjoyed them even though the texture was not quite like traditional English muffins with big nooks and crannies. These had more uniform crumb and a chewy (when toasted) texture.
Bran Cereal English Muffins
An easy recipe for English muffins made with crushed bran cereal.
Ingredients 
1

cup

reduced fat milk

2

tablespoons

unsalted butter

1

scant teaspoon salt

3/4

cup

bran cereal

1

package dry yeast

1/4

cup

warm water

110° to 115° F

2 3/4

cups

flour plus a little more for the surface

1

tablespoon

sugar
Instructions 
Combine the milk, butter and salt in a small saucepan and heat until butter melts. Remove from heat and stir in the bran cereal. Let stand until lukewarm.

In a stand mixer bowl, combine the warm water and yeast and let sit until it foams.

Stir in cereal mixture. Gradually add 2 1/2 cups of the flour and the sugar. Add the cereal mixture and stir well, then put under the dough hook and knead. If the dough seems to sticky and clings to the side of the bowl, add a few more tablespoons of flour. Knead dough until smooth and elastic. Transfer to a greased bowl. Turn the dough over so that it is slick from butter in the bowl, then cover and let rise for 45 minutes to an hour.

Punch down dough. On lightly floured surface, roll out to 1/2-inch thickness. Cut with floured 3-inch biscuit cutter into 12 rounds. Place on baking sheet lightly sprinkled with flour or lined with parchment. Cover with a greased sheet of plastic wrap and let rise in warm place until double in volume, about 45 minutes.

Preheat electric fry pan to 250° F or preheat large regular fry pan over low heat – I used a large non-stick skillet. I heated it to medium then reduced to heat to low. Place rounds (4 at a time or however many fit) in the pan and cook for 20 to 24 minutes, turning halfway, until sides are done and middles are about 200 degrees F. Cool completely. Split, toast and serve.
Notes
You'll probably have to play around with the settings on your stove. Low worked for me, but I was using a giant gas burner. If you're using an electric burner or just a different size burner, you may need to cook on medium low. My advice is to start with just one or two and if they brown too fast or burn, reduce the heat.