Stage Planks are long, brown, spicy molasses cookies originally sold as street food in New Orleans. Or at least that's what I've learned from my internet searches. I'd actually never heard of these cookies until last week, when someone mentioned them on a Facebook group. Now I'm slightly obsessed with them!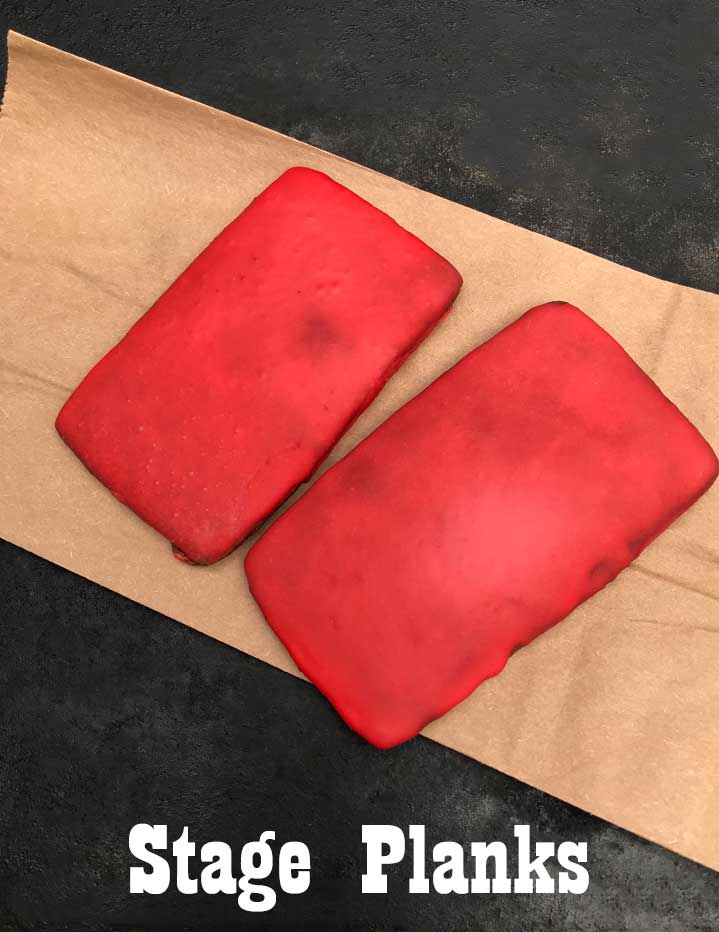 Books describe the old Stage Planks as cakes, but it seems they've evolved because more recent references to Stage Planks are to "Uncle Al's", which are crispy, pink iced cookies sold at various locations across the south. Reading about them makes me want to take a Stage Planks road trip, Maybe one day! For now I am making my own.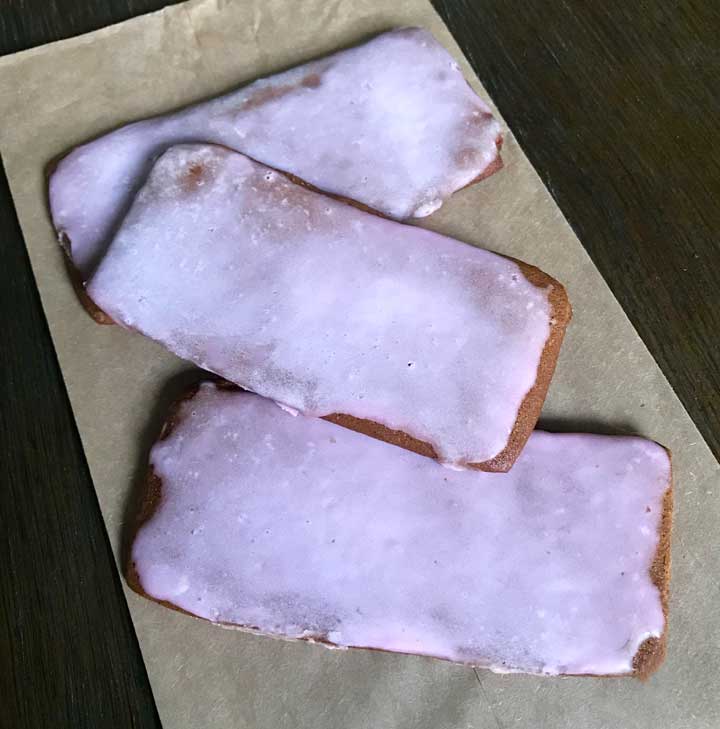 Homemade "Sort of Copycat" Stage Planks
I don't know how close these are to the real thing, but they sure are good. To get to this recipe, I first started with the recipe off Epicurious, one of the few places where Stage Planks are mentioned  Those were more like cakes, which makes sense since the originals were cakey.  Also, the Epicurious doesn't include an icing recipe, which leads me to believe that came much later. The Epicurious version was fine, but I wanted crispy cookies, and after a couple of tries came up with these. They are slimmer and don't have ruffled edges like Uncle Al's, but then neither do actual stage planks. The recipe is relatively small and I do not recommend doubling it until you have made the smaller batch recipe at least once.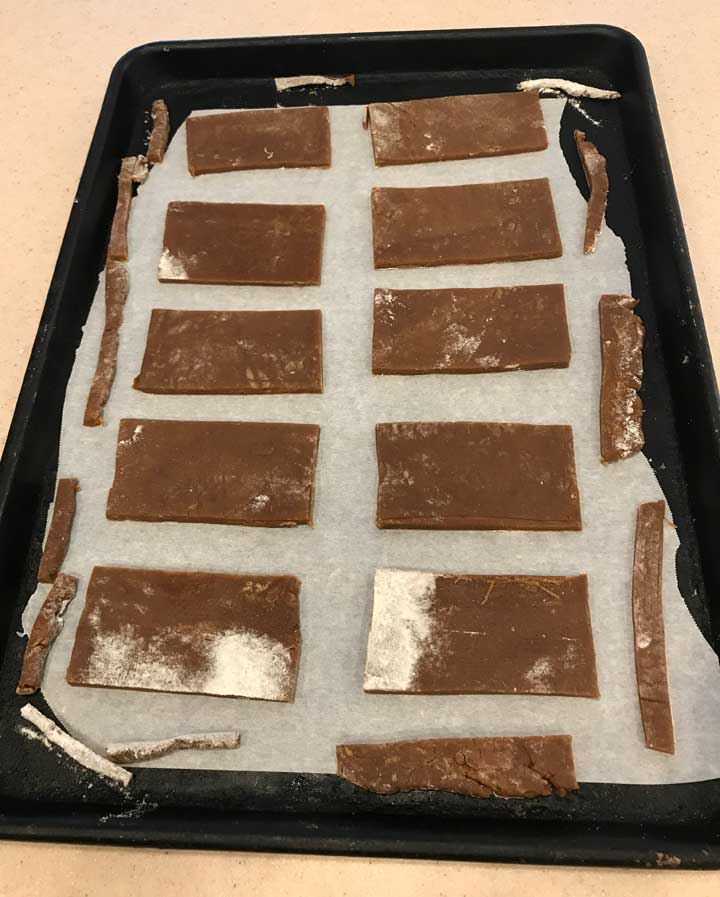 Shortening Works Best
It took me a while to get the dough just right for cookies that are not too sweet, but not too bready or cakey. The key is shortening, which I'm pretty sure is what the originals were made with. I did try with butter, but the texture just wasn't as good and honestly with gingery cookies it doesn't seem like butter needs to be there for flavor. If you have shortening you can use the butter, but the texture will be a little different.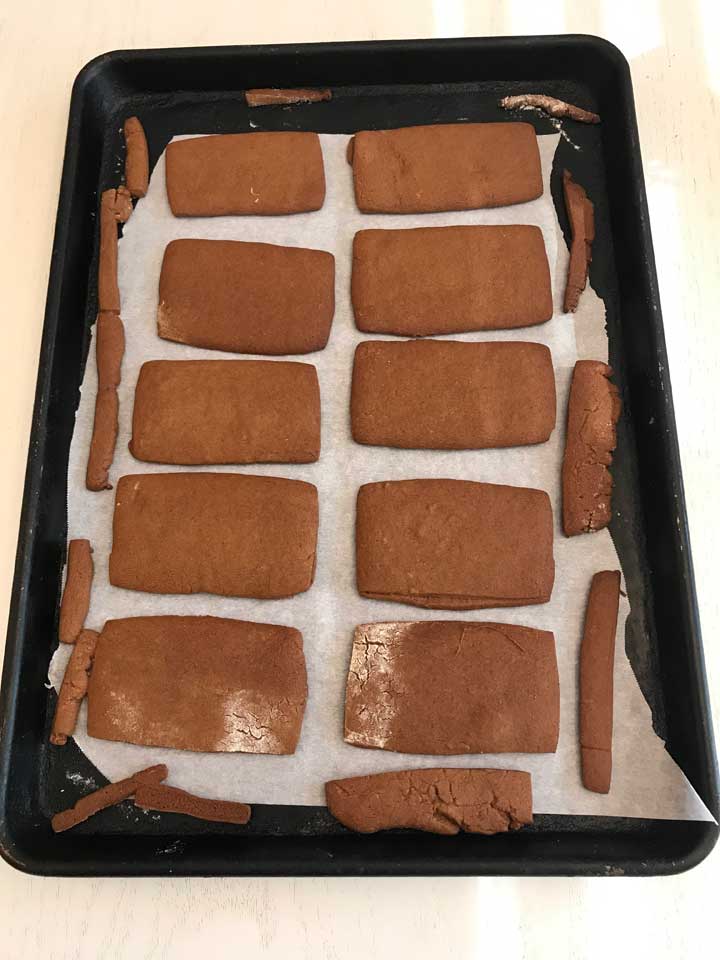 Crunchy and Pink
Some day I'll go on a road trip and find Uncle Al's, but for now these will do. Even if they're not really like the original Stage Planks, they are very good iced spice cookies and fun to make. I'll probably keep making variations on this recipe over time, but my family can't keep their hands off this one.
Stage Plank Cookie Notes
I used weights for the main ingredients. There are 50 grams of shortening, 88 grams of molasses and 50 grams of sugar and no dirty measuring cups!
Adding the baking soda is the fun part. It makes the molasses mixture go from heavy and dark to light and airy. For about sixty seconds you'll be back in sixth grade Science class.
After that magic, you let it cool a bit and then in goes and egg yolk (or egg) and all the flour -- but gradually.
Rather than add the flour to the saucepan, you put it in a mixing bowl and pour the molasses mixture over. Alternatively, you can use a larger (3 quart) saucepan and stir the flour directly into the saucepan. The bowl gives you more room to stir, but the saucepan saves washing a bowl, so it's up to you.
The dough starts dry and raggedy and you'll have to knead it a bit to blend in all the flour. I've only tested with King Arthur AP, so I'm curious to see how other brands work.
When you're ready to cut the planks, line your knife up against the side of a ruler to make straight cuts. The cookies will puff up and the edges will round a bit. If you use butter they will puff up and be a little more misshapen.
The icing is a very basic royal icing made with raw egg whites.  You can use pasteurized for safety purposes, or if you have powdered egg whites you can use those.  
Recipe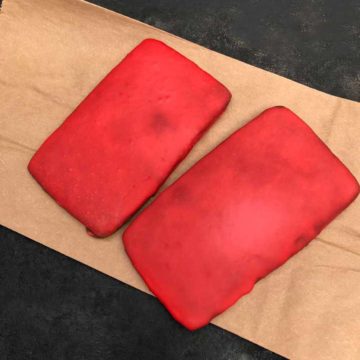 Stage Plank Cookies
Named because they are long and brown.
Ingredients 
¼

cup

granulated sugar

50 grams

¼

cup

molasses

88 grams

½

teaspoon

cinnamon

½

teaspoon

ground cloves

½

tablespoon

ground ginger

can use half if preferred

¼

teaspoon

allspice

⅛

teaspoon

cayenne

optional

¼

teaspoon

salt

1

teaspoon

baking soda

1

large

large yolk OR 2 tablespoons lightly beaten egg

cold

4

tablespoons

Crisco, cut into chunks

48 grams

1 ½ to 1 ¾

cups

of all-purpose flour

200 grams

Pink Icing

1

large egg white

feel free to use pasteurized

¾ to 1

cup

powdered sugar

sifted

¼

tsp

or more of vanilla extract

Water as needed
Instructions 
Place sugar, molasses, cinnamon, cloves, ginger, allspice, cayenne and salt in a small saucepan. Set saucepan over medium heat and bring mixture to a boil, stirring often as it heats. When mixture starts to boil, remove from heat and stir in baking soda. Mixture will fizz up and become very airy and light.

Add the chunks of shortening one piece at a time, stirring after each. It's okay if it doesn't melt completely at this point, but it should at least start to melt. Allow mixture to cool for about 3 minutes, then briskly stir in the egg yolk or 2 tablespoons beaten egg. Using yolk only makes a slightly thinner, harder cookie while 2 T. egg makes a crunchy but tad bit lighter texture. The yolk might be more convenient because you can save the white for the icing.

Carefully measure or weigh your flour and put it in a large mixing bowl. After you've added the egg to the molasses mixture, scrape all of the molasses mixture in with the flour and stir to make a dough. It might look kind of dry, but should have a nice feel to it. Empty it onto a clean surface (pastry mat) and knead very gently to incorporate all flour.

Shape the dough into a rectangle, then gently roll and smooth until it is a little over 8x10 inches with the short sides closest to you. Using the straight edge of a ruler and a knife, trim score edges so they are straight. Do not separate the trimming yet, just score them. Next, cut a vertical line down the center, then make 5 horizontal cross-wise cuts so that you have 10 rectangles.

Carefully transfer each rectangle (plank) to the parchment lined baking sheet. Put the trimmings around the edges of the baking pan so that you'll have some snackin' scraps. Bake at 325 F for about 14 minutes. Let cool on baking sheet for about 5 minutes, then transfer to a wire rack to cool completely.

In a mixing bowl, combine egg white and vanilla and beat with an electric mixer for about 30 seconds. Add confectioners' sugar gradually and stir until sugar is moistened. With the electric mixer, beat until smooth and shiny, adding a tiny bit red food coloring and a tiny bit of water if needed or more sugar if mixture is too thin. Spoon icing over cookies and let them sit out for about an hour or two until the icing has hardened.