Frozen Fudge Brownie Pie is a variation of one I found in my mother's old recipe clippings. At one point this was a very popular pie, probably because it is so easy. Plus it makes the perfect blank canvas for topping with different flavors of ice cream and whipped cream. Here is it without any toppings. It looks like a brownie baked in a pie crust, but the chocolate part is actually too soft to be a brownie. When frozen, it is firm but still soft enough to put a fork in.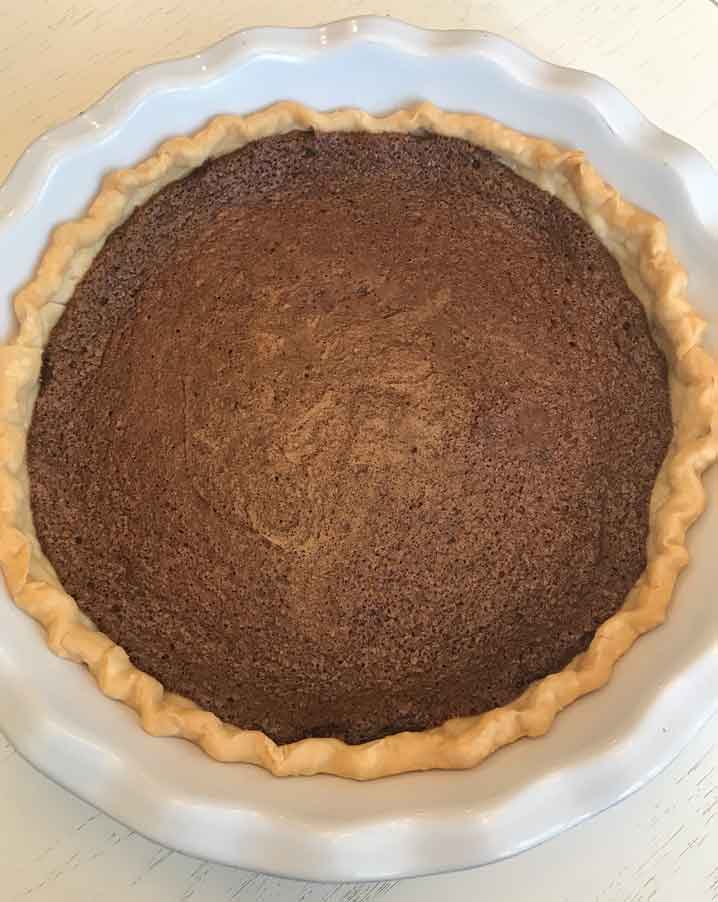 Par-Baking a Pillsbury Crust
The original recipe did not tell how to bake the crust, but I've baked enough pies to know that 25 minutes is not enough time to bake a pastry crust. Partially baking or "Par-baking" was key. I put the method of how to par bake the store bought crust in the recipe. You can use the same method for a homemade crust. For this pie the crust isn't really the star of the show. The crust's job is to make the pie easy to lift out of the pie dish and to add a little flair. I recommend using a store bought crust for this.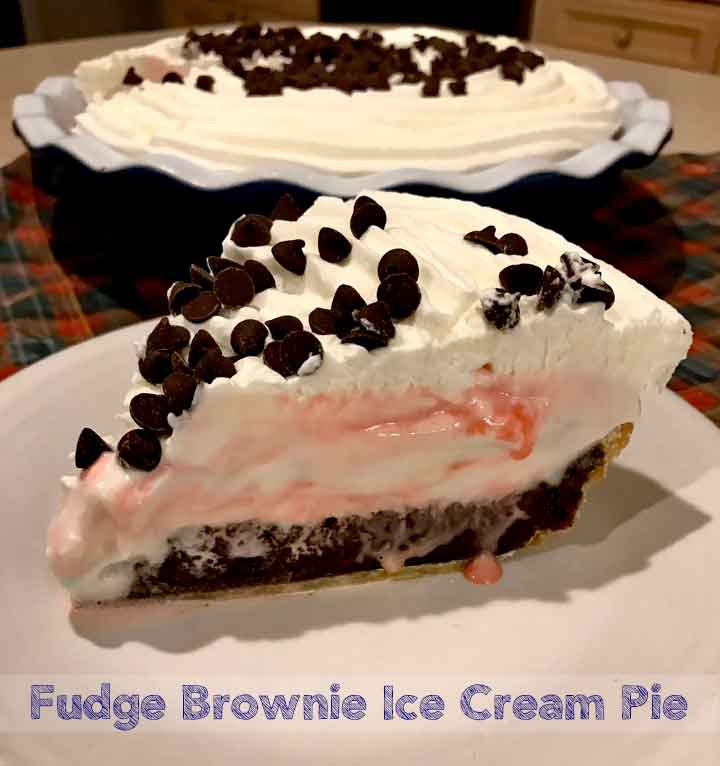 Fudge Brownie Pie Filling
All of the variations on this recipe I've seen call for unsweetened chocolate, which is great because there are a lot more types of unsweetened chocolate these days! You can go with Baker's or Ghirardelli or Scharffen Berger bars, but I'm starting to see unsweetened chocolate chips here and there. Trader Joe's sells 100% cacao chips and Ghirardelli now has unsweetened baking chips. With the chips, you can skip the odious task of chopping the chocolate. Okay, it's not really odious, but it's nice not having to do it.
I left the ice cream amount open, but you'll need at least a pint. And for the cream, you can use freshly whipped or whipped topping. I'm planning on making another one with a flavor of ice cream I actually like. Todd and Emma loved the peppermint version, though.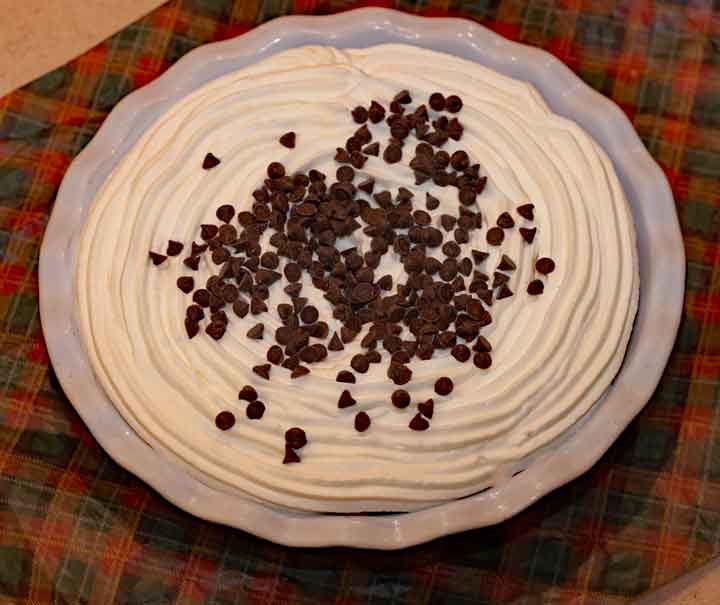 Frozen Fudge Brownie Pie Cutting Tips
This Frozen Fudge Brownie Pie is actually pretty easy to slice, or at least if you remembered to spray the pie dish with cooking spray before laying on the pie dough. To loosen frozen pies from the pie dish, I usually have to set them in a sheet pan filled with hot water to warm the bottom. With this pie that was not necessary because the crust slide right out. After I served the pie, I pried the whole frozen pie out of the pan, cut it into wedges and froze the slices.
Recipe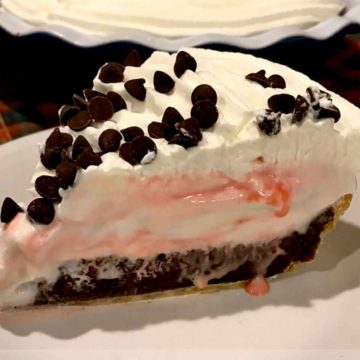 Frozen Fudge Brownie Pie
Super easy pie with a brownie filling
Ingredients 
1

roll and bake pie crust

Pillsbury

1

stick

salted butter, cut into chunks

(114 grams)

2

ounces

unsweetened chocolate

(56 grams) chopped

2

eggs

1

cup

sugar

(200 grams)

¼

cup

flour

pinch

of salt

increase to ¼ teaspoon if using unsalted butter

½

teaspoon

vanilla

Softened ice cream

your favorite flavor

Whipped topping or freshly whipped cream
Instructions 
Partially Bake the Pie Crust
Bring the pie crust to room temperature, then unroll it and fit to a 9 inch pie dish. Freeze for about 20 minutes, then press a sheet of foil over it to cover. Weigh down with pie weights, rice, beans or sugar and bake at 375 for 20 minutes. Remove foil and weighs and let cool while you make the filling.
Prepare Filling
Heat butter and sugar over medium-low, stirring often until melted and smooth. Remove from heat and let cool. You can do this step in the microwave if that's easier. Just microwave on high and stir every 30 seconds until melted.

In a mixing bowl, whisk together the eggs and sugar, then stir in the flour.

Stir the salt, vanilla and the slightly cooled melted chocolate mixture into the egg mixture until thoroughly blended. Pour into the partially baked crust and bake at 350 for about 25 minutes. The filling should still be a little big jiggly in the center. Let cool at room temperature.

Spread softened ice cream over brownie filling and freeze until firm. Cover with plastic wrap and freeze until firm.

Before serving, cover the pie with sweetened whip cream or whipped topping.