Reese's Thins Sea Salt Peanut Butter Cookies is a recipe I came up with while trying to use up some of the Bouchon Bakery Nutter Butter dough. They are delicious! The cookies are thin, extremely crispy around the edges and very buttery. Even Todd liked them, and he doesn't care much for peanut butter.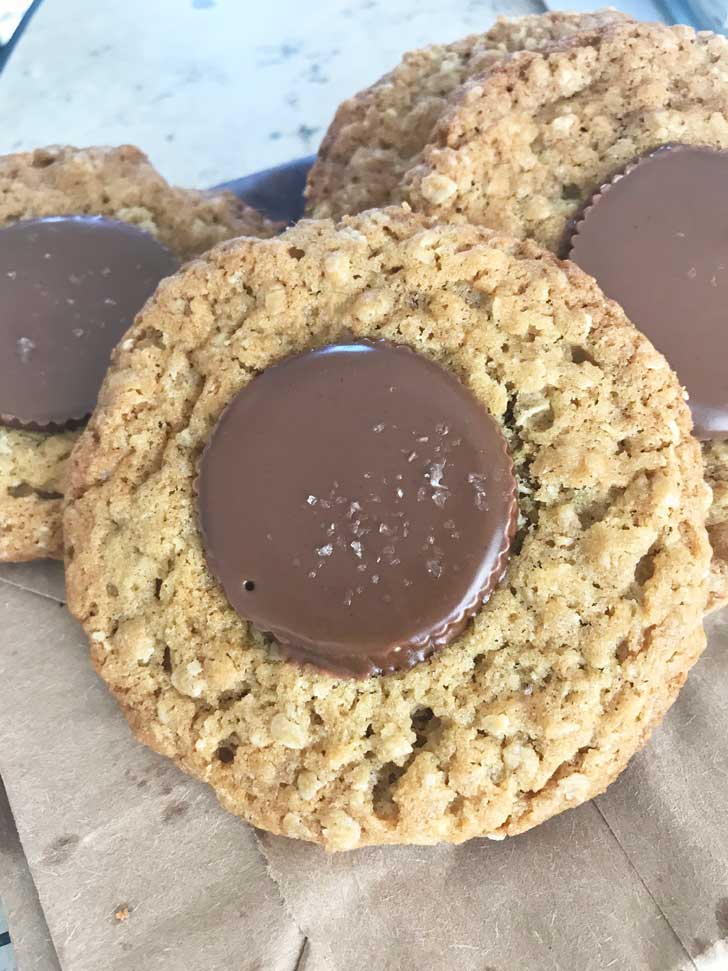 With all the butter, it's important to use the right amount of flour and oats, so make sure to use 70 grams or a scooped ½ cup of flour. For the oats, I've only tested with quick -- not old fashioned or instant, so it's probably a good idea to use quick oats unless you are up for experimentation. As for the egg, I am sorry about the 2 tablespoon measurement, but that's what works. Too much egg would make the cookies chewy, and these are pretty crisp. As for the Reese's Things, they come in Milk and Dark, so use your favorite. I like Milk.
Cooling Cookies on a Paper Bag
When I made the Reese's Thins cookies, I wanted to test a cookie hack I read about which involves letting the cookies cool on a brown paper sack. It's supposed to soak up grease and quicken up the crisping process. You can use a bag from the grocery store, or better yet -- some lunch sacks. I let the cookies cool on lunch sacks and was not very surprised to see how much grease came out. And I do think the cookies were crisper. Or at least they crisped up quicker. Since mentioning this on Facebook a few people have said their mothers or grandmothers let cookies cool on newspapers.
Recipe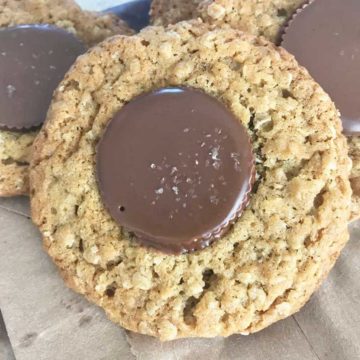 Reese's Thins Sea Salt Peanut Butter Cookies
Thin peanut butter oatmeal cookies with Reese's Thins in the Center.
Ingredients 
½

cup

all-purpose flour

(70 grams)

½

teaspoon

baking powder

1

teaspoon

baking soda

⅜

teaspoon

salt

1

stick

unsalted butter, softened

(114 grams)

2

tablespoons

plus 2 teaspoons peanut butter

(40 grams)

¼

cup

granulated sugar

(50 grams)

¼

cup

packed light brown sugar

(50 grams)

2

tablespoons

lightly beaten egg

(27 grams)

½

teaspoon

vanilla

2

tablespoons

chopped peanuts, optional

¾

cup

quick cooking oats

12

Reese's Thins
Instructions 
Mix together the flour, baking powder, baking soda and salt.

In a mixing bowl beat the softened butter, peanut butter and both sugars until light and creamy. Add egg and stir until smooth, then beat in the vanilla extract.

Add the flour mixture to the butter mixture and stir until smooth, then stir in the peanuts and oats.

Divide dough into 12 rounds. Put them on a dinner plate and chill until firm enough to roll into balls. Roll into balls and press into disks.

Keep chilled until ready to bake.

To bake, preheat oven to 325 degrees F.

Arrange disks on a parchment lined baking sheet and bake for about 12-15 minutes or until cookies start to brown around the edges.

Remove from oven and put a Reese's Thin in the center of each cookie. Sprinkle the sea salt. You can do this right away, or you can wait and let the chocolate set a bit before adding the salt. The crystals stand out more if you let the chocolate set.

Let the cookies cool on the sheet for 10 minutes, then transfer to a wire rack.

Alternatively, let the cookies cool on brown paper sacks for about 10 minutes, then transfer to a wire rack to finish cooling.