I don't do as much vegan baking these days, but I came across a recipe for vegan oatmeal chocolate chip cookies and had to try it.  I literally had the dregs of every main ingredient. Let's see. There was an almost empty carton of almond butter, a little baggie full of ground flax, another baggie with some ground oats and a giant bag of almond flour with something like 2 tablespoons left.  So yes, some vegan cookies were in order.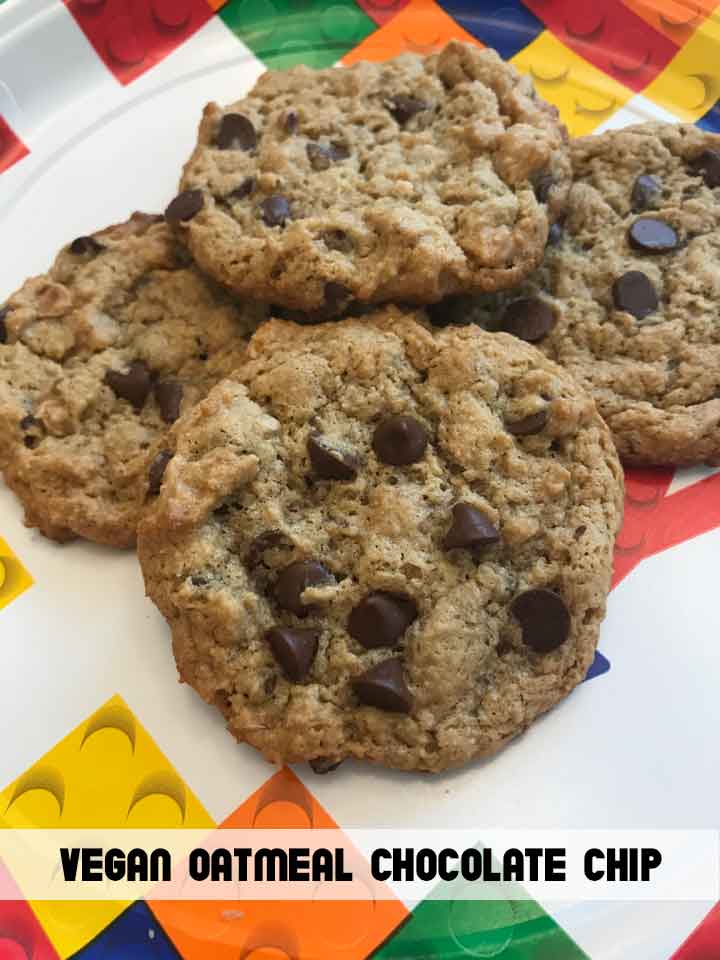 Small Batch Vegan Cookies
The recipe is from The Veggiekins blog. Given my low ingredient situation I scaled it down and made 4 cookies.  That's one of the great things about vegan baking.  There are no eggs to contend with, so you can almost always scale things up or down with ease.  So I made a micro-batch and was surprised at how great these were.  I love the shape.  They are thin and chewy and kind of remind me of the thin, flat, delicious gluten-free chocolate chip cookies from Baking You Happy (yet a completely different recipe).
Ingredient Notes
Since the only change I made was to quarter the recipe, I've linked directly to it so you can grab it next time you're in a vegan baking mood. There are already something like 72 comments, so make sure to read hints and tips from other bakers. I made the vegan oatmeal chocolate chip cookies using unroasted, unsweetened, unsalted (which is why I wanted to get rid of it!) almond butter, brown sugar rather than coconut sugar and golden flax. All the ingredients are pretty basic so there's not much to say. Next time I might try the coconut sugar.
If you want to make my weird little micro-batch version of Vegan Oatmeal Chocolate Chip Cookies, here it is.
Recipe
Small Batch Vegan Oatmeal Chocolate Chip Cookies
Makes four vegan cookies.
Ingredients 
2

tablespoons

creamy almond butter, no salt, no sugar

(32 grams)

1

tablespoons

maple syrup

(18 grams)

1

tablespoon

brown sugar

(12 grams)

¼

tsp

vanilla extract

¾

teaspoon

ground flax mixed with 1 ½ teaspoons water

2 ½

tablespoons

oat flour

(18 grams)

½

tbsp

blanched almond flour

⅛

tsp

baking powder

⅛

tsp

baking soda

2

tablespoons

vegan chocolate chips

Pinch

salt
Instructions 
Preheat oven 350F.

In a small bowl, whisk almond butter, maple syrup, brown sugar and vanilla extract until smooth. Fold in your flax egg with a spatula.

Mix together all the dry ingredients then stir them into the dough. Stir in chocolate chips.

Shape into 4 little balls. Put on a baking sheet lined with parchment, flatten slightly and bake for about 10 to 12 minutes.

Let cool slightly, then remove from baking sheet. They should be soft and chewy.