I rarely make graham crackers, but I needed some in a pinch and didn't feel like going to the store.  We had all the ingredients, the most important being the wheat flour.  And since we had coconut oil and almond milk, I decided to swap them for the usual shortening and milk and make homemade vegan graham crackers. The results were fantastic! These really exceeded our expectations, and I've made the crackers many times since posting.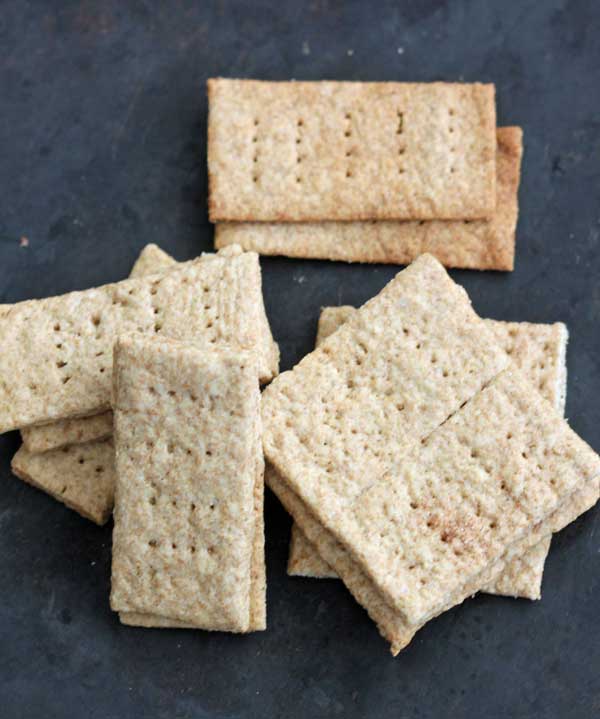 As you can see from the first photo, I monkeyed around with the thickness a bit and sprinkled cinnamon sugar on a few of them.  All of the versions were good, and while the thicker ones were prettier, the overly browned thin ones were hard to stop eating.  They had texture of Wheat Thins, but the flavor of graham crackers.
Vegan Graham Cracker Ingredients
For this recipe, I started with a basic one that calls for shortening and milk, but used the aforementioned coconut oil and almond milk to cut the dairy. In addition to that, I increased the salt and vanilla for more flavor, then changed the baking temperature and time. I have found that baking graham crackers at 300 degrees rather than the usual 350 or even 325, helps them bake evenly through and through.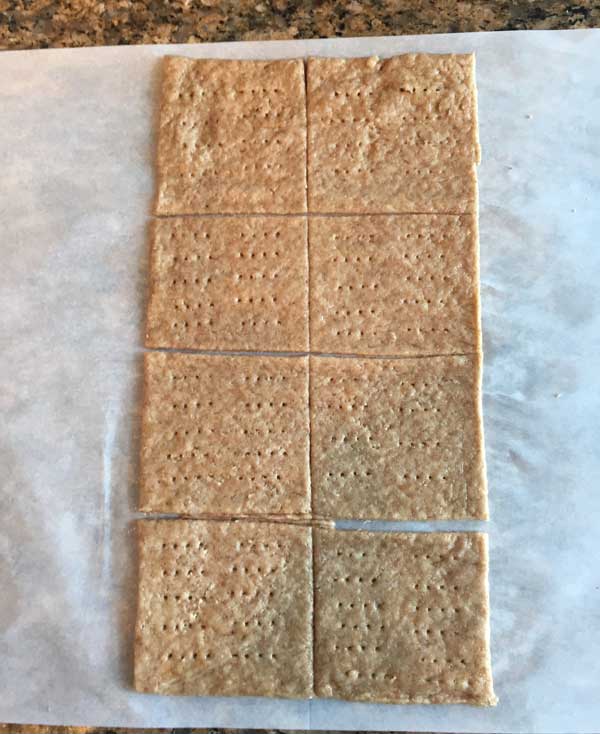 Rolling and Cutting
Cutting the dough into squares, a process I thought would be tedious, was actually really fun. The dough was easy to work with and rolling it out between sheets of parchment paper was a breeze. Also, cutting and trimming the dough with a pizza cutter was kind of fun and reminded me of playing with play dough. It was also nice not having to worry about separating the dough into perfect squares. Scoring the dough and separating the baked crackers worked just fine.
This recipe makes a pretty small batch of Vegan Graham Crackers. You can always double it, but I recommend making the recipe using these amounts first.
Chocolate Graham Crackers Variation
Update:  I love this recipe and use it all the time.  If I have trans-fat free shortening, I sometimes use that instead of coconut oil.  I've also come up with a chocolate variation and have added it to the notes.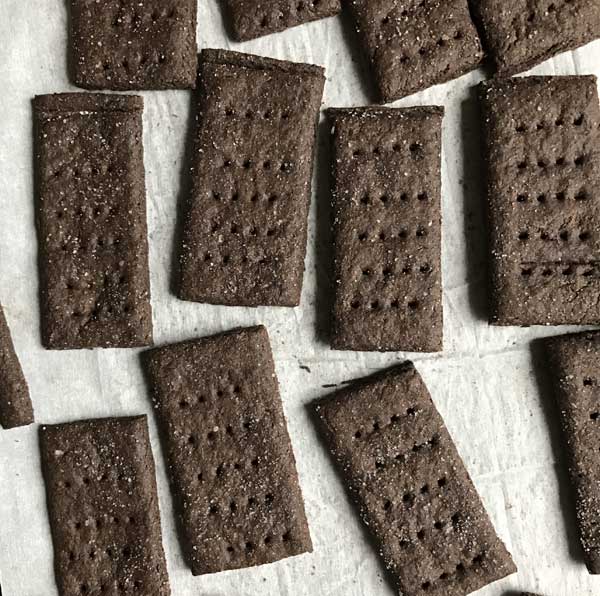 Recipe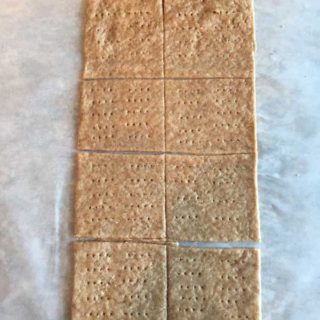 Vegan Graham Crackers
Whole wheat vegan graham crackers made with coconut oil and almond milk. For the almond milk, I used Trader Joe's unsweetened vanilla flavor.
Ingredients 
1

cup

whole wheat flour

140 grams

½

cup

all-purpose flour

70 grams

½

teaspoon

baking powder

¼

teaspoon

baking soda

¼

teaspoon

salt

4

tablespoons

coconut oil, room temperature**

50 grams

¼

cup

plus 2 tablespoons packed brown sugar

65 grams

1

teaspoon

vanilla extract

6

tablespoons

almond milk, plus more if needed

84 grams, approximately
Instructions 
Preheat oven to 300 degrees F. Have ready two large baking sheets.

Mix the flour, baking powder, baking soda and salt; set aside.

In a mixing bowl, using an electric mixer, beat the coconut oil, brown sugar and vanilla until creamy.

Add the flour mixture to the vanilla mixture and stir until crumbly. Add the almond milk one tablespoon at a time, stirring until dough holds together. It will be on the dry side, but it should hold together and not fall apart when you press it down. I usually knead it just a bit to get it to come together (but don't overwork!).

Divide the dough in half.

Working one half at a time, press the dough down flat on a sheet of parchment paper, then using another sheet of parchment paper on top (or a sheet of plastic wrap if you prefer) roll to make a 6x12 inch rectangle about ⅛ inch thickness. Obviously you can't roll it right into a perfect rectangle, so start by rolling an elongated ⅛ inch slap and just trimming and re-piecing dough to make a neat rectangle.

With a pizza cutter, score rectangle cross wise to make 4 (3x6 inch) rectangles, then lengthwise to make 8 (3x6 inch) squares. If desired, make 4 more cross-wise slashes so that you have 16 small rectangles. Using a fork, make 4 or 5 pokes down each rectangle.

Do not separate the pieces. Put the parchment and scored dough on a baking sheet.

Repeat with second half of dough. If your are using a large sheet pan (such as a 13x18) you can set the second slab of scored graham cracker dough next to the first and bake all on one tray. Otherwise, set it on a separate baking sheet and bake one sheet at a time or on upper and lower racks, alternating.

Bake at 300 degrees F for about 20 minutes. Turn off the oven and allow the crackers to sit in the closed "off" oven for another 10 minutes.

Remove from the oven and let cool completely. If you want a softer cracker or if you rolled your dough thinner than ⅛ of an inch, skip the part where you let the crackers sit in the oven a while longer
Notes
I recommend baking one slab of dough using the recommended baking times and evaluating just how much time you'll need with your oven. In my oven, I get perfectly crisp and crunchy crackers by baking for 20 minutes at 300, then leaving them in the "off" oven with the door shut for another 10 minutes, then removing and cooling. If I roll the dough super thin, the crackers will crisp up after just 20 minutes at 300. You may need to play around with the bake times depending on your own oven.
Chocolate Variation: Take out 2 tablespoons of the all-purpose flour and use 3 scant tablespoons of Dutch process cocoa (Hershey's Dark works well).
For the coconut oil, feel free to substitute 50 grams of trans-fat free shortening.