I enjoy the process of making pecan pie more than pecan pie bars, but bars are easier to serve so they are what I usually end up making. My favorite recipe -- or at least the one I use most often, is probably Brown Sugar & Honey Pecan Bars. But now I have a new one! Like the Brown Sugar & Honey Pecan Bars, these Pecan Pie Bars are also made in an 8 inch square pan.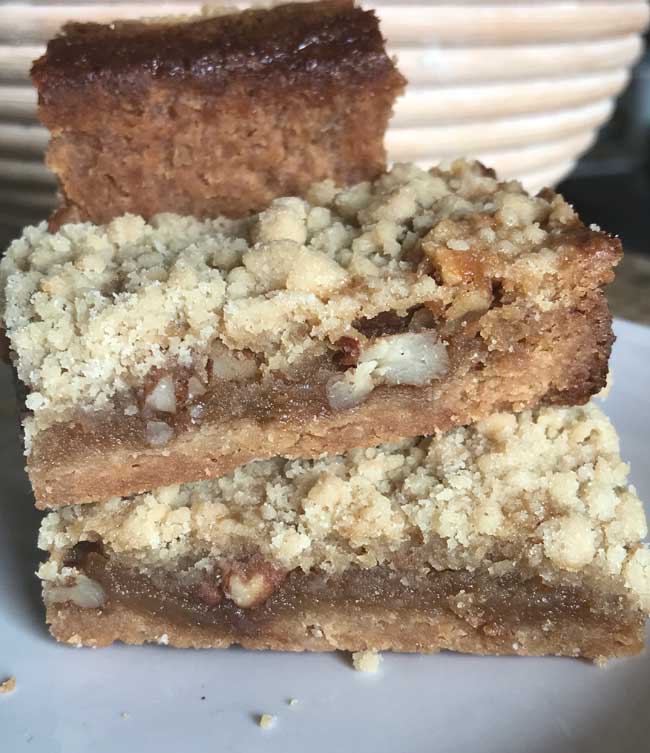 Cookies by the Dozen
The original recipe is from one an old cookbook called Cookie by the Dozen. It's now out of print, but if you are lucky you may find a copy in your local library. In the intro to the recipe the author describes these as "a favorite pie's ingredients sandwiched between layers of brown sugar shortbread". That is a very apt description, because these are more like shortbread bars than actual pecan pie. The layer of filling is compact and dense rather than egg-y, and because there's brown sugar shortbread on bottom and a crumb topping, the shortbread flavor dominates. If you are wanting something truly more pecan pie like, I recommend using a recipe with more corn syrup and eggs.  However, these are easy to serve and travel well.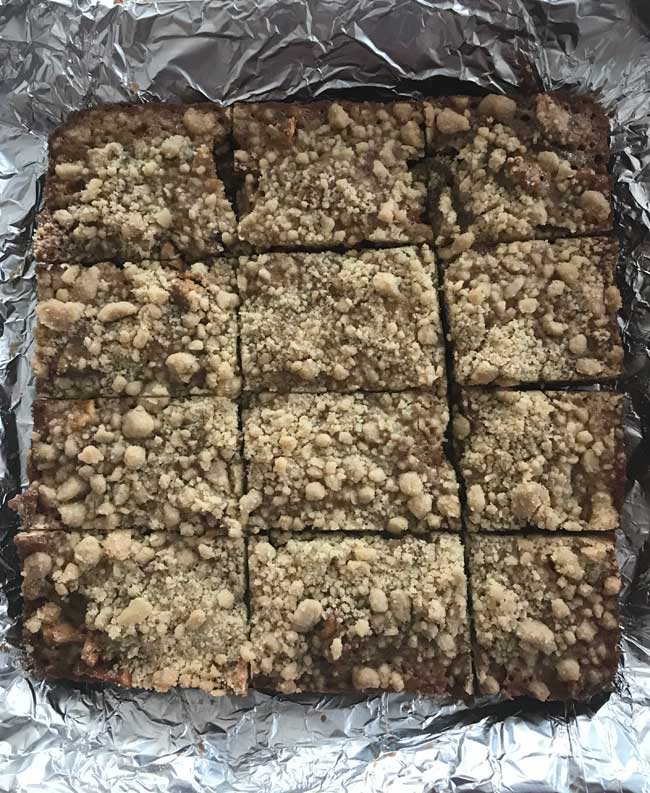 Here's the recipe as I make it. I use nonstick foil rather than cooking spray, and I prefer using melted butter in the shortbread rather than creaming it with the sugar. The bars are fairly quick to put together and only require about an hour's cooling time.
Recipe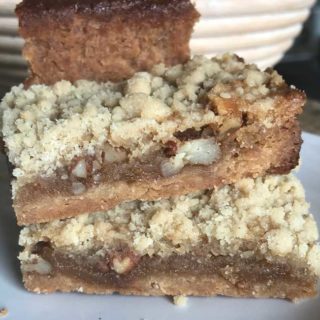 8 Inch Pan Pecan Pie Bars
Easy Pecan Pie Bars baked in an 8 inch square pan.
Ingredients 
1

stick

114 grams unsalted butter

½

cup

packed light brown sugar

100 grams

½

teaspoon

vanilla extract

⅛

teaspoon

of salt

1 ¼

cups

all-purpose flour

157 grams plus another 3 tablespoons used separately (24 grams)
Filling
2

tablespoons

melted unsalted butter

28 grams

⅓

cup

dark corn syrup

100 grams

¼

cup

granulated sugar

50 grams

1

large egg

1

teaspoon

vanilla extra

1

cup

toasted coarsely chopped pecans
Instructions 
Preheat oven to 350 degrees F. Line an 8 inch square metal pan with nonstick foil. If you don't have any of the foil you can use regular foil and spray it with cooking spray.

In a microwave-safe bowl, melt the butter gently using one of the lower heat settings (50% power) until it is melted.

In a mixing bowl, combine the melted butter with the brown sugar, vanilla extract and salt. Stir well, then add the flour and stir until blended. Measure out a packed half cup or weigh out 100 grams and put it in a a separate bowl.

Press remaining shortbread dough into bottom of the pan and bake for 15 minutes or until set and lightly browned around edges.

When the crust is done, reduce heat to 300 degrees F.

Meanwhile, add 3 tablespoons of flour (24 grams) to the reserved ½ cup of dough and crumble it all together so that you have a topping.

Combine the filling ingredients (melted butter, dark corn syrup, granulated sugar, egg, vanilla and pecans) and stir well, then pour over the baked crust.

Sprinkle the topping mixture over the pecan mixture.

If you haven't already reduced the heat, make sure it is at 300 degrees F.

Bake the bars for about 40-45 minutes or until top is slightly browned and bars are firm.

Let the bars cool for 20 minutes in the pan. Use foil as a handle and lift from pan, then score into 12 bars (do not separate yet) and let cool completely.