I'll take any excuse to bake carrot cake, so when I saw people on the Internet going crazy over one called Divorce Cake, I literally stopped what I was doing and went out for ingredients. Glad I did!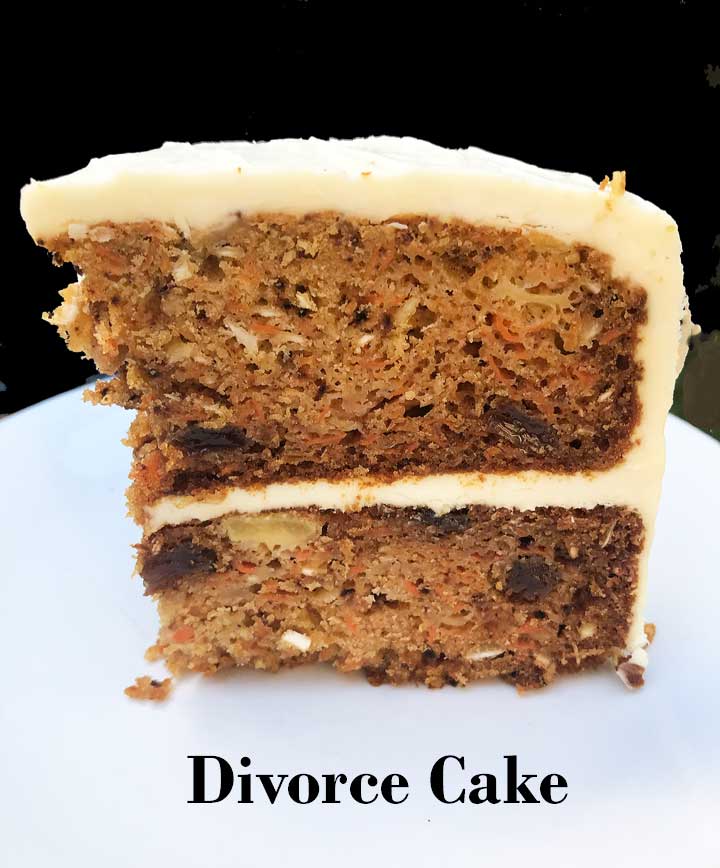 The recipe is from Reddit, where it was shared by a reader who said it was her mother's carrot cake recipe and that her father asked her to make it for him even though they'd been divorced for 20 years. He liked it that much, and so did everyone on Reddit who made it. If you're not on Reddit and this is the first you've heard about Divorce Cake, enjoy the recipe! I can see why the Redditor's father liked it so much.
Carrot Cake with Honey
The key ingredient in Divorce Cake is honey, which makes the cake smell and taste like a giant Honey Maid graham cracker. Not being a honey super fan (though I do like it here and there), I was a little hesitant about honey being the key sweetener.  Now thinking back to the most excellent Chocolate Honey Cake (and Honey Cookies), I should have had more faith in the honey.  Its flavor makes the cake special, yet is not overpowering at all. All of the add-ins help, too. So even if you don't love coconut, pineapple, raisins and walnuts it's worth adding them to get the sum of the parts.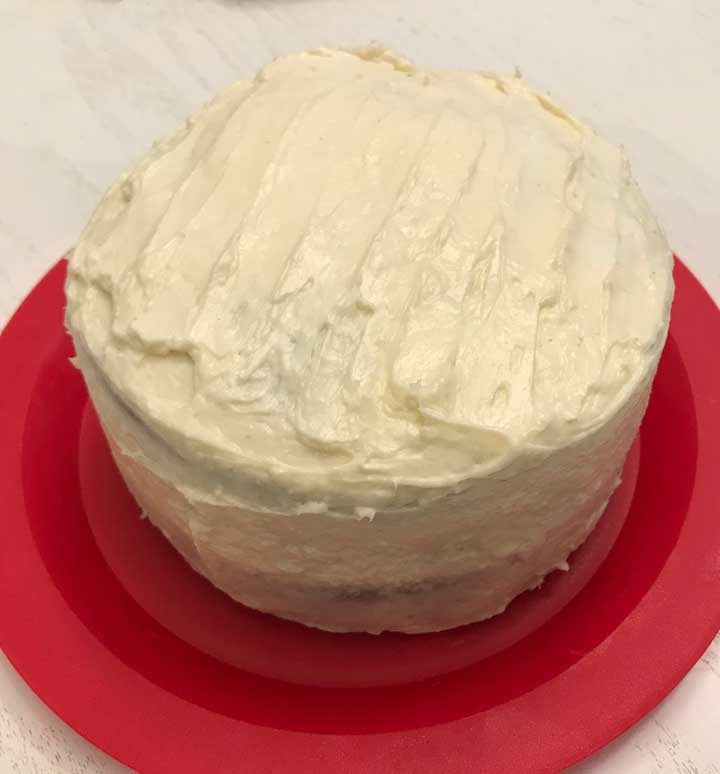 Six Inch or One Layer Divorce Carrot Cake
So here's an adapted recipe.  Mine is a half version which works perfectly for a two layer six inch cake pan.  You could also just make this as one layer in an 8 inch square pan or a 9 inch round, 2 inch deep cake pan.  And of course you can double it and make a full size cake since that's how the original recipe was.
Divorce Cake Key Ingredient Notes
Honey - Some types of honey have a strong flavor. For Divorce Cake I recommend the most neutral, inexpensive kind such as the clover honey that comes in the little bear container.
Maple syrup -- This is an optional ingredient. I used 2 tablespoons of it in place of 2 tablespoons of the honey. Feel free to just use honey.
Carrots -- Grated them by hand because I didn't feel like cleaning the food processor, so they were very finely grated. If you use the processor, you may want to grate them and then chop them a bit.
Walnuts -- Very finely chopped to the point where they were almost ground, as I used my Nutribullet to chop them. I also toasted them first.
Unsweetened Shredded Coconut -- I had unsweetened coconut flakes and had to lightly grind them in the Nutribullet, Used 50 grams.
Raisins -- soaked them for about an hour in the juice drained off the pineapple. Not a key step in the recipe, but doesn't hurt. I read somewhere that soaking raisins in juice or water plumps them up and keeps them from soaking up extra moisture in the cake. This doesn't seem to be a cake where something like that would even matter, but who knows? Raisins can be quite magical.
Pineapple -- Used an 8 oz can and drained it really well.
Cream Cheese & Butter -- Make sure you bring these completely to room temperature before mixing. I can't tell you how many times I've been impatient and had lumpy frosting because I kept thinking the cream cheese and butter were both warm enough. If you are really impatient and have good microwave skills you can soften them using a low power setting in the microwave.
Powdered Sugar -- I forgot to sift, but all the lumps got whipped out so yay.
Lemon juice -- Must use juice from lemon tree in your yard. Just kidding.
Recipe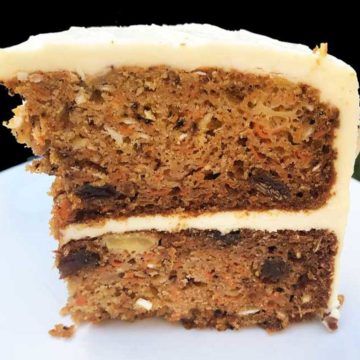 Divorce Carrot Cake Six Inch Layer
Adapted from Reddit, where a reader claims her dad asked her to make her mom's carrot cake even though they'd been divorced for years.
Ingredients 
1

cup

all-purpose flour

135 grams

1

teaspoon

cinnamon

1

teaspoon

baking soda

⅜

teaspoon

salt

½

cup

oil

105 grams

6

tablespoons

honey

120 grams (see note about maple syrup)

1

large

egg plus 2 tablespoons lightly beaten egg

That's 1 ½ eggs or about 70 grams beaten egg

1

can

crushed pineapple, drained

8 oz can, so about 230 grams

1

slightly heaping cup of grated carrots

110 grams

½

cup

shredded unsweetened coconut

50 grams

⅓

cup

walnuts

finely chopped

⅓

cup

raisins
Cream Cheese Frosting
8

oz

cream cheese

softened (240 grams)

¼

cup

butter, salted or unsalted okay

softened (56 grams)

1

teaspoon

vanilla extract

½

cup

powdered sugar

sifted (60 grams)

lemon juice

to taste
Instructions 
Preheat oven to 350 F.

Grease and flour two six inch round cake pans.

Stir the flour, baking soda, salt and cinnamon together in a medium bowl.

Combine oil, honey, eggs and drained pineapple in a large bowl. If you want, you can use the juice from the drained pineapple to soak the raisins.

Mix dry ingredients, plus carrots, coconut, walnuts and raisins together into the wet ingredients until well-combined.

Pour into cake pans and bake for 45 minutes.

Make sure all ingredients are at room temperature (not too cool) and slightly softened. Beat together the cream cheese, butter and sugar until smooth, then beat in the vanilla.

Scrape down side of the bowl and continue beating, adding lemon juice to taste.
Notes
I actually used 4 tablespoons of honey and 2 tablespoons maple syrup.  The original recipe calls for just honey.  I'd definitely use the maple syrup again, but if you don't have any don't let it stop you from making the cake.