It's the reincarnation of Loaf Pan Blackberry Cobbler! Meet 6.5 Inch Skillet Blueberry Cobbler. It's your new best dessert friend when you have about a cup of berries, a craving for cobbler and a 6.5 inch cast iron skillet. Note: I've been calling mine a 5 inch skillet, but was measuring from the bottom. The way Lodge measures it is across the top, so it's a 6.5 inch skillet.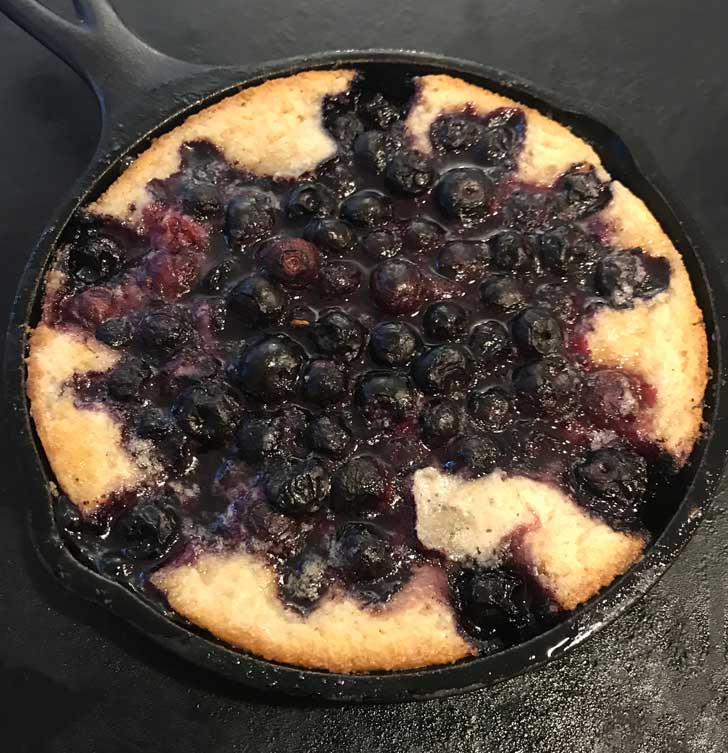 I really love this recipe. Plus it's nice to have a dessert for two, since our freezer is overstuffed with baking experiments. This cobbler is perfect in that not only is it small, it's fairly quick, uses fresh or frozen fruit and is fun to serve from the little skillet.
As you can see from the photo, I made this one with some frozen blueberries, but blackberries, cherries or mixed berries should work just fine. And I don't know why fresh berries wouldn't work, so long as you weigh out the same amount.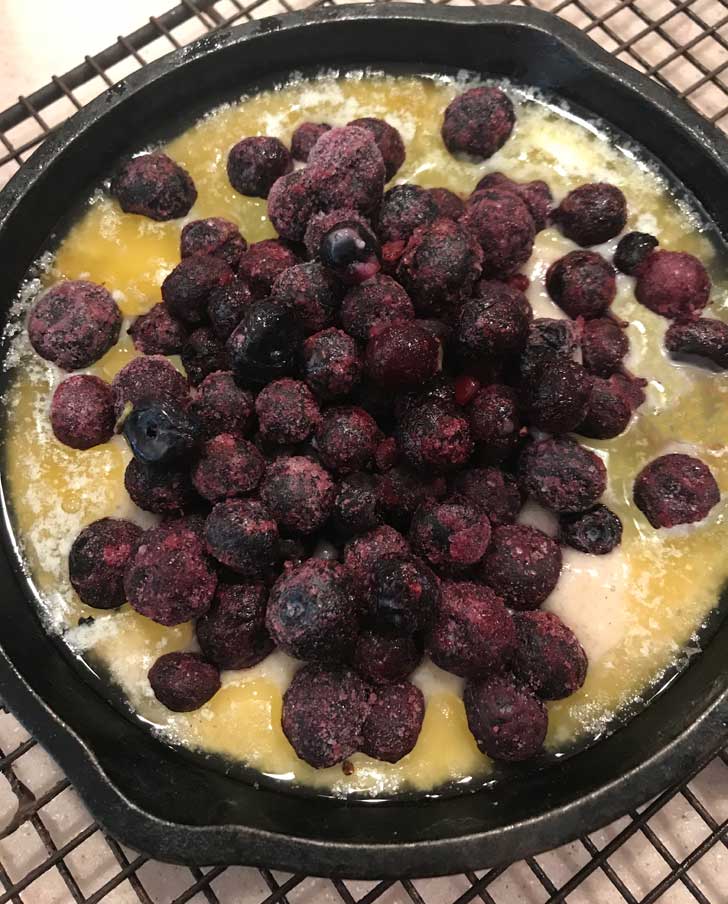 6.5 Inch Skillet
The best thing about this recipe is that you get to use the cutest pan in the kitchen. If you don't have a 6.5 inch skillet, you can use a small loaf pan, but I recommend buying a 6.5 inch cast iron skillet because they are so versatile. I use mine for Skillet Chocolate Cake, Small Batch Skillet Cornbread, Skillet Brownies and more! As for where to buy, Amazon's a good bet, but cast iron is easy to come by so you can shop around for the best prices. If you are very lucky you might find cast iron at a thrift store. Update: I just spotted the Lodge brand for sale at Wegman's for $9.99.
Some More Cobbler Notes
The cobbler in the picture has frozen blueberries, but you can use other berries. And to prepare, you just layer the ingredients. First there's the melted butter, then you layer on your batter and plop the berries in the middle. I'm still fiddling around with different fruits, so I'll keep updating the notes with variations. I recently made a 6.5 Inch Skillet Cobbler with raspberries and rhubarb which was also good.
Recipe
6.5 Inch Skillet Blueberry Cobbler
Cobbler for 2 baked in a 6.5 inch skillet.
Equipment
6.5 inch cast iron skillet
Ingredients 
2

tablespoons

unsalted butter

(28 grams)

½

cup

all-purpose flour

(65 grams)

¼

teaspoon

baking powder

¼

teaspoon

salt – use ⅛ if using salted butter

½

cup

milk

(114 grams)

6

tablespoons

sugar

(75 grams)

⅛

teaspoon

each

ground nutmeg and cinnamon

1

cup

frozen blueberries, heaping

(150 grams)
Instructions 
Preheat oven to 350 degrees F.

Put the butter in a 6.5 inch cast iron skillet. Set the pan in the oven as it preheats, allowing the butter to melt. Set a timer for 5 minutes so that you won't forget about it! Do not skip this step because it is very easy to forget.

Meanwhile, in a small bowl combine the flour, baking powder, salt and half of the sugar. Add half of the milk and stir until blended. Add remaining sugar and remaining milk and stir until blended.

Carefully, wearing your best oven mitt or using a reliable hot pad, remove the hot skillet of melted butter and place on a wire rack or something that will prevent you from scorching your countertop.

Pour the batter into the center of the skillet over the melted butter, but do not stir.

Put the berries (or whatever type fruit) over the batter.

Put on the oven mitt again and put the hot skillet on a rimmed baking sheet (to catch any drips, though there shouldn't be any). Put in the oven and bake for 40-45 minutes or until very brown around the edges.

Serve hot out of the oven or let it stand for a while. The crust should become a little bit chewy.
Notes
Raspberry Rhubarb Version:  Instead of frozen blueberries, use ½ cup of frozen raspberries mixed with ½ cup chopped fresh rhubarb.  Toss the rhubarb and raspberries in 2 teaspoons of the sugar that would normally go into the batter.  So when making the batter, use 5 tablespoons plus 1 teaspoon, then reserve 2 teaspoons for tossing with berries and rhubarb.