This recipe is from my friend Randall's grandmother, who made it with peaches. I fully intend to make it with peaches at some point, but blackberries were on sale, so I followed the lead of my own grandma and made blackberry cobbler. My grandma made her famous cobbler in a 9×13 inch pan and served it to the crowds of family that visited her on weekends. I've scaled it down to a loaf pan size and am calling it Blackberry Cobbler for Two.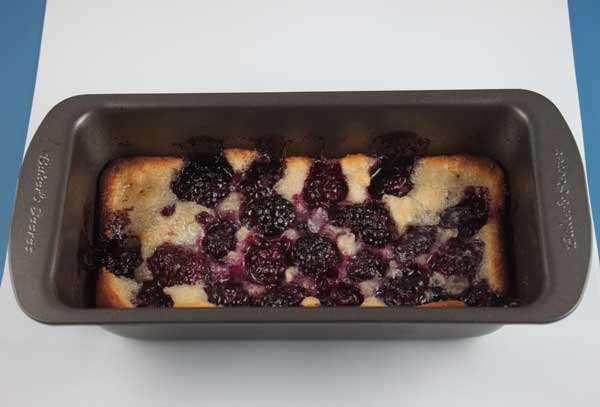 Cobbler in a Loaf Pan and Size
The size and shape of the pan is important. My loaf pan is 8×4 inches. If you don't have an 8×4 inch loaf, you could probably divide the recipe between two individual size casserole dishes. Alternatively, you could use a 9×5 inch loaf pan and increase the ingredients slightly. I put the increased measurements in the notes, for those of you who only have 9×5 inch loaf pans.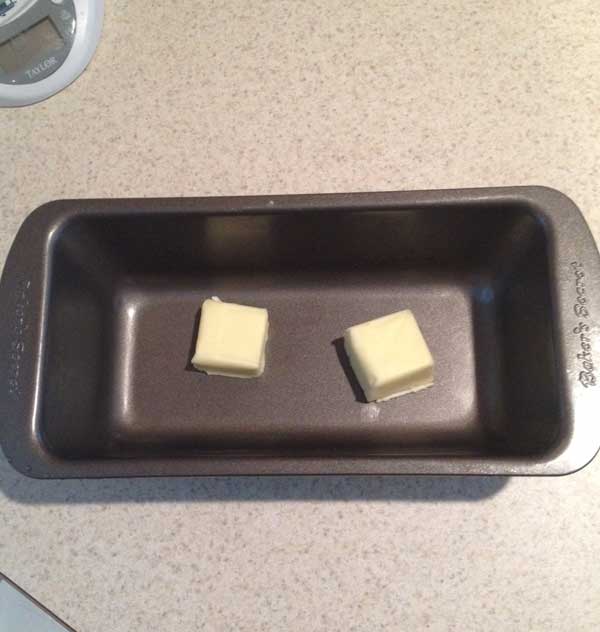 Anyhow, this is one of those practically effortless and fun dishes where you just layer everything in the pan. The batter is poured right on top of the melted butter and some lightly sweetened berries are set on top. No stirring. This cobbler really showcases the fruit, so I'm glad this week's blackberries were so fat and juicy.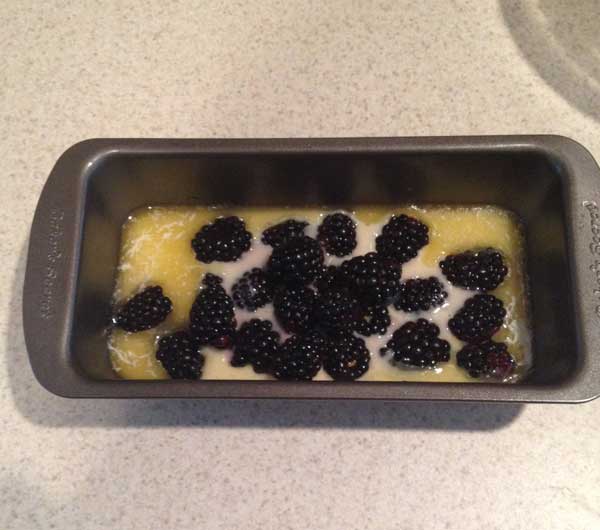 The texture of the crust was dense and flavorful — not too cakey, but not exactly biscuit-like, either. It's kind of like a dense pancake but with a better flavor. I let the cobbler sit for several hours at room temperature, cut it into two equal squares but left it in the pan, warmed it a little after dinner, and served two big squares of cobbler. Next time I'll try peaches (Randall's grandma used canned freestone peaches) and maybe throw in a little cinnamon.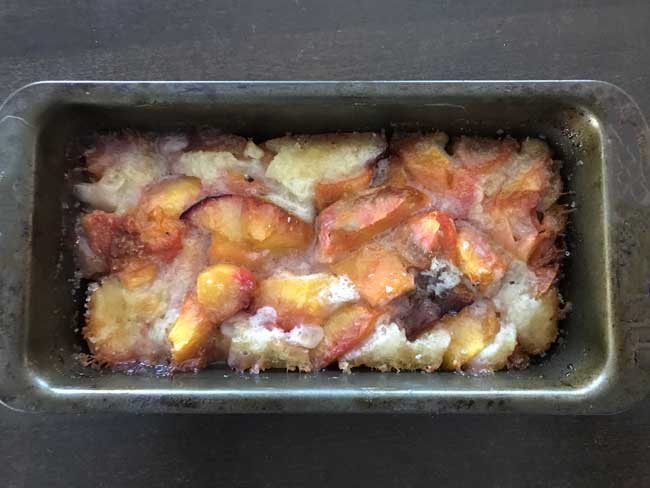 Update: I've since made it with peaches and it's great! For the peach version, follow the directions as written but use 3 or 4 peaches in place of blackberries.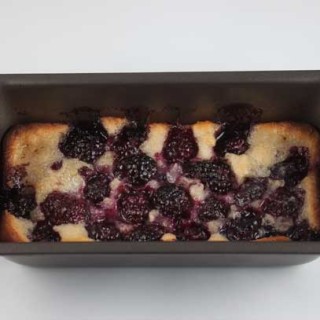 Blackberry Cobbler for Two
Blackberry Cobbler for Two is baked in a small loaf pan and serves about 2 or 3 people.
Ingredients 
3

tablespoons

unsalted butter, divided use

(42 grams)

1/2

cup

all-purpose flour

(65 grams)

1/4

teaspoon

baking powder

1/4

teaspoon

salt – use 1/8 if using salted butter

1/2

cup

milk

(114 grams/ml)

6

tablespoons

sugar

(75 grams)

1/4

teaspoon

vanilla

1

cup

blackberries, heaping cup or 170 grams

(170 grams)

2

teaspoons

sugar

(8 grams)
Instructions 
Preheat oven to 350 degrees F.

Set 1 tablespoon (14 grams) of the butter aside and put the other 2 tablespoons (28 grams) in an 8×4 inch loaf pan. Set the pan in the oven as it preheats, allowing the butter to melt. Set a timer for 5 minute so that you won't forget about it!

Meanwhile, in a small bowl combine the flour, baking powder, salt and half of the sugar. Add half of the milk and stir until blended. Add remaining sugar, remaining milk and the vanilla until stir until smooth. Pour the batter over the melted butter, but do not stir.

Toss the blackberries with 2 teaspoons of sugar and arrange the berries over the batter. Bake for 40-45 minutes or until very brown around the edges.

Melt the reserved tablespoon of butter and drizzle it over the top.

I suppose you could serve this hot, but I let it stand for a while before serving. I let it cool completely, sliced it in half without removing from the pan, rewarmed for about 10 minutes in a 350 degree oven and served as two big squares.
Notes
If you have a 9×5 inch or slightly larger loaf pan, use these measurements. Melt 3 tablespoons of the butter in the loaf pan and save 1 for topping.
4 tablespoons unsalted butter
3/4 cup all-purpose flour
1/4 teaspoon plus a pinch baking powder
1/4 teaspoon salt plus a pinch
3/4 cup milk
3/4 cup sugar
1/4 teaspoon vanilla plus another small dash
1 1/2 cups blackberries
1 tablespoon sugar