This recipe is from my friend Randall's grandmother, who made it with peaches. I fully intend to make it with peaches at some point, but blackberries were on sale, so I followed the lead of my own grandma and made blackberry cobbler. My grandma made her famous cobbler in a 9x13 inch pan and served it to the crowds of family that visited her on weekends. I've scaled it down to a loaf pan size and am calling it Blackberry Cobbler for Two.
Cobbler in a Loaf Pan and Size
The size and shape of the pan is important. My loaf pan is 8x4 inches. If you don't have an 8x4 inch loaf, you could probably divide the recipe between two individual size casserole dishes. Alternatively, you could use a 9x5 inch loaf pan and increase the ingredients slightly. I put the increased measurements in the notes, for those of you who only have 9x5 inch loaf pans.
Anyhow, this is one of those practically effortless and fun dishes where you just layer everything in the pan. The batter is poured right on top of the melted butter and some lightly sweetened berries are set on top. No stirring. This cobbler really showcases the fruit, so I'm glad this week's blackberries were so fat and juicy.
The texture of the crust was dense and flavorful -- not too cakey, but not exactly biscuit-like, either. It's kind of like a dense pancake but with a better flavor. I let the cobbler sit for several hours at room temperature, cut it into two equal squares but left it in the pan, warmed it a little after dinner, and served two big squares of cobbler. Next time I'll try peaches (Randall's grandma used canned freestone peaches) and maybe throw in a little cinnamon.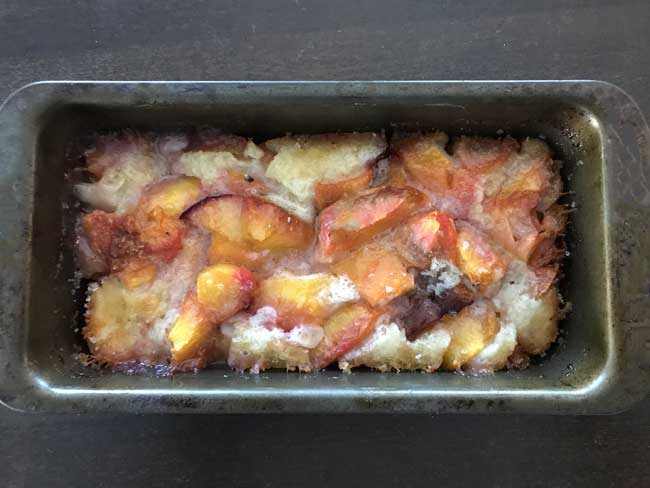 Update: I've since made it with peaches and it's great! For the peach version, follow the directions as written but use 3 or 4 peaches in place of blackberries.
Recipe