Here's another very easy dessert inspired by the 99 cent raspberries I found at Publix. It's Cardamom Raspberry Crisp, a recipe that serves four people, but can easily be scaled down to serve two or even one. If you don't have any raspberries you can make this with a different fruit. However, if you are lucky enough to find sale-priced raspberries in October, definitely try a raspberry crisp. I really wasn't sure if the raspberries would work as well as blueberries or blackberries, but the crisps smelled so good while baking and tasted delicious.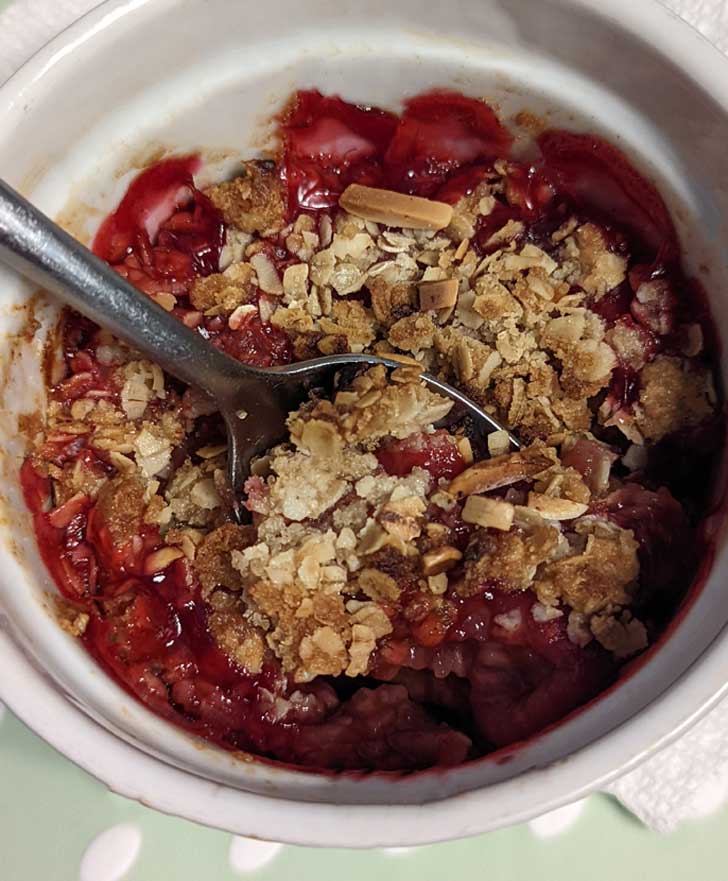 Crisp vs. Crumble
All you need for this recipe is some fresh raspberries and a few kitchen basics including butter, flour, brown sugar and oats. Speaking of which, the oats are what make it a "crisp". Without the oats, it's a "crumble". I guess if you add nuts it's a "crunch"? Or maybe that's a recipe for the future. I did throw some almonds on top of one of them and liked the results, but the nuts certainly are not required.
Cardamom in Raspberry Crisp
When I first started this blog I didn't like cardamom much. Now I love it and the whole family does too. Cardamom and raspberries are a classic flavor combination, but if you don't have the cardamom or just prefer cinnamon, you can use cinnamon or any other spice.
Recipe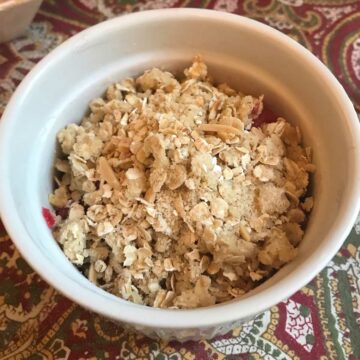 Cardamom Raspberry Crisp
Raspberry Crisps baked in ramekins
Ingredients 
3

cups

fresh raspberries

4

teaspoons

cornstarch

2

tablespoons

granulated sugar
Topping
4

tablespoons

unsalted butter

(56 grams)

¼

cup

brown sugar

(50 grams)

¼

cup

flour

(35 grams)

⅛-1/4

teaspoon

cardamom

⅛

teaspoon

salt

⅓

cup

oats
Instructions 
Preheat oven to 375 degrees F. Have ready a rimmed baking pan and 4 lightly greased ramekins large enough to hold ⅔ cup of raspberries and some crumb.

Melt the butter using gentle heat. You can do it over the stove or better yet, in a small microwaves-safe bowl using 50% power. Let it cool.

In a mixing bowl, combine berries, sugar and cornstarch and stir well to coat berries. Divide them between the ramekins.

In the bowl you used to mix the berries, mixt together brown sugar, flour, cardamom, salt and oats. Add the cooled melted butter and stir until mixture is crumbly. Sprinkle evenly over the berries.

Bake the crisps for 20-25 minutes, or until topping is browned. Let cool for about 5 minutes before serving.