This recipe was inspired by some baklawa we had at a Taste of Lebanon festival. Since it was spelled baklawa with a "w", I had to look up the difference between baklawa and baklava. In short, baklava is Greek and baklawa is Middle Eastern. Greek baklava typically uses a honey syrup, while baklawa is flavored with rose water. Also, during my deep dive into baklava-making I found a handy visual featuring the many types of baklava. I'll spend the rest of my days trying to master them all, but for now this 9x13 Inch Pan Baklava is a good start.
Jump to Recipe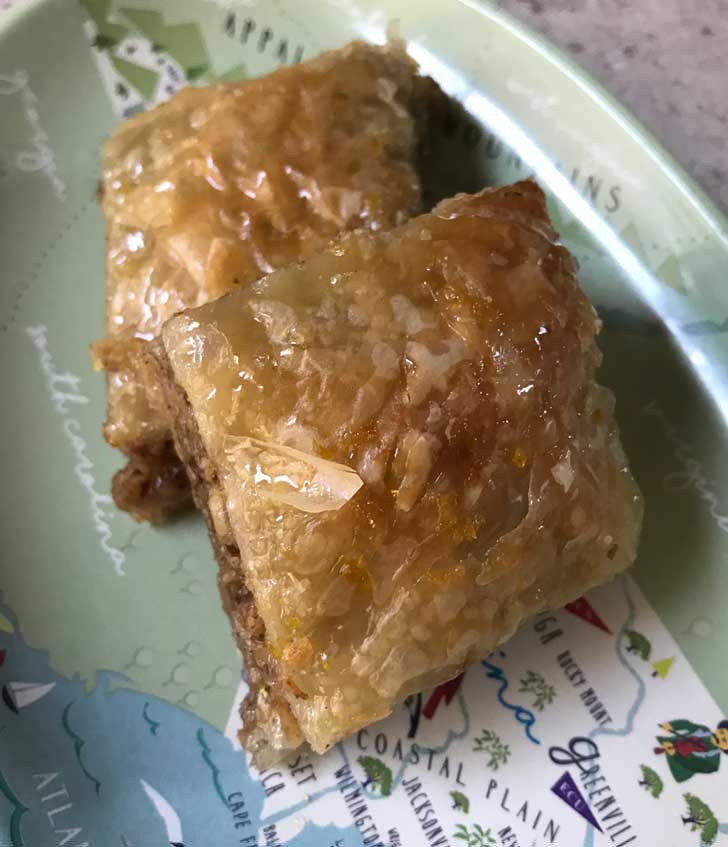 Some 9x13 Inch Pan Baklava Notes
Okay, so a basic baklava! I made it once years ago but forgot all the details so this was a fresh start. What I did remember was that I loved honey and lemon, so my baklava has both. Adding orange zest was a last minute idea, and a good one.
The hardest part was getting the syrup/butter/pastry/nut ratios right. I guess that's subjective, but I made quite a few batches before going with these ratios. The baklava is sweet, but not overly so, and holds together well. It also has plenty of phyllo, which is important for those of us who like peeling off the layers and eating them separately.
Phyllo Dough Sizes
I got a little too fixated on what size of phyllo dough I should use, plus a little confused. Many recipes say to cut the stack of phyllo in half to fit a 9x13 inch pan, which didn't make sense since the phyllo dough I was finding in the local grocery stores comes in 9x14 inch sheets. Apparently this is a recent development. Phyllo does come in 18x13 sheets, but now Athens and some other brands (Wegman's) come in a 1 pound box that contains two sleeves (8 oz each) of 9x14 inch size sheets. So for this recipe you don't have to cut anything in half unless you are making a half batch or can only find the larger size sheets.
Baklava Tips
Since I knew little about making baklava, I read every tip I could find before getting started. Here are my favorites. If you have more tips, please share!
When you pour the syrup over the baklava, you want cool syrup and hot baklava. For this reason it's important to make the syrup first and give it plenty of time to cool.
Do not boil the honey. Boil only the sugar and water, then add the honey and lemon after. This protects the flavor and quality of the honey.
You'll have way more fun working with phyllo dough if you let it thaw overnight in the refrigerator and let it sit, unwrapped, for 45 minutes to come to room temperature. If you try to unroll it cold, it will most likely tear. Trust me.
If your phyllo does tear a little, don't worry. Just lay it in the pan the best you can and butter as usual. It will all meld together in the end.
This is a great excuse to splurge on fancy salted butter! I've tested with Plugra, Vermont Creamery and Truly Grass Fed.
After you've assembled and scored the baklava, refrigerate it for an hour. This supposedly enhances flakiness.
When you score your baklava, try not to slice through the bottom layer. Doing this helps prevent a soggy bottom. So they say.
Change up the nuts. I was going for basic so I just used walnuts, but you could easily swap some out for pistachios, almonds or pecans.
I've been freezing all the baklava, and it seems to freeze very well. You can also store in the refrigerator (though it will be a little chewy) or in a covered container at room temperature. Of all, I prefer freezing or room temperature.
Thanks, But No Thanks
Now If you just read all this and are thinking it's too much work and just want a fun, crowd-pleasing baklava themed Memorial Day dessert, check out the recipe for Baklava Bar Cookies. They're good too, and quite unique.
Recipe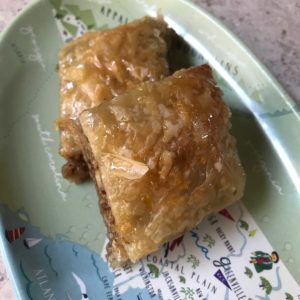 Baklava
An easy recipe for baklava made with walnuts, honey and lemon. This is a basic version designed for a 9x13 inch pan. I haven't tested a half batch in an 8 inch square pan, but will update when I do.
Ingredients 
Syrup Mixture
1 ½

cups

sugar

(300 grams)

¾

cup

water

(180 grams) You can weigh your liquids, too!

⅓

cup

honey

(120 grams)

1

tablespoon

lemon juice

Some lemon and orange zest (optional)

Just a few scrapes**
Baklava
2

sleeves

phyllo dough ( around 36 9x14 inch sheets)

(16 oz)

2 ½

cups

chopped walnuts

(280 grams)

6

tablespoons

granulated sugar

(75 grams)

2

teaspoons

cinnamon

8

oz

salted butter, gently melted and cooled

(230 grams)
Instructions 
To make the syrup, put the saucepan on the scale. Set the tare to zero and add 300 grams of sugar and 180 grams of water ( or just measure 1 ½ cups sugar and ¾ cup water). Bring to a boil. Reduce heat and let simmer for about 15 minutes. Turn off heat. Let cool for 10 minutes, then add the 120 grams honey, lemon juice and zests. Let cool completely.

Meanwhile, bring your sleeves of refrigerator-thawed phyllo to room temperature. Don't open them, just let them sit on the counter for about 45 minutes.

Pulse the walnuts in a food processor so that they are finely chopped. Add the sugar and cinnamon and pulse twice to mix (or dump into a bowl and mix).

Brush a 9x13 inch pan all over with butter.

Dampen a towel or a couple of paper towels (my preference) to keep over the phyllo while you work. Unroll the first roll of phyllo dough and lay it flat on a large clean surface. Carefully peel away one sheet of phyllo and lay it in the pan of butter. Brush butter on the sheet of phyllo, then continue layering on 13 more sheets, buttering after each one, so that you've used about about 14 sheets total. Don't worry if you lose count. Adding an extra sheet of phyllo here and there won't hurt.

Sprinkle about 1 cup of the walnut mixture evenly over the dough.

Lay two more sheets of phyllo over the nuts, brushing butter between each sheet.

Layer on another cup of walnuts along with two more sheets of phyllo, brushing butter as usual.

Spread the rest of the nuts on top. You should have three layers of nuts total.

Open the second roll of phyllo. If you lost count and had to open the other sleeve earlier, that's okay.

Top the final layer of nuts with 12 to 14 more sheets of phyllo dough, mindfully buttering between each sheet and not getting upset if it tears.

Using a very sharp knife, score the phyllo dough into diamonds by making diagonal cuts. When you score, try not to cut all the way through the bottom sheet. This will help prevent sogginess of the bottom layer.

Put the unbaked assembled baklva in the refrigerator for 1 hour. This sets the butter and helps the dough bake up flakier.

Preheat oven to 350 degrees F.

Drizzle the cool baklava syrup over the hot baked baklava. Let sit for at least two hours.

Cut along the score marks to separate.