I've been cooking my way through Taste of Persia these past few weeks, and the recipes are so good we have very little room for dessert. But I like serving something sweet after a meal, and Spa Baklava has been perfect. It's probably more Greek than Persian, but you can adapt it to make it fit whatever cuisine you like.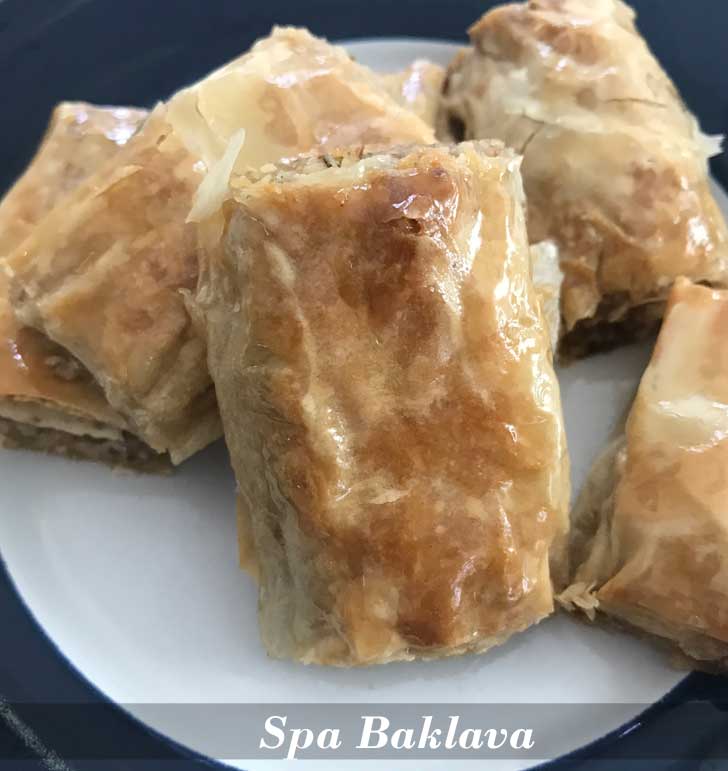 This version is a variation on Jeanne Jones's recipe from Canyon Ranch Cooking: Bringing the Spa Home. It's a lighter Baklava made by rolling nuts in layers of phyllo that have been brushed in a mixture of melted butter and honey.
Baklava for Two, Three or More
A nice thing about this recipe is that it's easy to scale. The recipe below calls for 10 sheets of phyllo and makes 20 pieces. To scale down, you can use 2 sheets of phyllo and make 4 pieces, or 4 sheets of phyllo for 8 and so forth. Once you get the hang of it you'll see what I mean about versatility. Below are some pictures of what the rolls look like before and after being scored and baked. A small serving is one piece, but you might want two or three.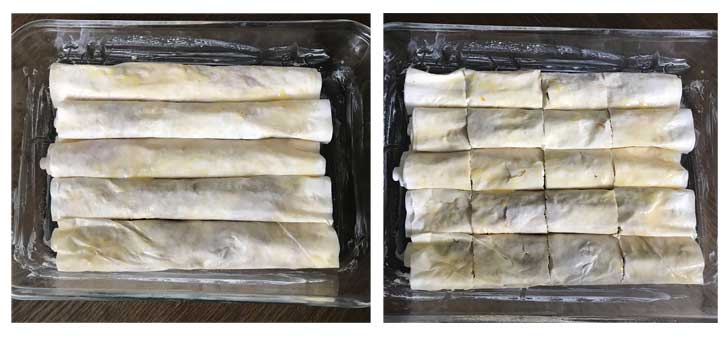 Flavor and Texture
The flavor will vary depending on the type of nuts you use and what's added to the honey and butter mixture. The original recipe calls for vanilla. Vanilla is great, but so is a mixture of orange and lemon zest. As for the texture, it's a little different from regular Baklava, but still pretty flaky. It's a bit chewier, and best served fresh so that the tops will be crisp.
Baking at a Low Heat
Another thing that is different about this recipe is that it is baked at a low temperature. This is because the phyllo sheets are brushed with honey before baking and honey burns easily. So Spa Baklava is baked at 250 degrees for the first 40 minutes, and if there's not enough browning at the end, you can crank up the heat to 350 and bake for another 5 to 8 minutes or so. I've had to do this with every batch.
Spa Baklava Notes
This recipe doesn't require strict measurements. Once you make a few rolls, you'll probably want to start mixing and matching nuts, adding in different spices or even fiddling with the honey mixture.
Dish Size -- You can use glass baking dishes like I have or try a 13x9 inch metal pan. I've yet to test in a metal pan, but it should work.
Chopping Nuts -- It's best to use a food processor to chop the nuts, but try not to chop them too fine or the texture will be mealy. If you like chopping, you can skip the food processor and chop with a chef's knife.
Phyllo Dough -- This recipe calls for ready-to-use phyllo that comes with two sleeves per box. Each sheet measures 9x14 inches. Since this is supposed to be spa cuisine, I should mention each phyllo sheet has 70 calories and not much fat. The fat comes from all the butter that you brush on it (and the nuts) so you can control how much you use. Also, I'm pretty sure I've accidentally used 3 sheets of phyllo for a roll rather than two. It just makes for doughier pieces of Baklava.
Butter Flavor Cooking Spray -- Use liberally along with the honey and butter mixture.
Honey and Butter Mixture -- Phyllo dough is delicate and tears easily, so rather than just brush, you pat it on gently.
Flavorings -- You can add all sorts of flavors to the nuts as well as the honey butter mixture. I've kept this version pretty simple with either vanilla or citrus zests. You could add rose water, cloves, or other spices. It might even be fun to try substituting maple syrup for the honey.
Recipe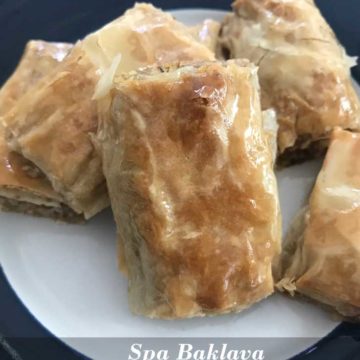 Spa Baklava
A take on Baklava from an old Canyon Ranch Spa recipe
Ingredients 
butter flavored cooking spray

¾

cup

walnuts or pecans (or a little both)

1

pinch

cinnamon

½

teaspoon

sugar

10

sheets

phyllo dough, 9x14 inch sheets

(This is a little over half a sleeve)

4

tablespoons

salted butter

(60 grams)

4

tablespoons

honey

(80 grams)

½

teaspoon

vanilla (optional)

⅛

teaspoon

each lemon zest and orange zest, (optional)

2-4

tablespoons

more honey for brushing

butter flavored cooking spray or more butter
Instructions 
Preheat oven to 250 degrees F.

Grease a large rectangular glass dish (somewhere around 13x9 inch or 12x9 inch) with butter or spray with butter flavor cooking spray.

Process the nuts so that they are very finely chopped, then toss nuts with the cinnamon and sugar.

In a small saucepan, melt the 4 tablespoons of butter, then stir in the honey and heat just until warm. Remove from heat. Stir in either the vanilla or the combination of zests.

Spray a large baking sheet with cooking spray. The baking sheet will be your rolling surface, but you will be baking the baklava in the dish.

Carefully lay one sheet of phyllo dough on the sprayed baking sheet and pat it with some of the melted honey & butter mixture, brushing gently. If it breaks or tears a little, don't worry. Lay a second sheet on top. Give it a spritz of cooking spray, then pat and brush on more of the honey mixture.

Leaving about an inch margin from the 9 inch end, sprinkle about 2 tablespoons of the nut mixture evenly over the sheet. Starting at the 9 inch end, roll into a cylinder. Carefully transfer the roll to the glass baking dish.

Repeat this process using the remaining ingredients, laying your rolls of baklava next to each other lengthwise in the dish.

Once the dish is filled, carefully score with a knife to make 20 pieces. Give a quick spray with cooking spray or brush with any residual honey sauce, then bake uncovered, at 250 for about 40 minutes. At 30 minutes, start watching as they may start to brown.

If after 40 minutes the baklava is not brown enough for you (it never is for me), bump the heat up to 350 and set the timer for 5 minutes so that the timer is going while the heat is still rising. After 5 minutes it should definitely be browning a bit, so just keep watching it for another 2 minutes or so until you're happy with the level of browning.

Remove from oven and brush with a little more warm honey. Let cool. The top layers will become slightly crispier as they cool.