Someone told me they once found Sonoma Syrups Vanilla Bean Crush at Marshalls, so I never go to Marshall's, Ross or TJ Maxx without checking the gourmet food section for deeply discounted coveted ingredients. Sonoma Syrups has been my white whale, but the other day I found something even better. I popped into Ross to look at clothes, did a quick pass through the food section and found D'vash date syrup! Date syrup is something I usually have to order and runs about $10. Ross had it for $3.99. I left the store thinking of all the ways to use it, but knowing the first would be in Date Syrup Chocolate Chip Cookies.
Jump to Recipe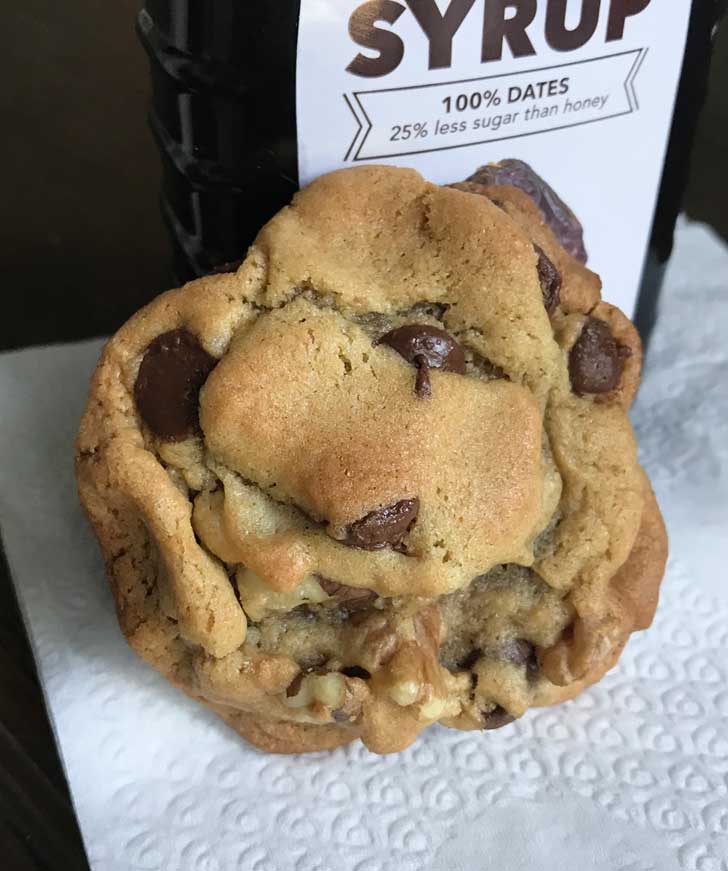 D'vash Brand
The brand I found at Ross and which I've been testing with is D'vash. Having tried one other brand of date syrup, I think I like the D'vash a little better in terms of flavor and texture. It worked perfectly in vegan recipes which I linked to above, and in this new Date Syrup Chocolate Chip Cookies recipe which the family is really enjoying. If you can't find it at the discount store (and chances are you won't), the best way to buy it is on Amazon.
Date Syrup Chocolate Chip Cookies
These cookies have a very chewy texture thanks to both the sugar and the date syrup. They're sweet, so if you are sensitive to sweetness but still like chewiness you can offset the sweetness with some nuts. Cutting the sugar will change the texture somewhat, but feel free to try it if you are in experimental mode. And speaking of texture, the texture is much better and the cookies are prettier when made with dough balls that have been chilled overnight. I have been baking a few cookies right away and chilling the rest of the dough balls, and they just get better and better with age.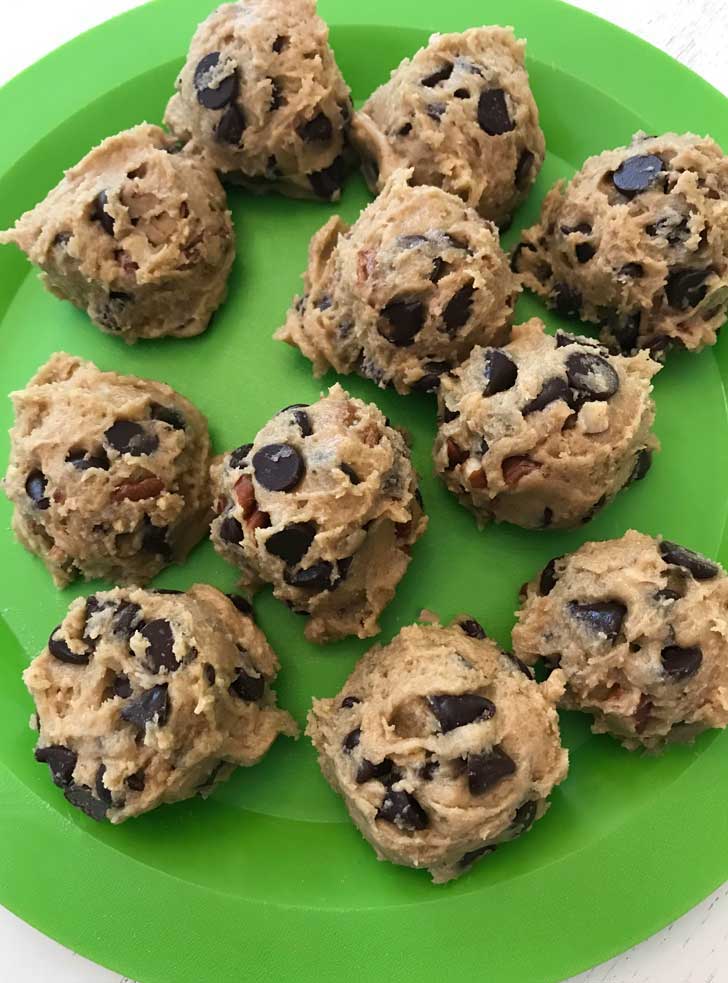 A Few Ingredient Notes
There's a lot of room for improvisation, especially since this is a dump-and-stir recipe that does not require a mixer. Here are a few notes about this version
For the date syrup, each tablespoon weighs 18 grams, so you can weigh it or measure with a tablespoon. If you use a tablespoon, just dip the tablespoon into the melted butter and the date syrup will slide right off.
It's best to weigh the sugar and flour if possible. I did my best to match the volumes up with the proper weights, but weights are more accurate.
For the flour, I used King Arthur AP and King Arthur Organic Whole Wheat. The whole wheat flour doesn't add a wheat flavor, but it soaks up moisture and helps create a slightly dryer dough. You can use all-purpose instead of the white whole wheat, but if you do that you should add a teaspoon of cornstarch.
I've tried adding Whoppers (malted milk balls) and their texture worked really well the the texture of the cookie once completely cooled. Heath toffee bars might also be a good addition. And of course chopped dates would be terrific. Just remember to let these cookies cool, as the texture improves.
Date Syrup In Place of Date Paste
Before buying date syrup, I used date paste made with pureed softened dates. Date syrup, which you can substitute for the date paste, makes things much more convenient. I've tested it in the Vegan Date Paste Chocolate Chip Cookies, and will update when I test it in the Vegan Snickerdoodles. This new recipe is a little different and it is not vegan.
Update: Trader Joe's Date Paste!
2/222/2022 Spotted date syrup at Trader Joe's! I haven't tested it yet in these cookies, but I'm sure it would work perfectly.
Recipe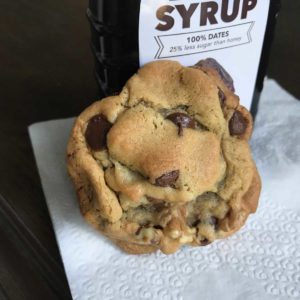 Date Syrup Chocolate Chip Cookies
Soft and chewy chocolate chip cookies with melted butter and date syrup!
Ingredients 
1

stick

unsalted butter

(114 grams)

2

tablespoons

date syrup

(36 grams)

2/3

cup

light brown sugar, tightly packed

(130 grams)

1/3

cup

granulated sugar

(70 grams)

1

large

egg room, temperature

3/4

teaspoon

vanilla extract

170

grams

all-purpose flour**

(1 1/3 cup)

40

grams

whole wheat flour, preferably KA organic**

(1/3 cup)

1/2

teaspoon

baking powder

1/2

teaspoon

baking soda

1/2

teaspoon

salt

1 1/4

cups

chocolate chips

½

cup

cup walnut pieces

optional
Instructions 
Melt the butter in the microwave using 50% power. Let cool completely, then put in the mixing bowl.

In a mixing bowl, combine the melted butter, date syrup, brown sugar and granulated sugar. Stir well, then stir in the egg and vanilla extract.

Combine the flour, baking powder, baking soda and salt. Add to the date syrup mixture and stir until blended, then stir in the chocolate chips (and walnuts, if using).

Using a (generously scooped!) medium cookie scoop or a heaping tablespoon, drop mounds of dough onto a plate lined with plastic wrap. Cover and chill the mounds for 1 hour or until ready to bake. Chilling overnight makes the cookies even better.

Bake for 12 to 15 minutes at 350 degrees F. Let cool on the baking sheet for 5 minutes, then transfer to a wire rack to finish cooling. And here's the difficult part. Let the cookies cool completely. For some reason, these are better once they've cooled and set.

Note: It's important to weigh the flour to get 220 grams. If you don't have a scale, stir the flour and spoon it into the cup.
Notes
Note: It's important to weigh the flour to get 220 grams total. I put the volume measurements in as well, but I go by weights so I put those first.
You can substitute all-purpose flour for the whole wheat.  Use a total of 1 2/3 cup (220 grams) AP and add 1 teaspoon or cornstarch.