Last night's dessert was supposed to be Black Walnut Cake, but instead of black walnuts, Amazon sent us a large men's swimsuit with an American flag on it. So if you ordered a flag swimsuit and got black walnuts and live in the Triangle, let me know and I'll bring you your suit. Maybe. For everyone else, here's a replacement for the Black Walnut Cake recipe -- Frosty Strawberry Squares.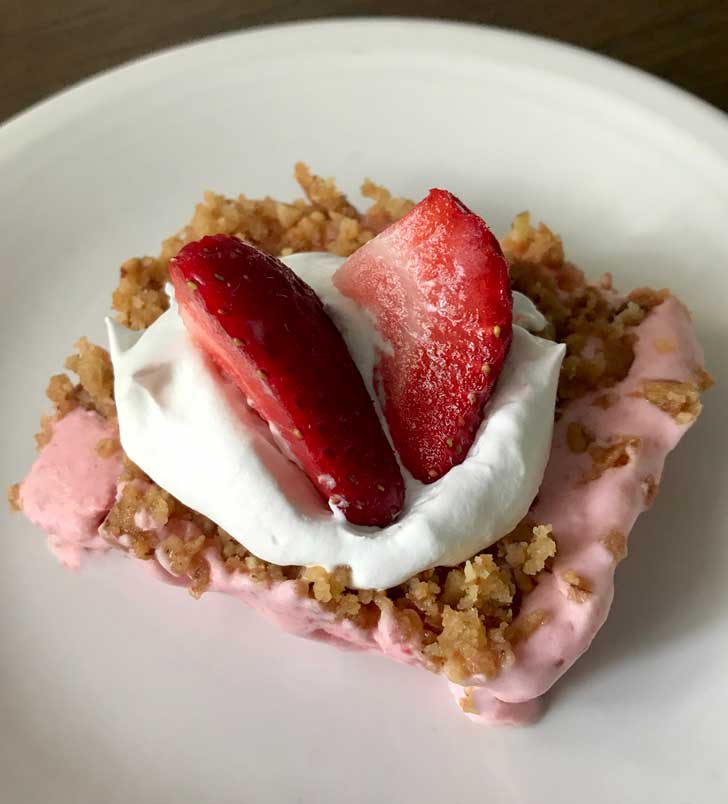 I wish I could say the recipe was passed down, but I found it on Reddit and the source is an old Betty Crocker Cookbook. It's also on Allrecipes.com. My version is a little different, though. The original Frosty Strawberry Squares dessert is made in a 9x13 inch pan. I made an 8 inch square version and it worked just fine.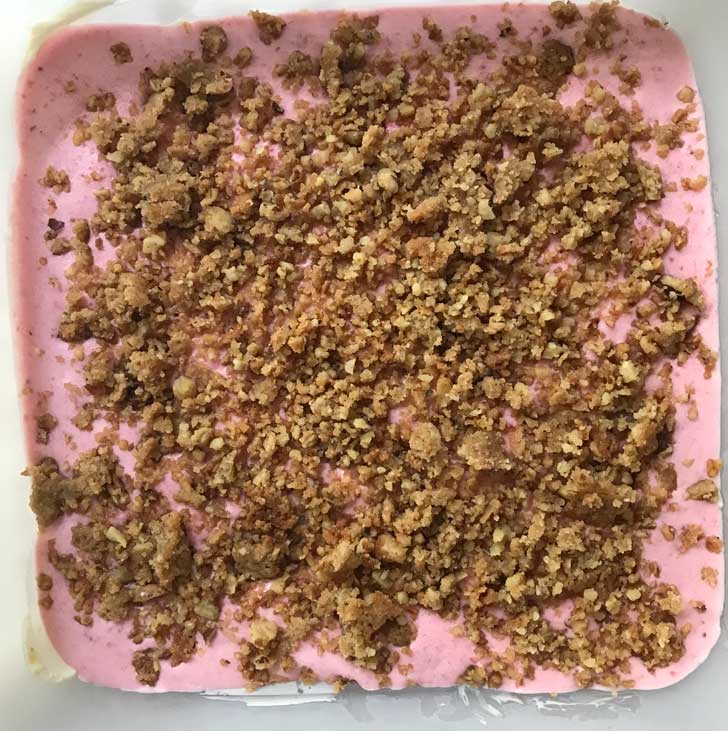 Frosty Strawberry Squares Notes
Other changes to the classic include pureeing the berries and adding a dash of vanilla. Some people have noted that Cool Whip works in place of heavy cream. I went with the fresh whipped cream, but I did use Cool Whip as a garnish. About that raw egg white, if you are concerned about that you can use a pasteurized egg. If I were making Frosty Strawberry Squares for others I would have done that, but I'm fine with eating raw egg white and Todd signed a waiver saying he was too. So far we are okay.
Recipe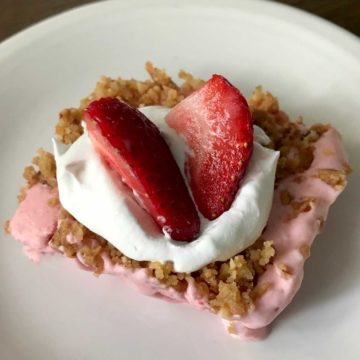 Frosty Strawberry Squares
A creamy strawberry dessert from Betty Crocker.
Ingredients 
4

tablespoons

salted butter

(56 grams)

2

tablespoons

brown sugar

(25 grams)

½

cup

all-purpose flour

(65 grams)

⅓

cup

finely chopped walnuts or pecans
Creamy Topping
½

cup

sugar

(100 grams)

1

cup

sliced strawberries, plus a few extra for garnish

(120 grams)

1

tablespoon

lemon juice, fresh

¼

teaspoon

vanilla extract

1

large

egg white

½

cup

whipping cream

Sweetened whipped cream for garnish

optional
Instructions 
Preheat oven to 350 degrees F. Have ready a large rimmed baking sheet.

Mix together the flour, sugar and nuts, then pour the melted butter over flour mixture. Stir until evenly blended, then dump onto the baking sheet and press into slab about an ¼ inch thick. Bake for about 15 minutes or until edges start to brown. Let cool, then crumble.

Grease an 8 inch square pan with butter. Sprinkle about ⅔ cup of the crumbs over the bottom of the pan and press down tightly. This crust should be sparse and thin. I had to fight the urge to double the crust and am glad I did because even though it's thin it's rich and could overpower the filling.

Puree the strawberries, sugar, lemon juice and vanilla together in a food processor or blender. Meanwhile, in separate bowl and using an electric mixer, beat the egg white until stiff peaks form. Scrape the egg white into the strawberry mixture, but don't stir it. You are basically just putting it there while you use the bowl to whip the cream.

Wipe the mixing bowl clean and beat the cream until stiff peaks form. Pour the strawberry mixture (egg white and all) into the whipped cream and fold it all together. Pour this over the crust. Sprinkle crumbs over the top and freeze for about 4 to 6 hours.

When it's time to serve, you can loosen the crust by setting the dish in a shallow pan (such as a rimmed sheet pan) with hot tap water in it. It only needs to sit in the hot water for about 3 minutes, and then you should be able to cut it easily. Garnish each piece with freshly whipped cream, Cool Whip or strawberries.