Sorghum Flour Chocolate Chunk Cookies were inspired by Roxana Jullapat, a pastry chef and author of the new book Mother Grains. In the book, which I plan to order just as soon as I unbury myself from my current pile, Roxana says the best way to get to know a new grain is to use it in a familiar staple like chocolate chip cookies. I agree! And since I've been interested in sorghum, I hunted down some sorghum flour and got to work.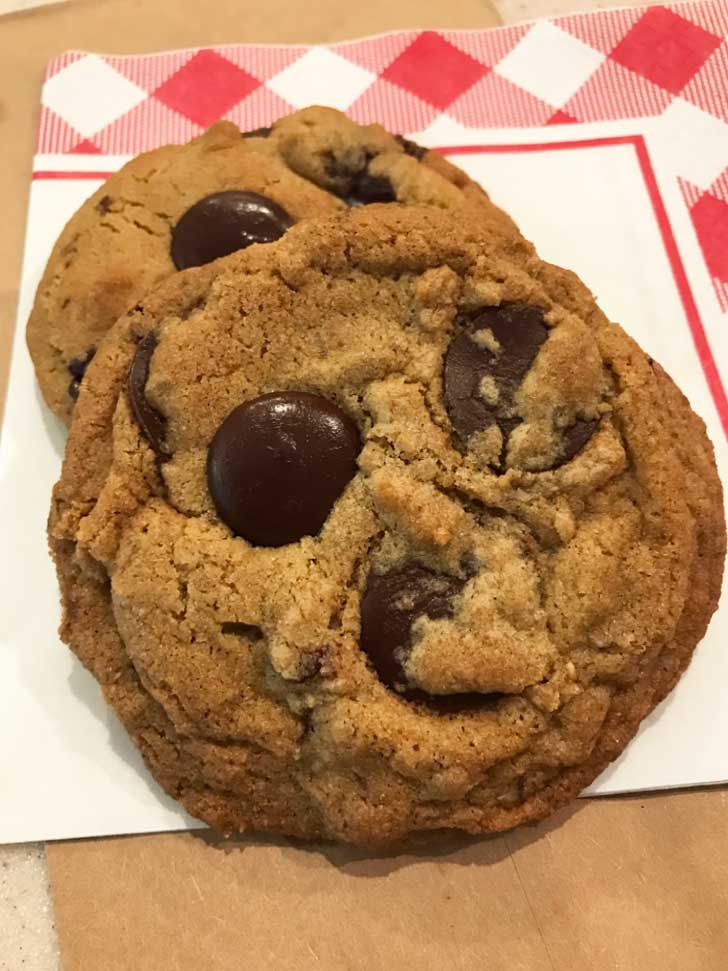 A Little About Sorghum Flour
Going into this, I didn't know much about sorghum, but I've always associated it with sweetness. This probably has to do with growing up in the South, where the sorghum plant is made into a sweet syrup and used in things like pecan pie. But sorghum is actually a grain grown all over the world. It's drought resistant, has a relatively high protein level and is rich in iron and zinc. It's used in livestock feed, and often associated with cattle, but it's also a common ingredient in gluten-free flour blends.
Sorghum Grass and Pollen Allergies
One thing to note is that sorghum may produce an allergic reaction in people who are sensitive to grass and pollen. So if you have allergies you might want to be mindful of that. But then a lot of gluten-free blends already contain sorghum, so if you are sensitive to it you've probably figured that out. Just something to think about. Here's a picture of the bag.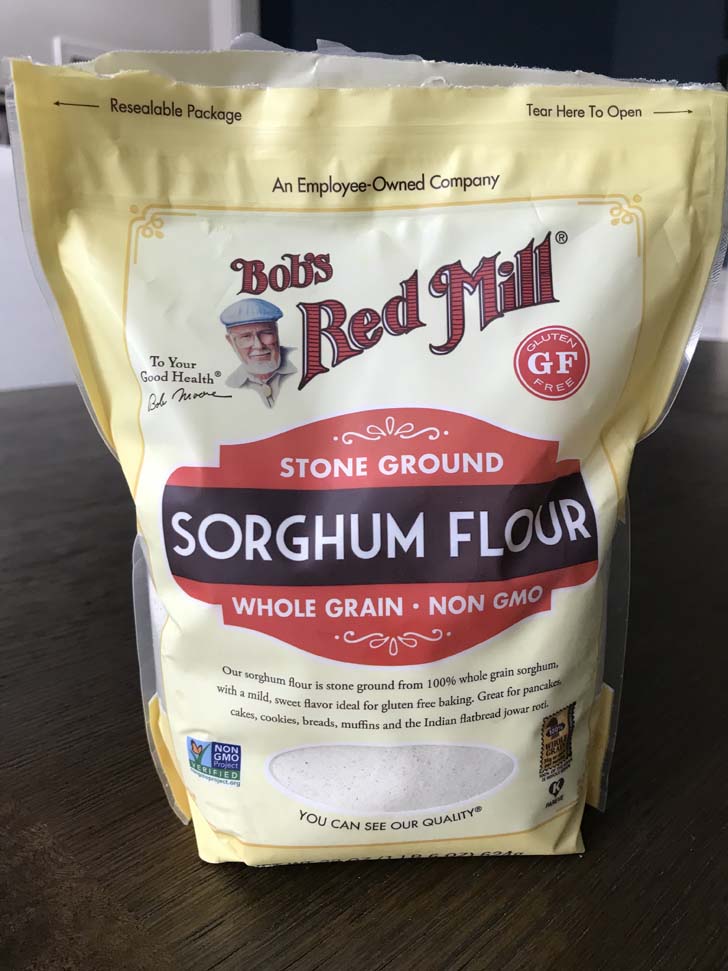 100% Sorghum Flour Chocolate Chunk Cookies
Up until recently I had not seen many recipes where sorghum flour is used as the primary flour, so I was curious to find out how 100% sorghum flour cookies would taste. Descriptions of sorghum mention it as sweet tasting and grainy. It sounded a lot like whole wheat flour to me, and that's what Sorghum Chocolate Chunk Cookies taste like -- whole wheat flour chocolate chip cookies, but without the wheat.
Made with browned butter, sorghum flour and loads of chocolate, these are good cookies to have in your gluten-free cookie recipe collection. They're chewy, bakery-style, and may spark conversation thanks to their interesting makeup. Our family doesn't follow a gluten-free diet, but we liked these a lot. With chocolate chips they are fine, but with high quality, melt-y chocolate chunks like Valrhona, they're even better. Adding roasted hazelnuts also makes the cookies more exciting.
This recipe is fun to play with. I've made it over and over and have experimented with different ratios of flour and even a blend of sorghum and AP. The sorghum AP version (half of each) was very good, too. At one point I accidentally left out half the sugar and the cookies weren't bad -- just a little too sandy and thick, but edible. And I've used different blends of chocolate, throwing in a little milk chocolate with the dark. One constant is that the longer the dough is chilled, the better the cookies.
Sorghum Flour Chocolate Chunk Cookie Tips
Be sure to weigh your flour because the weight can vary from cup to cup. I'm using Bob's Red Mill, and cups are weighing in at around 120 grams. That being said, if you go a little over with the flour the cookies will still be good, but softer.
Brown only half the butter. You could brown all of it, but there's no need.
Use a combo of light and dark brown sugar for just the right amount of molasses flavor.
For the chocolate, I recommend Valrhona or a chopped up Ghirardelli bittersweet bar. I also really love the Guittard Bittersweet Onyx disks. Chips are okay, but in my opinion this dough is more suited for melty, high quality chocolate chunks.
Cookies have a smoother texture and better flavor when made dough that's been in the refrigerator overnight. However, you can bake the cookies after just a quick 1 hour chill.
Recipe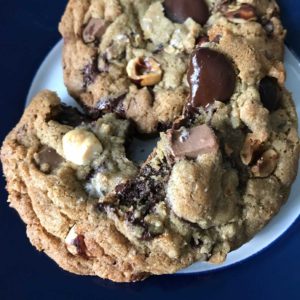 Sorghum Flour Chocolate Chunk
Large cookies made with sorghum flour
Ingredients 
1

stick

unsalted butter, cut into chunks

(114 grams)

¼

cup

light brown sugar

(50 grams)

¼

cup

dark brown sugar

(50 grams)

¼

cup

granulated sugar

(50 grams)

1

teaspoon

vanilla extract

1

large

egg, cold right out of the fridge

(50 grams)

1 ⅓

cups

sorghum flour -- weigh for best results

(165 grams)

1

teaspoon

cornstarch

½

teaspoon

baking soda

½

teaspoon

salt

4-6

oz

great quality dark chocolate, cut into chunks

(114 to 170 grams)

2

oz

toasted hazelnuts, pecans or walnuts

(optional)
Instructions 
In a small saucepan, brown half of the butter.

Remove the hot pan of brown butter from the heat and add remaining butter. Stir well and let cool while you weigh your flour and prep the other ingredients.

In a mixing bowl, stir together all 3 sugars.

Add cooled brown butter to sugars, along with the vanilla. Stir until bended.

Stir in the egg. Let mixture rest for about 5 minutes, then stir again.

Mix together the sorghum flour, cornstarch, baking soda and salt, then add to egg mixture to make a soft dough.

Add chocolate chunks and nuts (if using). Shape into 8 large balls, then press the balls down slightly so they'll have flat tops Chill for at least an hour or until firm.

When ready to bake, preheat oven to 350 degrees F. and line a baking sheet with parchment paper.

Arrange cookies a few inches apart on the baking sheet.

Bake cookies for about 15 minutes or up to 20. Large cookies like these bake longer, but since ovens vary you should keep an eye on them and check no later than 15 minutes.