Carrot bread can be dense and heavy, but the beaten eggs in Whole Wheat Carrot Blueberry Bread keep this loaf surprisingly light. Using whole wheat pastry flour instead of all-purpose flour makes for a softer crumb and adds a little extra flavor and nutrition to this easy and quick loaf.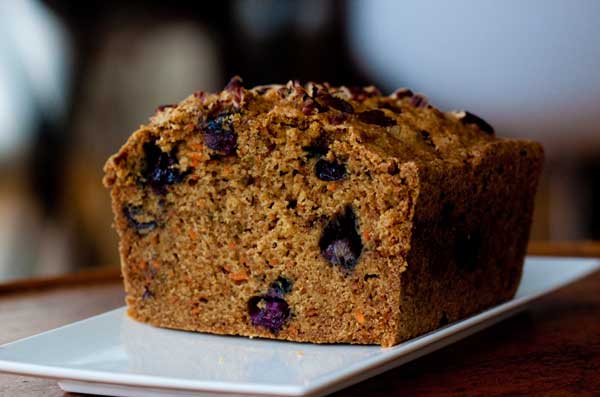 Whole Wheat Carrot Blueberry Loaf Pan Size
Whole Wheat Carrot Blueberry Loaf is designed for a 9x5 inch loaf pan, but I think the recipe would work well in small or mini loaf pans. Using two 8x4 inch loaf pans would also work, but it seems like 8 ½ by 4 ½ inch pans are easier to find these days than the old 8x4 inch pans. That's too bad because the old 8x4 inch pans (Baker's Secret) were perfect for dividing one large 9x5 inch (or slightly larger) loaf into two.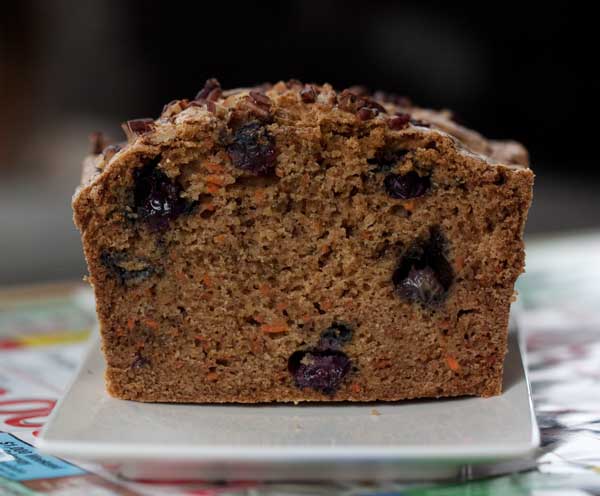 Recipe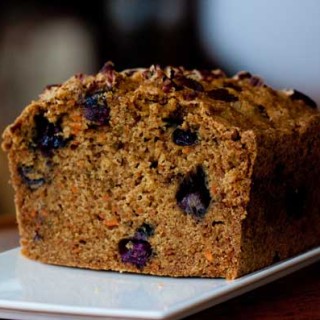 Whole Wheat Carrot and Blueberry Bread
Whole Wheat Carrot and Blueberry Bread
Ingredients 
2 ½

cups

whole wheat pastry flour

(280 grams)

1 ½

teaspoons

baking soda

½

teaspoon

baking powder

¾

teaspoon

salt

1

teaspoon

cinnamon

¼

teaspoon

freshly ground nutmeg

3

large

eggs

1 ¼

cups

granulated sugar

(250 grams)

½

cup

vegetable oil

7

ounces

carrots

grated or shredded and chopped (2 cups)

1 ½

teaspoons

vanilla extract

1

cup

plump blueberries

⅓

cup

chopped pecans

optional
Instructions 
Preheat oven to 350 degrees F. Spray a 9x5 inch loaf pan with cooking spray or grease using your preferred method. Lay a strip of parchment down the length of the pan for easy removal. Spray or grease the parchment.

Whisk the flour, baking powder, baking soda, salt, cinnamon and nutmeg together in a large bowl for about 15 seconds.

In a mixing bowl, beat eggs with an electric mixer for 1 minute. Gradually beat in the sugar and beat for another minute. With mixer on low, gradually add the oil and the vanilla. With a heavy duty scraper or rubber spatula, stir in the flour mixture until well-blended. Stir in the carrots. Batter will be quite thick.

Spoon ⅓ of the batter across bottom of loaf pan. Scatter about half of the berries over the batter. Layer on another ⅓ of the carrot batter and remaining blueberries. Top with remaining carrot batter, then sprinkle top with pecans (if using)

Bake on center rack for 1 ½ hours or until a skewer inserted comes out with moist crumbs or a meat thermometer inserted in center registers between 205 and 210.

Let cool in pan set on a rack for 30 minutes, loosening sides gently after the first 10 minutes. Remove from pan and let cool completely before slicing.
Notes
Measurement Notes: I always use a scale along with volume measurements and the weight of the flour is 10 oz. If you measure without a scale, stir the flour well before measuring. For the carrots, I use pre-shredded carrots and then chop them with a chef's knife.