Chocolate Raspberry Pie is a recipe from Fuzz (aka Emma), who has been baking her way through Erin McDowell's The Book on Pie: Everything You Need to Know to Make Perfect Pies. She sent me a picture of her pie and I had to make it immediately even though raspberry season is pretty much behind us. Of course it's always chocolate season, and this recipe has a lot of it!
Jump to Recipe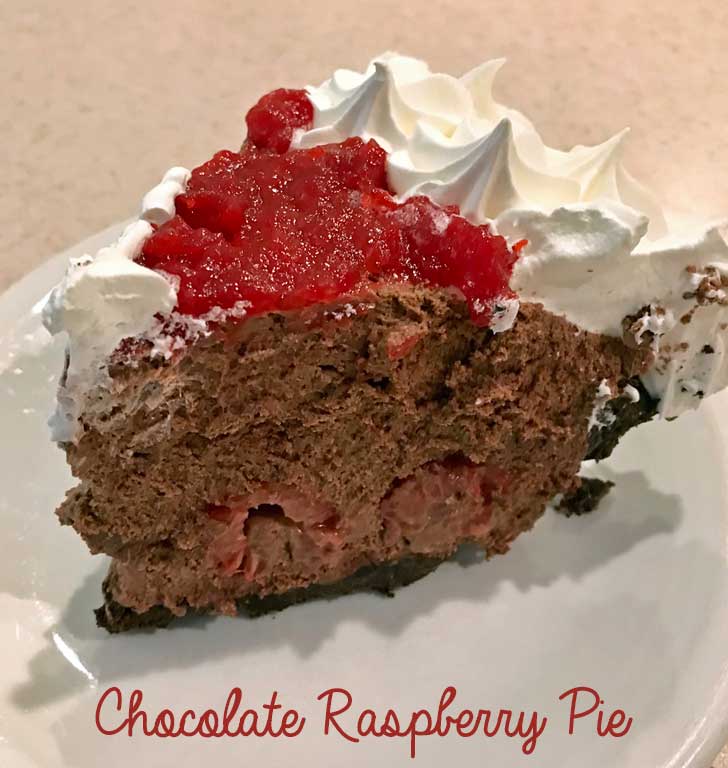 Chocolate Pastry Crust
So let me tell you about all this chocolate. First, there is a chocolate pastry crust. Emma has been making Erin's chocolate pastry crust for months and prefers it over chocolate cookie crusts because it doesn't get soggy. You can find Erin's original recipe on King Arthur. Emma is convinced adding ⅛ teaspoon of baking powder improves the texture, so we've added it. In my opinion, the chocolate crust is a project and should be done in advance. I made the chocolate crust yesterday, froze it, then baked it today.
Chocolate Raspberry Pie Filling
The filling for this pie includes fresh raspberries hiding in a chocolate mousse of sorts. It calls for cream cheese, 10 oz of melted bittersweet chocolate and 3 cups of whipping cream, but Emma makes the pie with only 1 cup of whipping cream and less sugar. I admire her for making changes, but I went with Erin's 3 cups because I like the lighter, fluffier texture. One thing Emma did and which worked really well for me was to just plop the cream cheese into the hot melted chocolate and beat it all together, then let it melt before adding the whipped cream.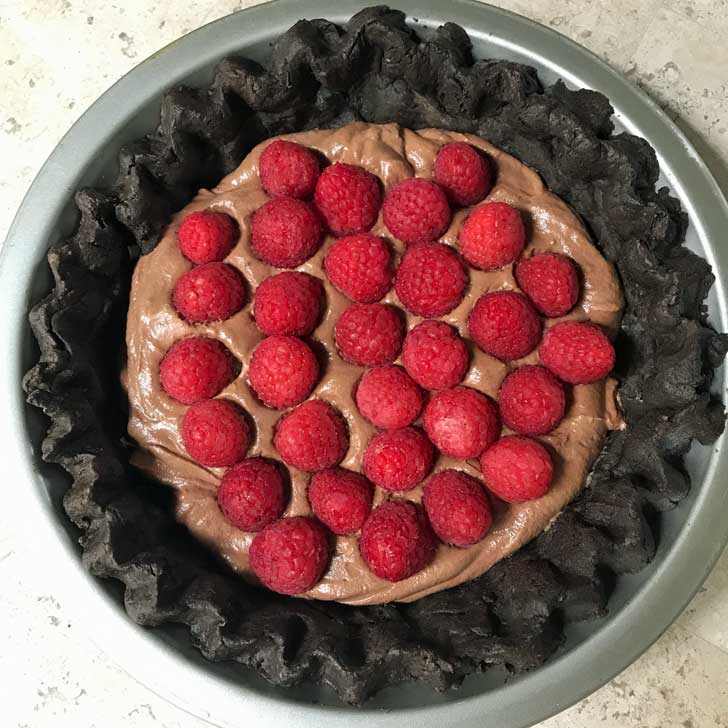 Raspberry Coulis
The topping is a raspberry coulis, which sounds fancy but takes just a few minutes to make on the stove. I'm sure you could get away with using frozen raspberries for this, but I got a good deal on fresh raspberries so I made it with one little carton of raspberries weighing about 6 oz. That made just enough sauce for the top.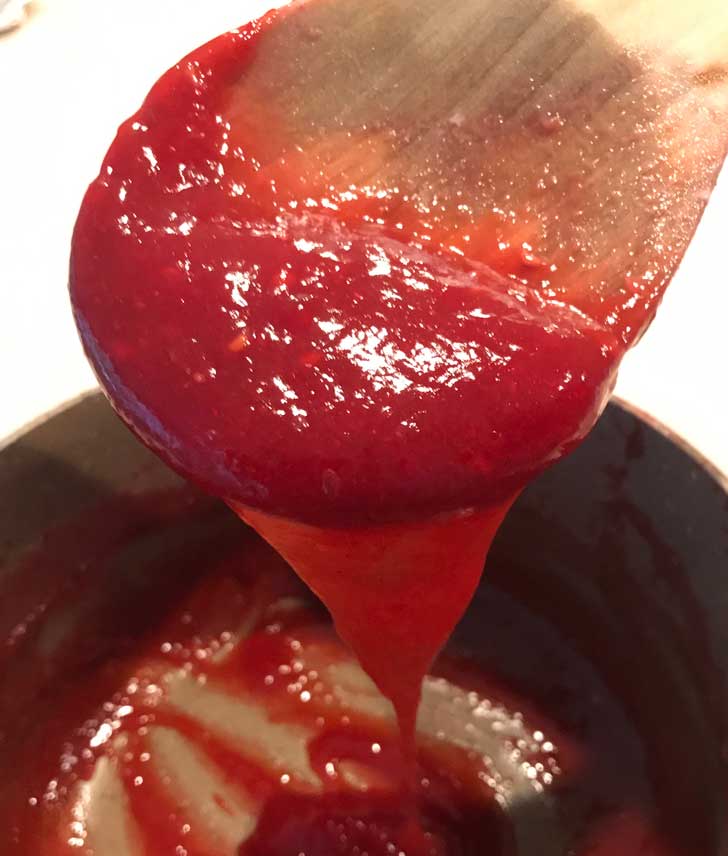 Chocolate Raspberry Pie Recipe Review
I'm pretty sure I used an expletive when I first cut into Chocolate Raspberry Pie, not because I was mad but because it is mile high and crazy rich! It reminded me of something you'd get at Gibson's Steak House. Did I mention two or three times already that this was a rich pie? It would definitely be a hit at Thanksgiving, though finding fresh raspberries might be problematic. Maybe you should make it today? Okay, so notes!
More Notes
The chocolate pastry crust holds the filling perfectly and was easy to cut through, so that was a relief. But I do think next time I'll try a cookie crust because I don't think this particular filling would make it soggy. Also, this might be a fun for a weeknight pie is to just buy a small store bought Oreo crust and halve all the ingredients.
For the 10 oz of chocolate, we tested with Ghirardelli chips. You can spend a little more money and use a couple of bars of Ghirardelli or any brand bittersweet. The filling is not terribly sweet even with the ¾ cup confectioners' sugar.
We added chunks of cream cheese directly to the hot melted chocolate. I was expecting problems with that method, but it actually worked and we were able to skip the step of softening the cream cheese.
As mentioned, Emma successfully cut the cream down to 1 cup and still had a good pie. I liked the 3 cups of cream Chocolate Raspberry Pie, but will probably test Emma's version 3 or 4 years from now when Todd and I finish this one pie. Just kidding, but it's a big pie for two.
For the raspberry topping I only used 6 oz of berries because that's how many were in the tub. It made just enough coulis to put a big ring of it in the center. If you have 8 oz of raspberries you can scale up a little.
For the whipped cream on top, I used Cool Whip mainly because it's easy to pipe and I was tired of whipping cream. For guests or Thanksgiving, I'd probably whip yet another cup of cream for topping.
A Few More Recipes With Raspberries
Recipe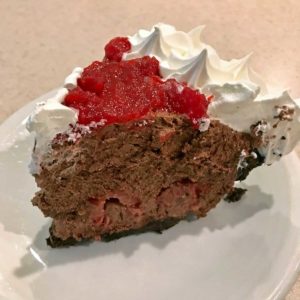 Chocolate Raspberry Pie
Chocolate mousse pie in a chocolate pastry crust.
Ingredients 
Chocolate Pastry Crust
1 ¼

cups

King Arthur Unbleached All-Purpose Flour

(150 grams)

½

cup

unsweetened cocoa, Dutch-process or natural

(40 grams)

½

cup

confectioners' sugar

(60 grams)

½

teaspoon

salt

⅛

teaspoon

baking powder

10

tablespoons

cold butter

(140 grams)

5

tablespoons

ice water

(71 grams)
Chocolate Raspberry Filling
6-8

oz

fresh raspberries

(280 grams)

10

oz

bittersweet chocolate, chopped or bittersweet chips

(280 grams)

8

oz

cream cheese, cut into chunks

(230 grams)

3

cups

heavy whipping cream (or reduce to 1 cup)

⅔-3/4

cup

confectioners sugar' (or reduce to 1 T.)

optional

1

teaspoon

vanilla

¼

teaspoon

salt (Emma and I both left it out)
Topping
6

oz

fresh raspberries, but frozen should be okay

2

teaspoons

fresh lemon juice (or more to taste)

1 ½

tbsp

granulated sugar (feel free to use more)

2-3

teaspoons

cornstarch (I used 3)
Instructions 
Whisk together the flour, cocoa powder, salt, confectioners' sugar, and baking powder or combine them all in the bowl of a food processor and pulse to mix.

Work the butter into the flour mixture, using a pastry blender or fork, your fingers, or a stand mixer. Don't mix the butter in completely; leave some of it in walnut sized lumps. If using a food processor, add butter in chunks and pulse until you have a coarse mixture with a few walnut size lumps.

Add water, then enough additional water (by tbsp) to bring the dough together; it should be cohesive, but not sticky. Chunks of butter should still be visible in the mixed dough.

Shape the dough into a disk, and chill until you're ready to use it. You can also freeze it if you are making the crust way ahead of time.

Time to bake the crust! Preheat oven to 425. Grease a 9-inch pie plate.

Roll out the crust (it should be slightly cool) and put it in the greased pie plate. Trim edges to between ½ inch and 1 inch over the rim of your plate and fold under. Crimp the edges, but do not dock the crust. Freeze the crimped crust for about an hour. (Anna's Note: I wrapped it and froze it overnight).

Place a piece of parchment paper inside the crust, and fill to the brim with pie weights. Place pie dish on a baking sheet.

Bake crust for 20 minutes at 425. Remove pie weights, then bake crust for 7-10 minutes more, without the pie weights. Let fully baked crust cool.

FILLING:

Melt bittersweet chocolate or Ghirardelli bittersweet chips in the microwave. We recommend using 50% power and stirring often.

In a mixing bowl, combined softened cream cheese and warm melted chocolate. It will seem kind of gritty at this point, but should be soft and free of lumps.

In a separate bowl, whip 1 cup of cream with 1 tbsp of confectioner's sugar (Emma's version) OR whip 3 cups of cream with ⅔ cup of sugar (Anna's version). Beat in the vanilla and salt.

The chocolate mixture should be just slightly warm (almost cool) by now, so start folding in the whipped cream.

Spread a thin layer of chocolate filling into the cooled pie crust. Place a single layer of fresh raspberries upright in the crust, using the cream layer to anchor them to the bottom. Cover the bottom entirely in raspberries.

Carefully spoon the remaining chocolate filling over the raspberries to cover them completely. Smooth the top and place pie in the fridge.

RASPBERRY TOPPING:

Heat raspberries in a medium saucepan, mashing them until the contents are mostly liquid.

Strain the raspberry mixture into a separate bowl to separate seeds from juice, then return the juice (6 oz of berries should give you a little over 4 oz of juice) to the saucepan. It's okay if there are still some seeds in the juice - you won't notice them on the finished pie.

Off heat, mix in lemon juice and sugar. Adjust lemon/sugar to taste (Emma thinks a very tart raspberry topping best complements the dark chocolate filling). Add the cornstarch to the mixture and stir well, then

Slowly add cornstarch one tablespoon at a time, stirring constantly and quickly to prevent lumps. The mixture should get thick enough to coat the back of a spoon. If you run your finger across the spoon, it should leave a trail. The mixture will continue to thicken as it cools, so no need for it to be as thick as jam.

Pour the raspberry topping into a glass bowl and let it cool in the fridge for approximately the amount of time it takes to watch two episodes of Friday Night Lights.

Once the raspberry topping is completely cool, spread it over the top of the pie and let the finished pie cool in the fridge overnight.

Decorate however you like! I garnished mine with whipped cream and chocolate shavings.
Notes
CRUST NOTES
Roll out your dough in a cool, dry environment to prevent the butter pockets from melting and the dough from sticking. If you're baking in a warm or humid environment, pause chill the crust between rolling, trimming, folding, and crimping as needed. Freezing the crust before putting it in the oven also prevents shrinkage and helps the crimp hold in baking.

Since the chocolate crust is dark, you can't go off of color to tell when it's done baking. You have to go by appearance and fragrance. 

With ½ cup of confectioner's sugar, the crust will be about as sweet as an Oreo cookie. Feel free to add or reduce sugar to modify sweetness as needed.