I've added a lot of strange things to chocolate chip cookies, but for some reason it took me a while to try Miso Chocolate Chip Cookies. I'm glad I did. A little miso (or in this case, a lot of miso) makes the cookies unique. Plus the not-so-secret ingredient makes them chewy! I loved the texture, and after testing three different cookies with miso, this recipe from Katie Lee Biegel on Food Network is the one I'll make again.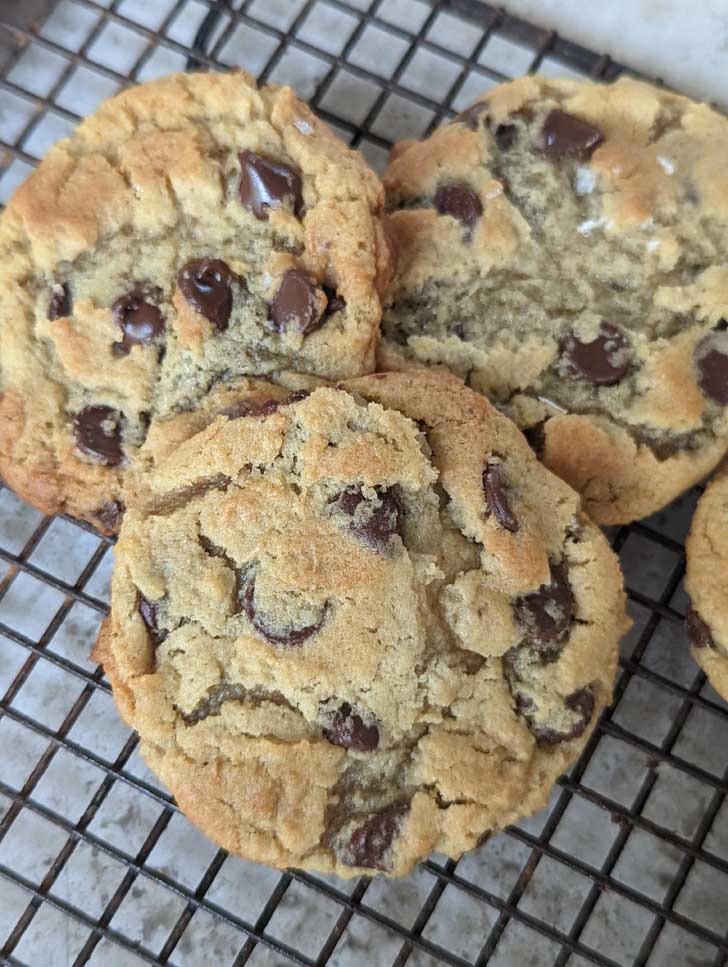 The Flavor of Miso in Cookies
So what's the flavor of Miso Chocolate Chip Cookies like? You won't know if you don't try, but in my opinion it leaves a lingering flavor similar to malted milk powder. I could tell the miso was there, but that's probably because I made the cookies. Other people seemed to like them, and without knowing there was miso in the cookies they commented on how good they were.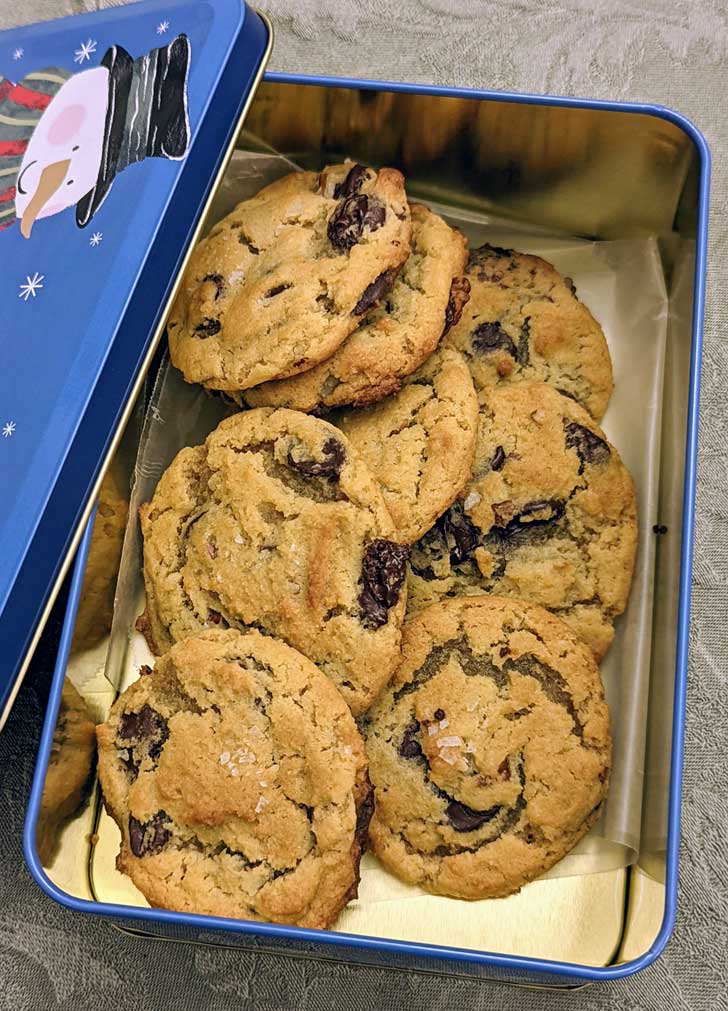 What Type Miso
The trick is to use the right miso. Some brands are sweeter or saltier than others, and they have different consistencies. Make the cookies multiple times and try out different flavors. I've been using Cold Mountain Mellow White Miso Soy Bean Paste, a Hawaiian style miso. Up until now I didn't think much about the type of miso that was in my refrigerator other than that it was white, but the type I've been using is less salty and considered a sweet miso. I'm looking forward to trying the cookies with other varieties of white miso.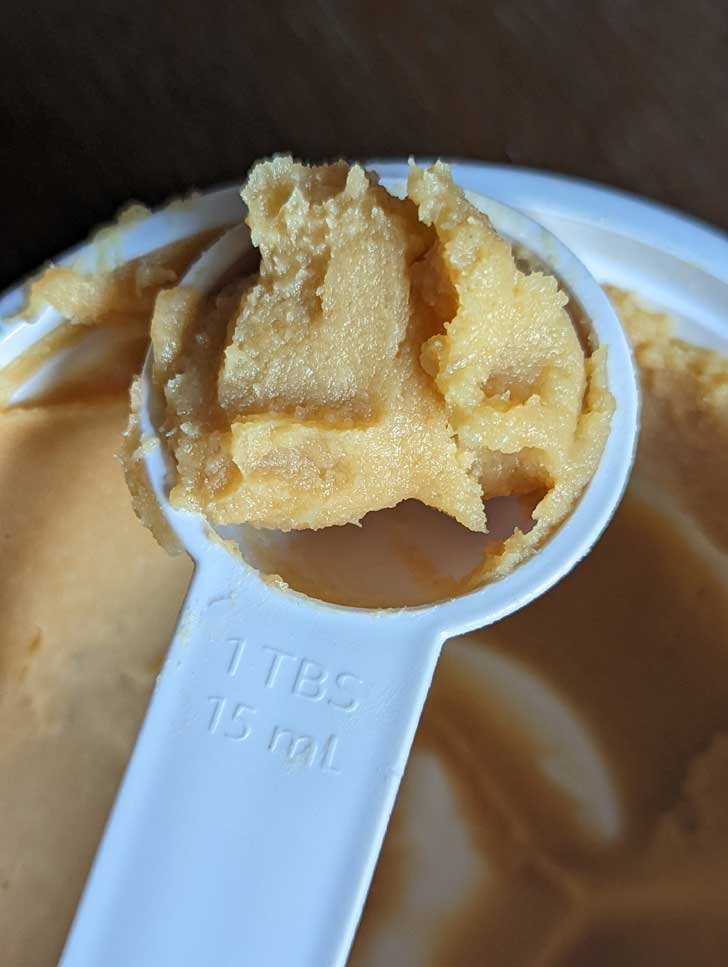 Miso Chocolate Chip Cookie Recipe
We loved Katie Lee's recipe, especially the texture. The recipe has proportionately less butter in it, and I felt like the cookies could be a little richer, but I didn't want to lose the chewy texture so I made some minor changes and did not cut the sugar. Use European style butter (Plugra or KerryGold) for extra richness. To further balance the sweetness, put salt on top, use bittersweet chips rather than semisweet and add some toasted pecans. This dough would work well with chunks of chocolate rather than chips, so that's another option and one I plan to try when I make another batch. While this won't be my go-to cookie recipe, I'll definitely make these again soon.
More Cookies with Secret Ingredients
Recipe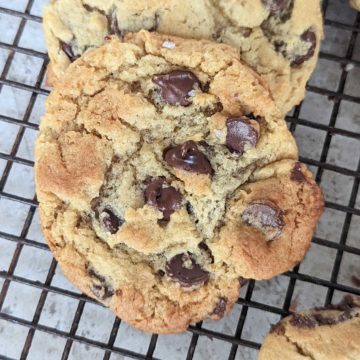 Miso Chocolate Chip Cookies
Chocolate Chip Cookies with ⅓ cup of white miso paste!
Ingredients 
2

cups

unbleached AP flour, spooned into cup or weighed

(250 grams)

1

teaspoon

baking soda

8

tablespoons

unsalted butter, room temperature

(114 grams)

1

cup

light brown sugar, lightly packed

(200 grams)

3

tablespoons

granulated sugar

(35 gram)

1

large

egg

(50 grams)

⅓

cup

white miso paste

(85 grams)

1

teaspoon

vanilla extract

1 ½

cup

bittersweet chocolate chips

⅓

cup

chopped, toasted pecans

Maldon Sea Salt
Instructions 
Preheat oven to 350 degrees F. Line a couple of cookie sheets with parchment. If you aren't planning to bake any cookies right away there's no need to preheat.

Sift or thoroughly whisk together flour and baking soda and salt. Set aside.

Cream butter and both sugars with an electric mixer; Add egg, miso and vanilla and beat until blended.

Add flour mixture and stir until incorporated. Stir in chocolate chips.

Use a medium size cookie scoop to portion out dough. If chilling, put the dough portions on dinner plates lined with plastic wrap and cover. I recommend baking a few dough balls immediately and chilling the rest.

When ready to bake, space about 2 ½ inches apart on a Silpat or parchment lined baking sheet. Sprinkle tops of cookies with a few flakes of sea salt. Bake one sheet at a time, rotating halfway through, for about 13 or 14 minutes.

Let cool on the baking sheet for about 3 minutes, then carefully transfer to a wire rack to finish cooling.