The New Cook's Illustrated Chocolate Chip Cookie is not so new anymore! Lots of people have tried it and created new variations including the Bon Appetit Chocolate Chip Cookie which is similar, but tastes a bit more flavorful to me for some reason. But these are still VERY good — definitely in my top 10 of all time. They're also very convenient because they are made with melted butter which you just stir with the other ingredients.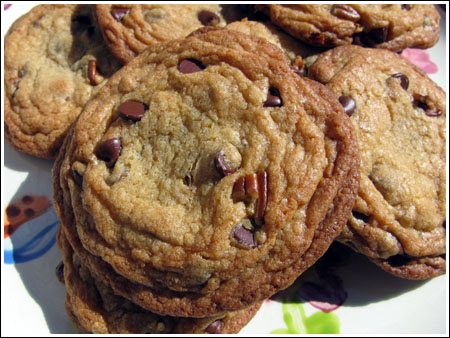 Cook's Illustrated Chocolate Chip Cookies Flavor
These cookie are dark, thick, and have a very faint toffee flavor. They have an excellent texture and are thick and sturdy. The flavor of the cookies is good, but for some reason I always felt it could be a tiny bit better. Sometimes people add soy sauce to chocolate chip cookies for umami, so at one point I tried doing the same thing by adding a hint of coconut aminos. It still didn't quite do the trick, but it was a fun test. Maybe I'm just being too picky. The cookies are still very good.
I think there's actually another new Cook's Illustrated Chocolate Chip Cookies as of 3/8/2021, so maybe it's this one but better!
Other Favorite Chocolate Chip Cookies
Here's my current (3/8/2021) list of top cookies in case anyone wants to compare favorites!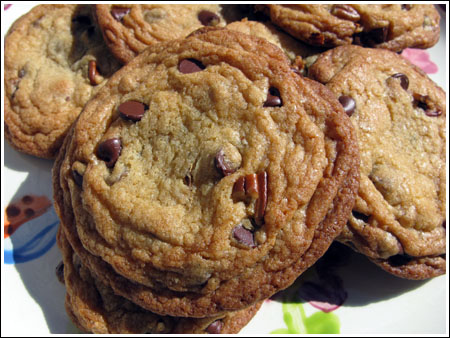 New Cook's Illustrated Chocolate Chip Cookie
An easy browned butter chocolate chip cookie recipe from Cook's Illustrated
Ingredients 
14

tablespoons

unsalted butter

(196 grams)

1/2

cup

granulated sugar

(100 grams)

3/4

cup

packed dark brown sugar

(150 grams)

1

teaspoon

table salt

2

teaspoons

vanilla extract

1/2

teaspoon

coconut aminos

optional

1

large egg

1

large

egg yolk

1 3/4

cups

unbleached all-purpose flour

(245 grams)

1/2

teaspoon

baking soda

1 1/2

cups

semisweet chocolate chips or chunks

3/4

cup

chopped pecans or walnuts

toasted (optional)
Instructions 
Brown 10 tablespoons of the butter in a large skillet or saucepan. Pour browned butter into a mixing bowl, scraping up all brown bits, then add remaining 4 tablespoons of butter and whisk until fully melted. Add both sugars, salt and vanilla ( and coconut aminos if you are curious) and whisk until blended, then whisk in the egg and yolk. Let mixture stand for 3 minutes.

After 3 minutes, whisk again for 30 seconds. Let stand for another 3 minutes, then whisk again. The standing time helps dissolve the sugar with the theory being that more dissolved sugar in the batter will contribute to extra caramelization while baking.

Combine the flour and baking soda in another bowl. Using rubber spatula or wooden spoon, stir in flour mixture until just combined, about 1 minute. Stir in chocolate chips.

Scoop the dough into balls of 1 tablespoon each (or use a medium cookie scoop). At this point you can chill the balls or bake immediately.

Preheat oven to 375 degrees F. Place on parchment lined baking sheets, 2 inches apart. Bake 10-14 minutes at 375 degrees F.