TOP 5 UPDATE: This new Cook's Illustrated Chocolate Chip Cookie recipe may or may not be as good as the New York Times recipe, but it's more convenient because it doesn't call for all the different flours. My expectations might have been too high the first time I made these it because I thought the cookies were good, but not great. However, people who tried these thought they were incredible and I've found myself making them again and again because they are so easy and convenient. For that reason, this cookie goes on my Top 5 Chocolate Chip Cookie List.  I've published my adapted version below.  
Today's cookie was recommended by Sue, who found it in the new issue of Cook's Illustrated. I can't wait to get my copy because I want to read CI's thought process in creating this recipe; but for now, here's a review of the cookie. I'm not posting the recipe because a) I didn't make any changes and b) it's brand new. However if you must have the recipe now, sign on to Cooks Illustrated. If you're lucky, a pop-up will come up and offer you a free one-day trial.
Sue described the cookies as thick, not-too-greasy, toffee like. I agree. They have an excellent texture and are thick and sturdy. I liked these a lot, but am not very happy with the type of chocolate chips I used. The cookies are big, so I think they'd be better with larger chocolate chips (like Ghirardelli Bittersweet) or chunks of really dark or bittersweet chocolate.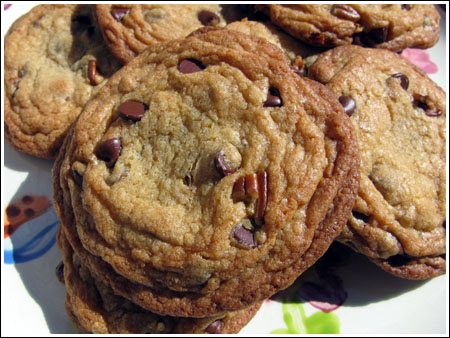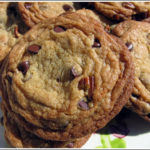 Print Recipe
New Cook's Illustrated Chocolate Chip Cookie
An easy browned butter chocolate chip cookie recipe from Cook's Illustrated
Ingredients
14

tablespoons

unsalted butter

1 3/4 sticks

1/2

cup

granulated sugar

3.5 ounces

3/4

cups

packed dark brown sugar

5.25 ounces (see note)

1

teaspoon

table salt

2

teaspoons

vanilla extract

1

large egg

1

large egg yolk

1 3/4

cups

unbleached all-purpose flour

8.75 ounces

1/2

teaspoon

baking soda

1 1/2

cups

semisweet chocolate chips or chunks

3/4

cup

chopped pecans or walnuts

toasted (optional)
Instructions
Brown 10 tablespoons of the butter in a large skillet or saucepan. Pour browned butter into a mixing bowl, scraping up all brown bits, then add remaining 4 tablespoons of butter and whisk until fully melted. Add both sugars, salt and vanilla and whisk until blended, then whisk in the egg and yolk. Let mixture stand for 3 minutes.

After 3 minutes, whisk again for 30 seconds. Let stand for another 3 minutes, then whisk again. The standing time helps dissolve the sugar with the theory being that more dissolved sugar in the batter will contribute to extra caramelization while baking.

Combine the flour and baking soda in another bowl. Using rubber spatula or wooden spoon, stir in flour mixture until just combined, about 1 minute. Stir in chocolate chips.

Scoop the dough into balls of 1 tablespoon each (or use a medium cookie scoop). At this point you can chill the balls or bake immediately.

Preheat oven to 375 degrees F. Place on parchment lined baking sheets, 2 inches apart. Bake 10-14 minutes at 375 degrees F.