Portillo's is a restaurant famous for hot dogs and Italian beef, but what you may not know is they serve a very popular chocolate cake. In fact, the Portillo's chocolate cake is so well-loved there's a copycat recipe for it.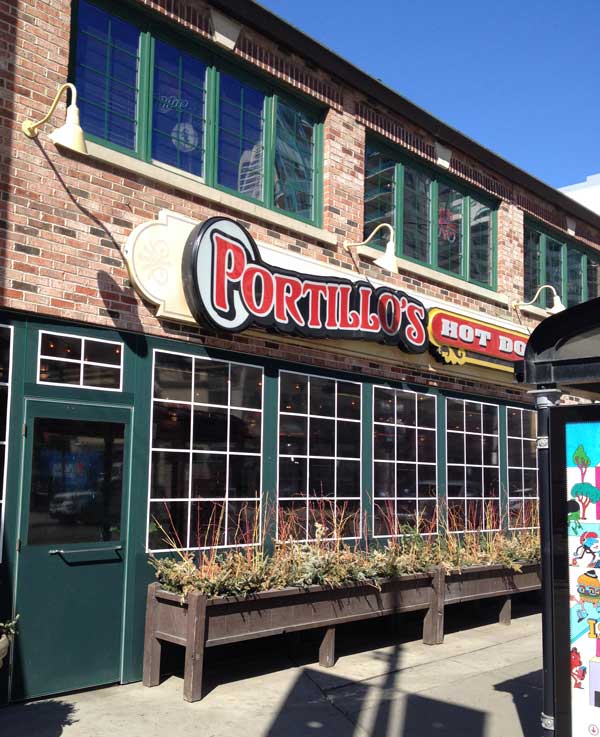 An Easy Mayonnaise Cake
The Portillo's chocolate cake copycat is a ridiculously easy mayonnaise cake. It calls for Betty Crocker cake mix, eggs, water, and mayo and is frosted with canned Betty Crocker frosting. People who claim to have worked at Portillo's say the recipe is fairly accurate, but that the chocolate cake mix is actually Gold Medal. Gold Medal and Betty Crocker are both General Mills brands, and since the Gold Medal cake mix seems to be more of a restaurant industry product (I've never seen Gold Medal cake mix in stores), the Betty Crocker cake mix is probably close. Of course I had to know, so I bought a slice of Portillo's chocolate cake and made the copycat Portillo's chocolate cake. First up was the real life Portillo's Chocolate Cake.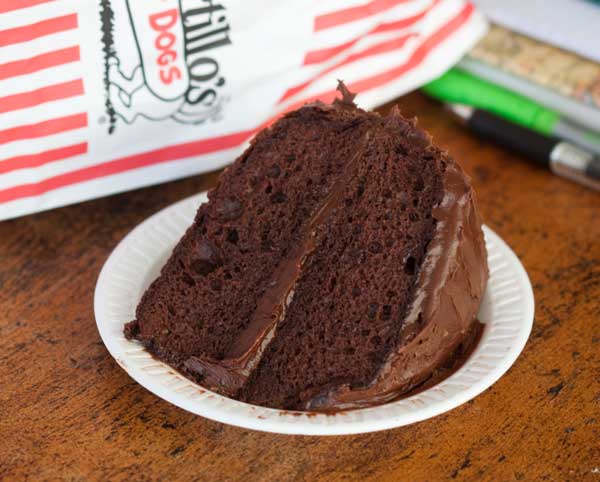 Portillo's Cake Taste Test
The Portillo's frosting did indeed taste like Betty Crocker Rich and Creamy Chocolate. As a frosting lover who will eat it in just about any form, the lazy side of me was glad I didn't have to try to duplicate it with a scratch clone. Of course you are welcome to do so (which should go without saying), but if you are going for a clone you might want to stick with Betty Crocker. Next, I tasted the crumb. It too had the texture of boxed mix, but lighter and softer and less sweet with less artificial taste. Since the cake is purported to have mayonnaise, I suspected the mayo was doing its job by adding moisture and masking any chemical flavors. Good job, mayo! Next up was the copycat cake made with Betty Crocker Devil's Food.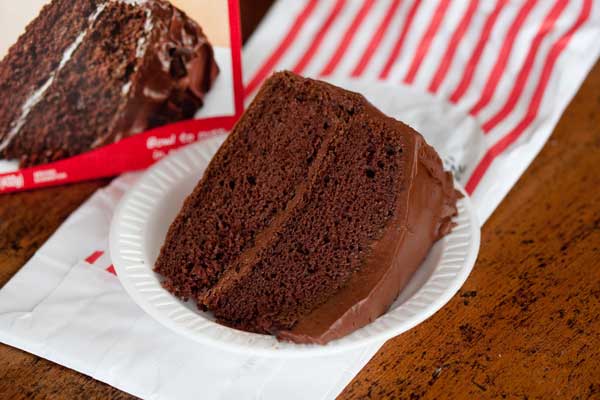 Some of the clones state that you must use Betty Crocker Super Moist Butter Recipe Chocolate while others call for Betty Crocker Devil's Food. I went to three stores and couldn't find "Butter Recipe", so I used Devil's Food. The ingredient lists for those two flavors were identical, so I wasn't too worried. However, if I see the butter recipe chocolate I'm going to have to make this again.
Portillo's Chocolate Copycat Cake Taste Test
The frosting on the clone cake was almost exactly the same as Portillo's, but the crumb was a little different. As you can tell by the picture the Portillo's cake crumb was darker with bigger air bubbles. Maybe more liquid was used? Maybe they used a tad more mayonnaise? Or maybe it was just the cake mix itself. Despite the difference in appearance, the taste and texture of the two cakes were very similar, with the Betty Crocker being slightly sweeter. Either way, this is one I'll make again when I'm in the mood for a boxed cake. I believe the original recipe is from Hellmann's, since they have the same recipe on their site but call for any cake mix.
Six Inch Mayonnaise Cake
I recently made a six inch version of the Portillo's Chocolate Cake Copycat. It worked just fine. To make a six inch, weigh out half of the cake mix, use 1 whole egg plus 2 tablespoons of beaten egg, ½ cup of mayonnaise and ½ cup of ice water. Bake in two six inch cake pans and frost with about 1 can of icing.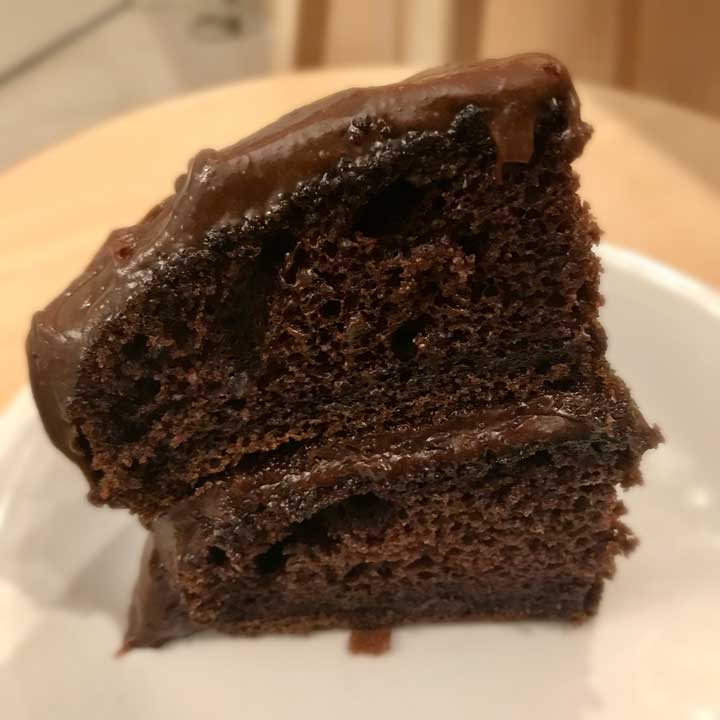 And While You've Got the Mayonnaise...
Or try something a little different with your cake mix --- Chocolate Flan Cake!
Recipe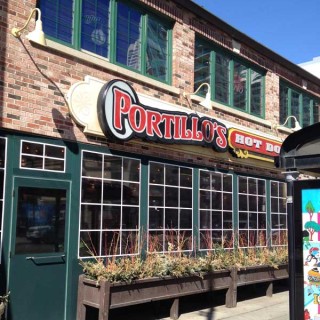 Portillo's Chocolate Cake Copycat
Portillo's Chocolate Cake Copycat made with Betty Crocker cake mix and mayonnaise.
Ingredients 
1

box

Betty Crocker Super Moist chocolate cake mix

Devils Food or Butter Recipe Chocolate

1

cup

Hellmann's mayonnaise

(200 grams)

1

cup

ice cold water

(228 grams)

3

large

eggs

2

cans

Betty Crocker Chocolate Frosting
Instructions 
Preheat oven to 350°. Grease and flour two 9-inch round cake pans.

Beat cake mix, mayonnaise, water, and eggs until mixed, then beat with an electric mixer for 4 minutes.

Bake 25-30 minutes or until toothpick inserted in centers comes out clean.

Let cool on a wire rack 10 minutes. Remove cakes from pans and cool completely.

Frost the cake with canned Betty Crocker chocolate frosting.