Super Chocolate Square Shaped Cookies are homemade square shaped chocolate chunk cookies inspired by a sub shop. I've never actually had a sandwich from this shop, but since discovering it a few years ago I sometimes stop in just for a cookie. Here's a picture of one I bought yesterday.
Jump to Recipe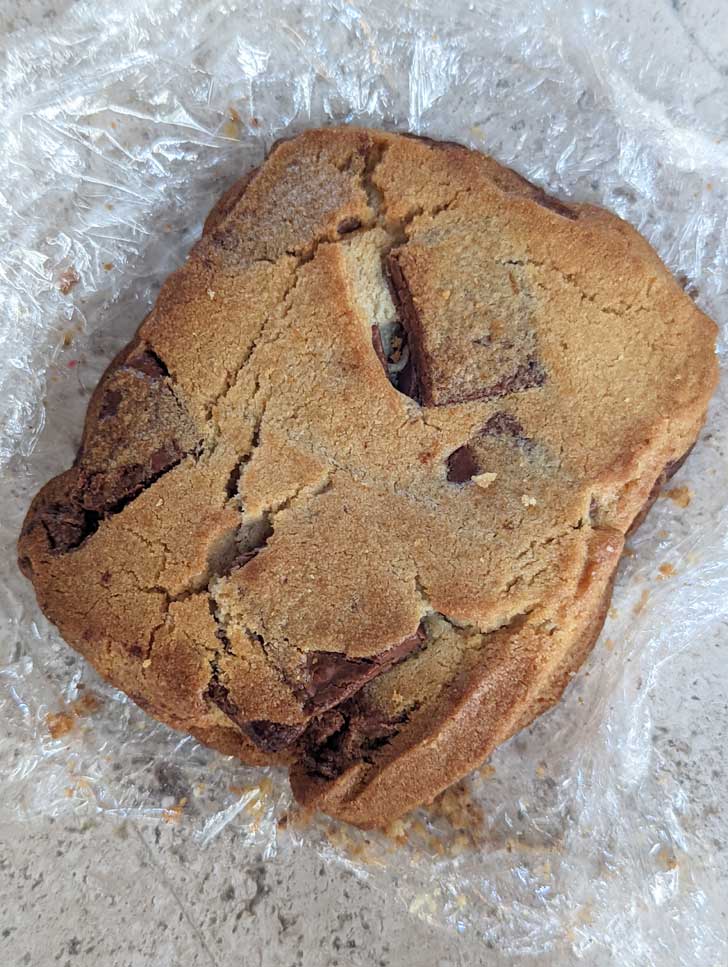 Sub Shop Cookies
The cookies weigh 4 oz and are kind of a square or rectangular shape with rounded corners. They don't keep them under a heat lamp. Instead, the cookies come wrapped tightly in plastic, as if someone's mom made them for a bake sale. Their outer appearance is basic, but inside they are loaded with layers of what seems to be milk chocolate. And they are not the same every time. Sometimes they are under-baked, so lighter in color and a little softer on the inside. Here's a cookie I bought a few weeks ago. It's the same type cookie, they just didn't bake it as long. Or perhaps it went into the oven in a more frozen state? Whatever the case, it was better -- less crumbly, soft and seemed to have more chocolate.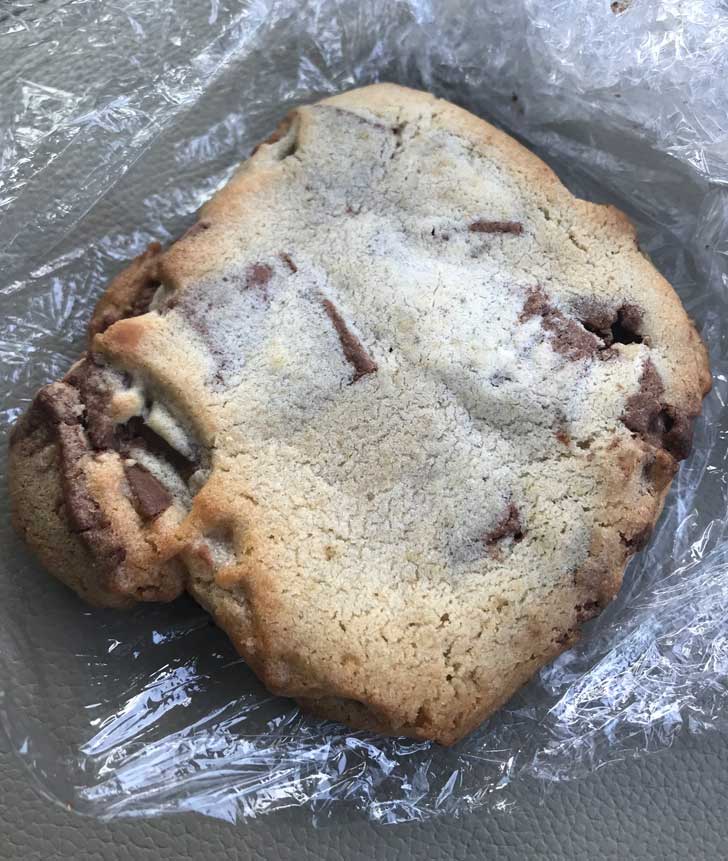 Super Chocolate Square Shaped Cookies
So my my homemade cookies were inspired by the sub shop, but they are not clones or copycats because they're made with butter, and I think the sub shop cookies are made with palm shortening or commercial bakery margarine. I do have an all-shortening recipe I like too and will share it if anyone's interested, but most people seem to want to all-butter cookies. I also have included the option to make the cookies small -- and that's relative term because by small I mean a little over an ounce.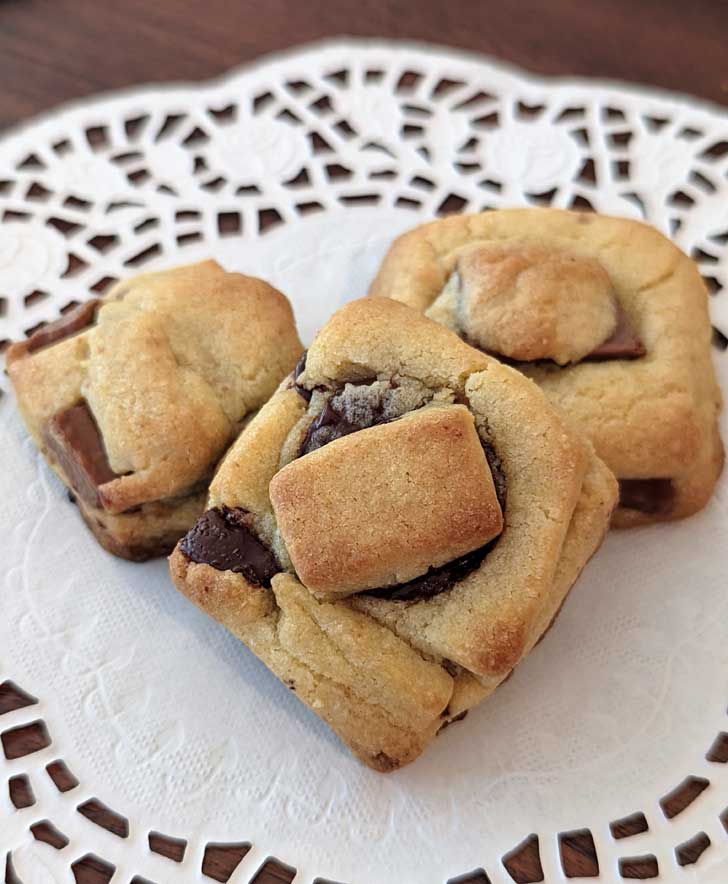 Keeping Things Square -- Almost
Before making these cookies, I knew I'd need a dough that would at least sort of hold the square shape. A shortbread type dough was the obvious choice, but I wasn't going for shortbread, but rather soft and slightly chewy chocolate chip dough. So after testing a few of my usual chocolate chip doughs, I chose this one. The extra yolk, lower amount of sugar and bread flour helps the dough hold its shape. Square cubes bake into square-ish cookies.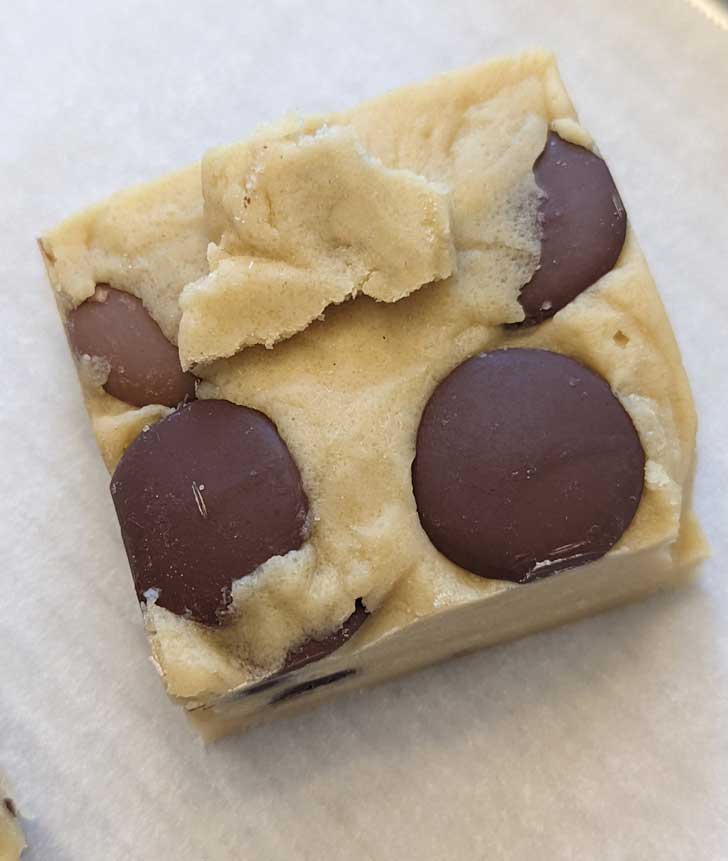 Layers of Chocolate
Shaping the dough into blocks layered with chocolate is easy, and you can choose your favorite method for doing it. One way is to spread thin layers of dough on a flat surface, dot with flat chocolate disks or squares, then layer with more dough and chocolate until you have a 1 ¼ inch thick slab. The other way is to just mix the chocolate in with the dough, dump it and and press it into a thick block. You'll definitely need to chill the block to carve the sharp edges.
Ingredient Rundown
Butter -- Regular unsalted butter works fine. If for some reason your dough isn't holding the square-ish shape, you can try using 2 tablespoons of shortening in place of two tablespoons of butter. I plan to test these with Plugra in the near future.
Bread Flour -- Bread flour also helps the cookies hold their shape. I plan on trying a mixture of bread and cake next and will update when I do. When I make my 100% shortening version (the recipe I haven't shared yet), I use 100% cake flour.
Cornstarch -- Another ingredient that helps the dough hold its shape. I have a few other recipe that call for more cornstarch and they really hold their shape, but the trade-off is a starchy texture.
Baking Soda -- Using only a tiny amount of leavening agent helps when making square shaped cookies.
Salt -- I always use Morton kosher for baking. It measures like table salt. If you are using Diamond you'll need to add more.
Sugar -- This recipe has less sugar than most, but the cookies are plenty sweet from all the milk chocolate.
Egg and Egg Yolk -- The extra yolk adds flavor and helps the dough stay square. If you double the recipe, it works best with 2 eggs and 3 yolks.
Vanilla -- It's not the main flavor of the cookie. You could even leave it out.
Chocolate -- I've tested with Belcolade milk chocolate disks, Ghirardelli melting wafers, Guittard Onyx, and Lindt. Will test with more because I love this recipe.
Other Recipes
Recipe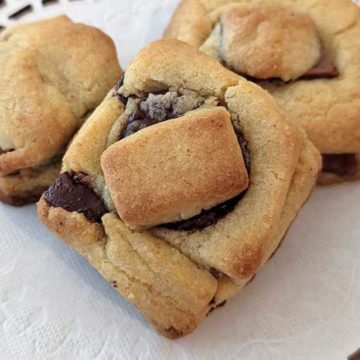 Super Chocolate Square Shaped Cookies
Big square shaped cookies with melted dark and milk chocolate. The yield is approximate because the sizes vary and you may use different amounts of chocolate. You should get at least 20 small squares or 5 very large cookies. If you double the recipe, use an extra egg yolk.
Ingredients 
10

tablespoons

unsalted butter

(140 grams)

1 ¾

cups

plus 2 tablespoons bread flour (volume approximate, I use a scale and weigh 250 grams).

(250 grams)

2

tsp

cornstarch

¼

tsp

baking soda

¾

tsp

salt

⅔

cup

light brown sugar

(130 grams)

½

cup

granulated sugar

(100 grams)

1

large

egg

1

large

egg yolk

½

teaspoon

vanilla

10-12

oz

chocolate disks or pieces of chocolate bar

This amount is approximate. Use however much chocolate you like.
Instructions 
Melt the butter gently using your favorite method. Let cool.

In a medium size bowl, combine flour, cornstarch, baking soda and salt. Mix well.

In a mixing bowl, using a wooden spoon (or lowest speed of an electric mixer) mix the melted and cooled butter with the sugars.

Add the egg and stir until blended, then stir in the yolk. Do not whip the egg, just stir it in.

Add the flour mixture and stir to make a soft dough.

Lay a big piece of parchment or plastic wrap on your work space. Take about ¼ of the dough and press it into a very thin slab -- somewhere around ⅛ of an inch, maybe a little thinner. There's no 100% correct way to do this, so just have fun.

Lay some flat chocolate disks or pieces over the thin layer of chocolate, then add a second layer (another ¼ of the dough) over the chocolate. Repeat with more chocolate, more dough and so on, stacking dough and chocolate.

Shape the dough into a big rectangle that's a little over and inch thick. Trim as necessary. Wrap tightly and chill overnight or at least for several hours.

When dough is solid, carve it into squares. The squares should weigh a little over an ounce each for small cookies or 4 oz each for large. Trim as necessary, patching little pieces of dough on each cookie as needed. Keep dough blocks cold while you preheat the oven. I like to throw them in the freezer.
SMALL VERSION
Preheat oven to 400 degrees F. Set the blocks of dough on a large baking sheet lined with parchment and bake for about 10 to 12 minutes (check at 8). The dough should be lightly browned around the edges. NOTE: If your oven runs hot, you can try a lower heat. I have the best results using 400, but it may vary by ovnen.
LARGE VERSION
To bake the 4 oz cookies, preheat oven to 400 degrees F. Bake at 400 degrees for the first 5 minutes, then drop heat to 350 and bake for 10 minutes or just until the edges are lightly browned and the top looks set and has tiny cracks.

Allow the cookies to cool on the baking sheet for a few minutes, then transfer to a wire rack to cool completely. These are best 100% cool.