Calling these "healthy" would be a stretch, but it's nice when a cookie tastes good and has a little something to offer. In this case it's some fiber, vitamins and minerals from oats, nuts and whole wheat flour.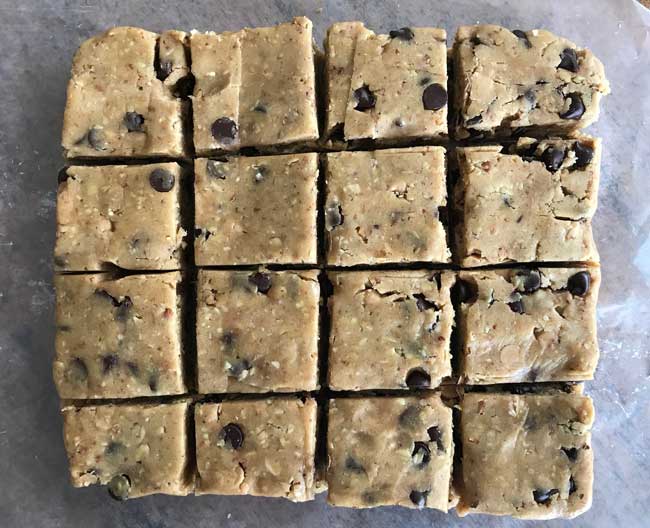 The  original recipe is from Phuel Café, a restaurant in Ohio that focuses on plant based foods. It was featured on Cleveland.com as "Andy Newman's Deeply Richly Nutted Chocolate Chip Cookies".  They are richly nutted, for sure.  However, to me they seemed more like peanut butter cookies.  Also, I made them as squares an am calling them  "Square Cookies".  Don't be blown away by all the creativity, there.  Ha.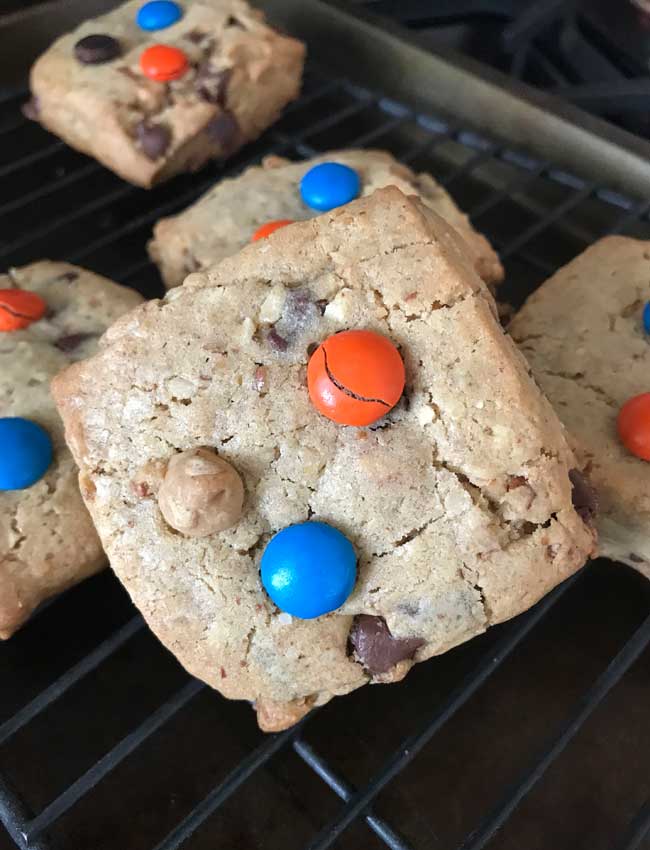 So they are square cookies, and thanks to the nuts they're even textured but kind of crumbly — maybe sort of sandy, but not really. They're on the dryer side, but not necessarily in a bad way because it contrasts with the chips.
The only drawback to these square cookies is that you have to use the food processor to grind the oats, some of the sugar and nuts. It's not a huge deal, just more to clean up, so I suggest trying these next time you have your food processor out for something else.
Here's the revised recipe. I halved it, used a bit more salt, a tiny bit more molasses, tested with different kinds of nuts and made the cookies as squares.  And oh yeah —  to make these extra healthy so I put M&Ms on top.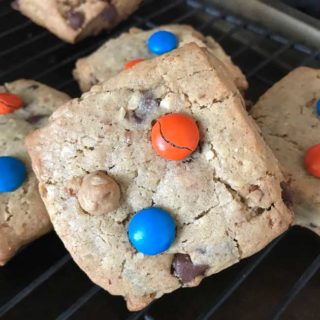 Square Cookies
Square Cookies are square shaped cookies made with peanut butter, ground pecans and ground oats.
Ingredients 
1

cup

190 grams sugar

1

cup

toasted pecans or a mix of pecans and walnuts or almonds

1/2

cup

oats

1

stick

114 grams unsalted butter, softened

1/4

cup

peanut butter

(unsweetened)

2

large eggs

1

teaspoon

molasses

1/2

teaspoon

salt

1/2

teaspoon

baking soda

3/4

teaspoon

pure vanilla

2

cups

lightly scooped

or weighed all-purpose or whole wheat flour (250 grams)

1

cup

chocolate chips

½

cup

peanut butter chips

optional

Colored Candies

optional
Instructions 
Put ½ cup of the sugar, oats and nuts a food processor and grind until fine. Set aside.

Put the softened butter, remaining half cup of sugar, peanut butter, eggs, molasses, salt, baking soda and vanilla in a large mixing bowl. Beat all at once with a handheld mixer or paddle of a stand mixer until creamy and smooth. By hand or using lowest speed of mixer, stir in the flour. Add oat mixture and stir until blended, then stir in the chips.

Empty dough onto a large sheet of plastic wrap or wax paper and knead gently just to make sure everything is well mixed. Shape dough into a rectangle about 7x8 inches and 1 inch thick. Chill the rectangle for about an hour.

With a large knife, cut the rectangle into even squares. If desired, put some colored candies on top.

Arrange squares of dough on a parchment lined baking sheet and bake for 15-18 minutes at 350 (or however long it takes in your oven).

Let cool completely before serving.