According to an article in Food Network Magazine, the ingredients in Flu-Fighter Cookies have quite an array of benefits.
Ginger has antiviral compounds
Cranberries have antioxidants which help your body fight off cell damaging free radicals
Oats are rich in selenium, which also helps fend off free radicals
Walnuts have zinc that helps keep viruses from reproducing in the body
Yogurt has active cultures that will boost your ability to absorb nutrients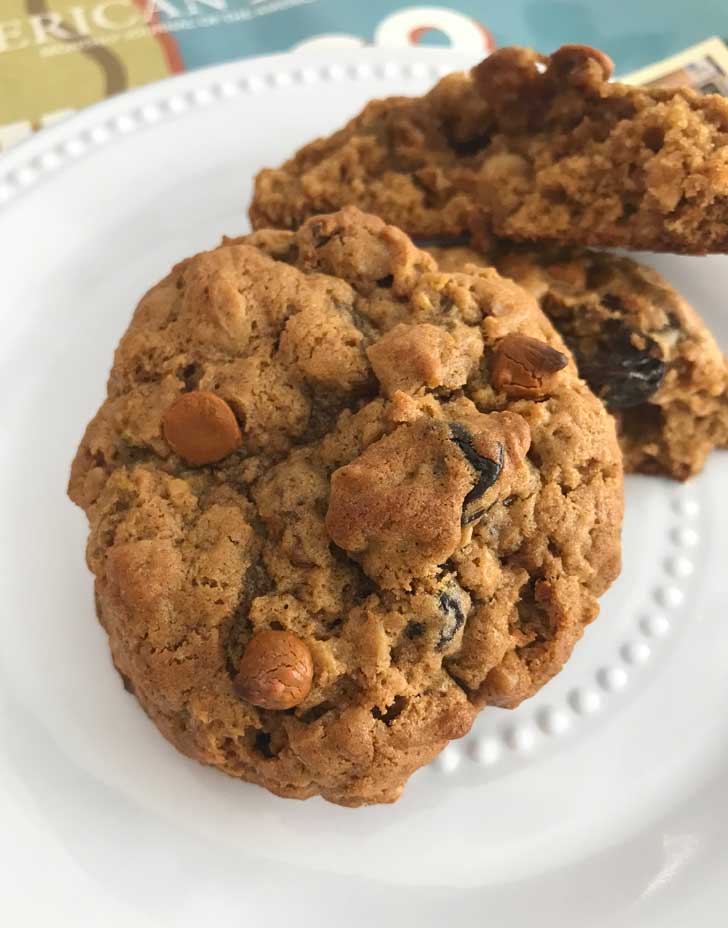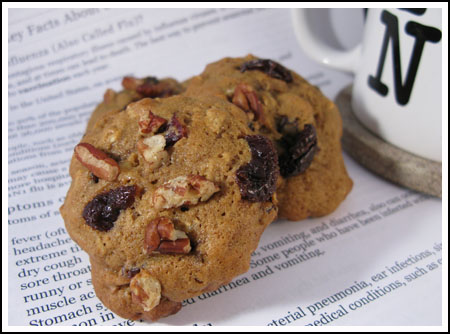 Really, Food Network Magazine? These cookies will help fight off the flu???? I kept looking for winks and smileys or signals that they were joking within the text, but couldn't find any. Still, really? There's ¼ cup of yogurt in the recipe. Divide that by 30 and you get less than half a teaspoon. Is half a teaspoon of yogurt or a tiny pinch of ginger that's been baked for 12 minutes going to boost immunity?
More importantly, Flu-Fighter Cookies are really good. They're fat, soft, not rich – but not dry, either. Use the measurements as a guide and stuff them with as much dried fruit and nuts as possible. Some dark chocolate chunks might even be good here as well, and I'll bet chocolate has some property that staves off the flu too, right?
Flu-Fighter or not, make these cookies because they are just plain good!
Recipe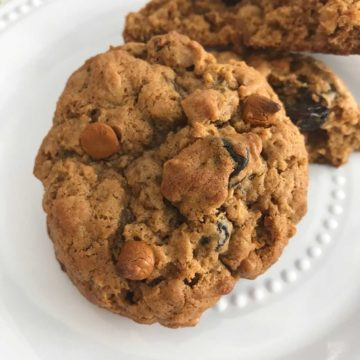 Flu-Fighter Cookies
Don't Cancel Your Flu-Shot Cookies
Ingredients 
2 ¼

cups

all-purpose flour

(280 grams)

1 ¼

tsp.

baking powder

¾

tsp.

baking soda

¾

tsp.

ground cinnamon

½

tsp.

freshly grated nutmeg

Pinch

ground cloves

¼

tsp.

salt

I used ½

4

oz

unsalted butter, room temperature

room temperature

1

cup

packed dark brown sugar

220 grams

2

large eggs

¼

cup

molasses

1

tablespoon

freshly grated ginger

2

tsp.

finely grated lemon zest

about 1 lemon

¼

cup

sour cream or Greek yogurt

½

cup

old-fashioned oats

1 ¼

raisins

golden or regular

1 ¼

cups

dried cranberries

1 ¼

cups

roughly chopped walnuts

toasted
Instructions 
Combine flour, baking powder, baking soda, cinnamon, nutmeg, cloves and salt in a bowl and stir well; set aside.

Using an electric mixer, cream the butter and brown sugar in a large bowl until light and fluffy, 3 minutes. Beat in the eggs one at a time. Beat in the molasses, ginger and lemon zest, scraping sides of bowl, then fold in the sour cream.

By hand or with lowest speed of mixer, stir in the flour mixture.

Fold in oats and half of the raisins, cranberries and walnuts. Mix the remaining dried fruit and nuts in a small bowl and set aside.

Drop heaping tablespoons of batter onto the prepared baking sheets.

Top each with some of the reserved dried-fruit-and-nut mixture and

chill for 30 minutes.

Meanwhile, preheat oven to 375. Bake the cookies until dark golden but still soft, 10-12 minutes; cool on a rack. Store in an airtight container for up to 1 week.