I've mentioned my Instant Pot chocolate cake obsession a time or two, so it might not surprise you to see another delicious 7 inch chocolate cake! This one's an Instant Pot Chocolate Bourbon Bundt Cake, and unlike the other I posted it's from scratch. It's also super easy.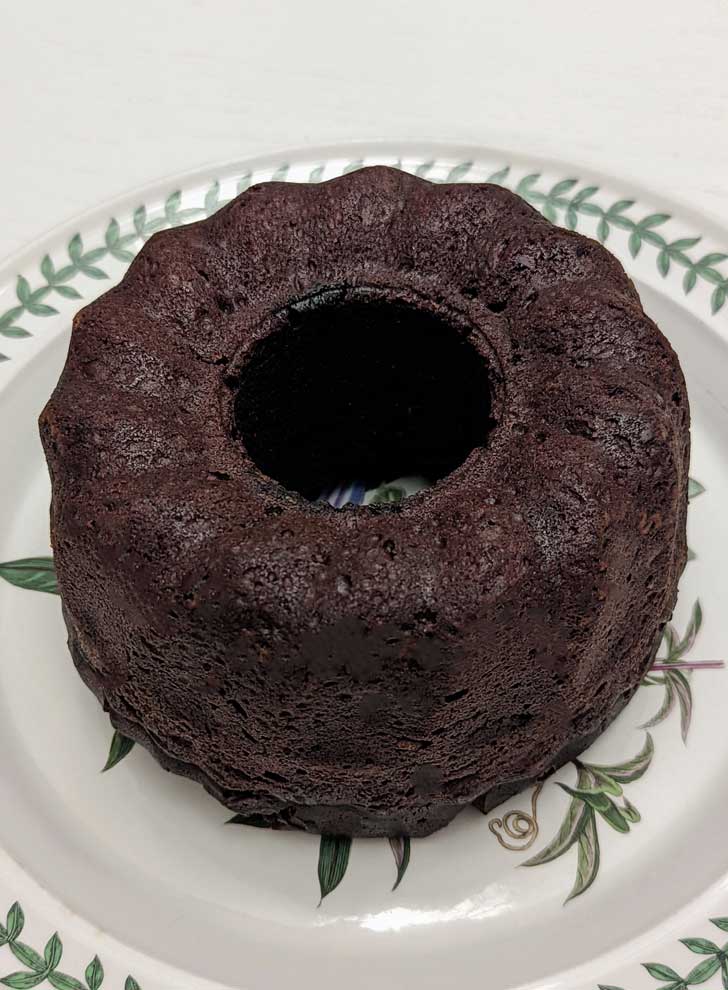 Instant Pot Chocolate Bourbon Bundt Cake Flavor
Not every chocolate cake recipe converts to the Instant Pot. For instant, I tried making Maida's 18 Proof Cake and it came out overly dense and almost rubbery. This cake is dense, but has a flakier texture and is more like a moist and traditional cake. The bourbon flavor is significant, but we didn't find it overpowering. My daughter is not really a bourbon fan but she liked the cake. That being said, you can just leave it out and use ⅓ cup of cold coffee or ⅓ cup water.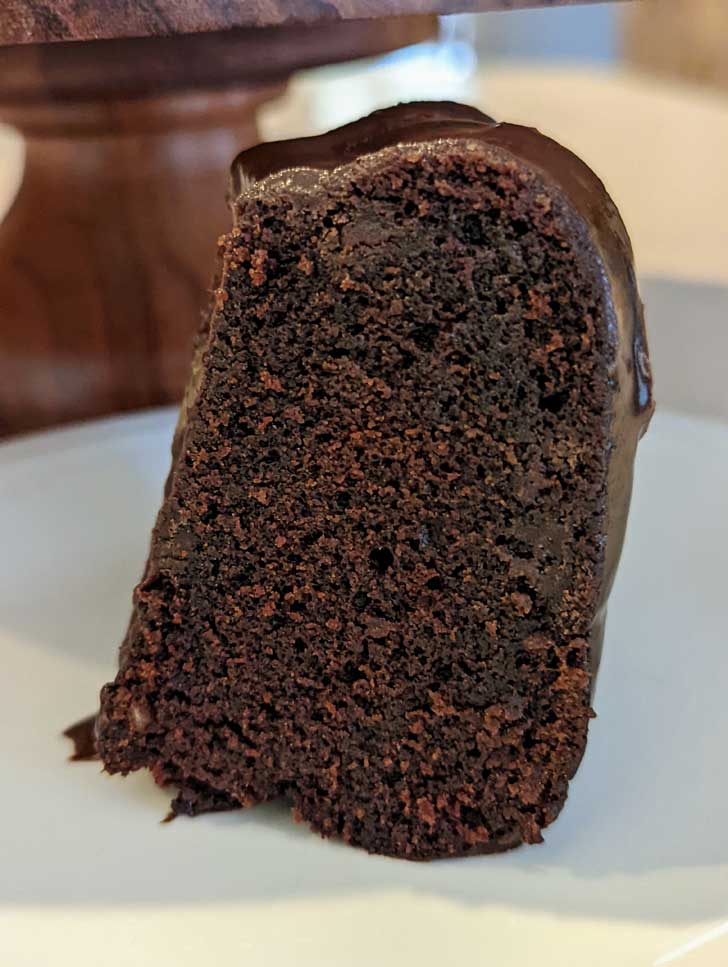 Six Inch or 7 Inch Fluted Pan
Fluted pans come in different shapes and have varying dimensions. I'm using a gold colored fluted Crofton brand pan I bought at Aldi for $4.99. The Crofton pans are special items, so unless you already have the Crofton fluted pan, you'll have to use one that is about the same size (6 inches in diameter and 3.5 inches high). Other sizes should also work, but the size of the pan may affect the overall time.
Recipe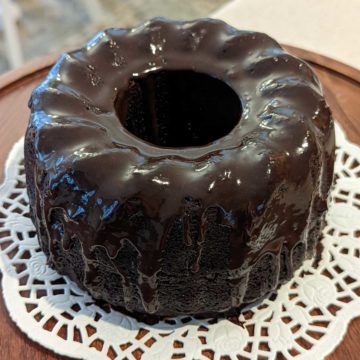 Instant Pot Chocolate Bourbon Bundt Cake
Chocolate Bundt cake with lots of bourbon flavor.
Ingredients 
1

cup

all-purpose flour

(134 grams)

1

cup

granulated sugar, scant cup

(190 grams)

6

tablespoons

unsweetened natural cocoa powder

(35 grams)

1

teaspoon

baking soda

½

teaspoon

baking powder

½

teaspoon

salt, scant

1

large

egg

½

cup

vegetable oil

(114 grams)

½

cup

whole milk

½

teaspoon

of vanilla

⅓

cup

bourbon

¼

cup

miniature semisweet chocolate chips
Ganach
1

oz

heavy cream

1.5

oz

dark chocolate, chopped (can use a little more)
Instructions 
Spray a 6-7 inch Instant Pot Bundt fluted pan (3 ½ inch high sides) with flour-added baking spray or grease with shortening.

Combine the flour, sugar, cocoa, baking soda, baking powder and salt in a mixing bowl and stir very well to combine. Add the egg, oil, milk and vanilla and stir just until blended.

Add the bourbon and beat with the mixer for about 30 seconds, scraping side of the bowl. Stir in the chocolate chips. Pour the batter into the prepared Bundt pan. It should come around half way up the sides. Note: I have not been covering the pot with foil for this cake. If condesation collects on the surface, I just dab it off with a paper towel.

Put the trivet in the Instant Pot. Boil 1 ½ cup of water in the microwave and pour it into the Instant Pot. Set the cake on the trivet. Cover the Instant Pot, set the valve to the middle position and set the timer to 33 minutes. Allow a 33 minute cook time and a 15 minute release. Remove top (the smell of the cake will be interesting at this point - very strong cocoa).

Carefully remove Bundt from the Instant Pot. You can do this by using the handles of the trivet, or just using oven mitts and lifting the pan out.

Allow the cake to cool for about 20 minutes, then carefully turn from the pan.

To make the ganache, heat the cream in a microwave-safe bowl or 2 cup measure until it just starts to boil. Add the chopped chocolate and stir until smooth. Let cool so that it thickens slightly, then pour over the cake.