It's 5:00 somewhere! This Brown Sugar Bourbon Pound Cake has become one of our favorite pound cakes and I wish I had more chances to make it. If your are baking for a crowd, particularly one that appreciates bourbon, it's a good choice. The brown sugar and bourbon flavor makes it feel like the holiday season.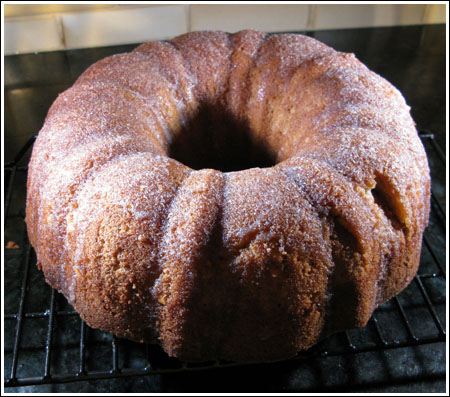 White Lily Brown Sugar Bourbon Pound Cake
In the past I made this with White Lily brand flour and wrote about my difficulties finding it at a local grocery store. Now I live in North Carolina and you can buy it at the 7-11. Just kidding. But every grocery store has it because it's a soft flour perfect for biscuits and pound cake, yet it is not cake flour. You can order it here or just use the same weight of bleached all-purpose. Unbleached is fine too.
Greasing and Flouring a Bundt Pan
In my old photo, you can see the little gash on the side of the pound cake where some cake stuck to the pan. Since then I've become much better at getting pound cakes and tube cakes out of pans, and the secret it a lot of shortening. Shortening cost more these days, but it's worth keeping a bit tub of any brand around especially for greasing. It doesn't burn like butter and doesn't require softening, so you can use it right away.
To grease a pan with shortening, put a small zipper bag around your fingers, dip it into the shortening, then rub a generous coat all over the pan. If you don't have a zipper bag, use a paper towel. If convenient, get in the little crevices with a pastry brush. Sprinkle flour in the pan, hold it over the sink and tap to coat with flour.
More Pound Cake Tips
There are so many tips out there for perfecting pound cake. The ones I have found most helpful are 1. Bring all ingredients to room temperature. 2. Weigh your eggs. The weights of eggs vary. I recently bought some large eggs that weighed the same as jumbo size, so 63 vs. about 53. With 10 grams of difference in weight and 5 eggs, that's a whole extra egg. For this cake you'll want to use somewhere between 230 and 250 grams of eggs. You can add the eggs one at a time or whisk them in a bowl and drizzle them in slowly. 3. Don't beat the batter on high speed after adding eggs. You can use high speed to beat the butter and sugar, but reduce speed to medium when adding the eggs to avoid gluey streaks.
Recipe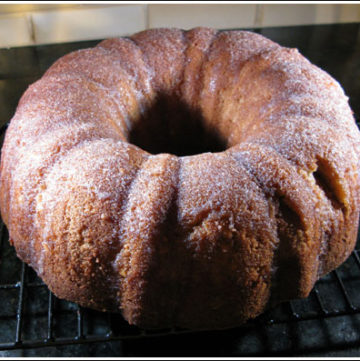 Brown Sugar Bourbon Pound Cake
Brown Sugar Bourbon Pound Cake
Ingredients 
shortening for greasing pan

3

cups

all purpose flour or White Lily or sifted AP

(380 grams)

¾

teaspoon

salt

7.5 ml

½

teaspoon

baking powder

2.5 ml

½

teaspoon

baking soda

2.5 ml

¾

cup

whole milk milk

180 ml

2

teaspoons

vanilla extract

10 ml

4

tablespoons

bourbon

60 ml

1 ½

cups

dark brown sugar

packed (298 grams)

½

cup

granulated sugar

(99 grams)

2

sticks

butter, unsalted or salted okay

softened (230 grams)

5

large

eggs, bring to room temperature

(230 to 250 grams)
Glaze:
⅓

cup

granulated sugar

66 grams

2

tablespoons

orange juice

30 ml

2

tablespoons

bourbon

30 ml
Instructions 
Preheat oven to 325 degrees F (165 C). Grease a 12-cup capacity Bundt pan with shortening and dust with flour.

In one bowl, thoroughly stir together flour, salt, baking powder and baking soda. Set aside.

In a measuring cup, combine milk, vanilla and Bourbon.

In a mixing bowl, using high speed of an electric mixer, beat butter and both sugars until creamy. Reduce speed to medium. Add eggs one at a time, beating 30 seconds after each eggs.

With a mixing spoon or lowest speed of mixer, add flour mixture and milk mixture alternately, beginning and ending with flour. When fully mixed, pour into pan.

Place on center rack and bake for 60 to 80 minutes. The original recipe recipe said 80 minutes, but I used a dark pan and my cake was done in 60 minutes.

Cool cake in pan for about 10 minutes, the carefully invert. Mix all glaze ingredients together. Using a pastry brush, brush all over cake.