These Maple Nut Bars are originally from the Eagle Brand recipe collection. They are comprised of a shortbread crust topped with a layer of nuts and a creamy maple flavored filling. The maple flavor is fairly strong, so anyone who enjoys artificial maple flavored things should be happy. The bars are also very rich, so you may want to cut them into fairly small servings.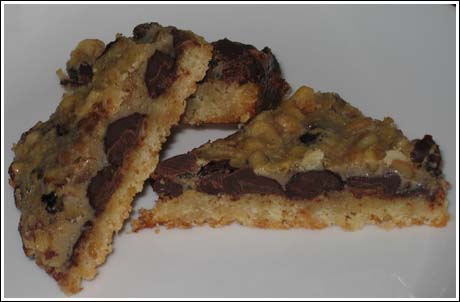 Also, this recipe desperately needs a new photo! I'll try to post one soon.
Chocolate Maple Nut Bars
Crust:
1 ½ cups all-purpose flour
½ teaspoon salt
⅔ cup sugar
1 large egg
Topping:
1 (14 oz.) can Eagle Brand® Sweetened Condensed Milk
1 large egg
1 ½ teaspoon maple flavoring
1 cup (6 oz. pkg.) semi-sweet chocolate chips
2 cups chopped nuts (pecans or walnuts)
6 ounces butter, cold
Preheat the oven to 350°F. Line a 13x9 inch metal pan with foil and spray foil with cooking spray.
Combine the flour, sugar and salt in large bowl or in the bowl of a food processor. Cut in butter with pastry blender or pulse the processor until mixture forms fine crumbs.
Stir in 1 beaten egg (or process). Press firmly onto bottom of prepared pan and bake for 25 minutes.
Meanwhile, In a large mixing bowl, beat together the condensed milk, remaining egg and maple flavoring; stir in nuts.
Sprinkle the chocolate chips evenly over prepared crust, then pour the condensed milk/nut mixture over the chips.
Return to oven and bake for an additional 25 minutes or until golden.
Let cool completely, then lift from the pan and cut into bars. For easier slicing, I recommend chilling the bars before cutting.