The texture of shortbread is as important as the buttery flavor, and if you are always on the hunt for ways to improve shortbread's texture, here's a tip -- grate the dough. I wish I could say this was a new tip, but the grated shortbread dough trick has been making the rounds for a while. Who knows how long pastry chefs have been doing it, but many home bakers learned it from Dorie Greenspan's Baking With Julia, where Julia Child and Gale Gand make Hungarian Shortbread Bars.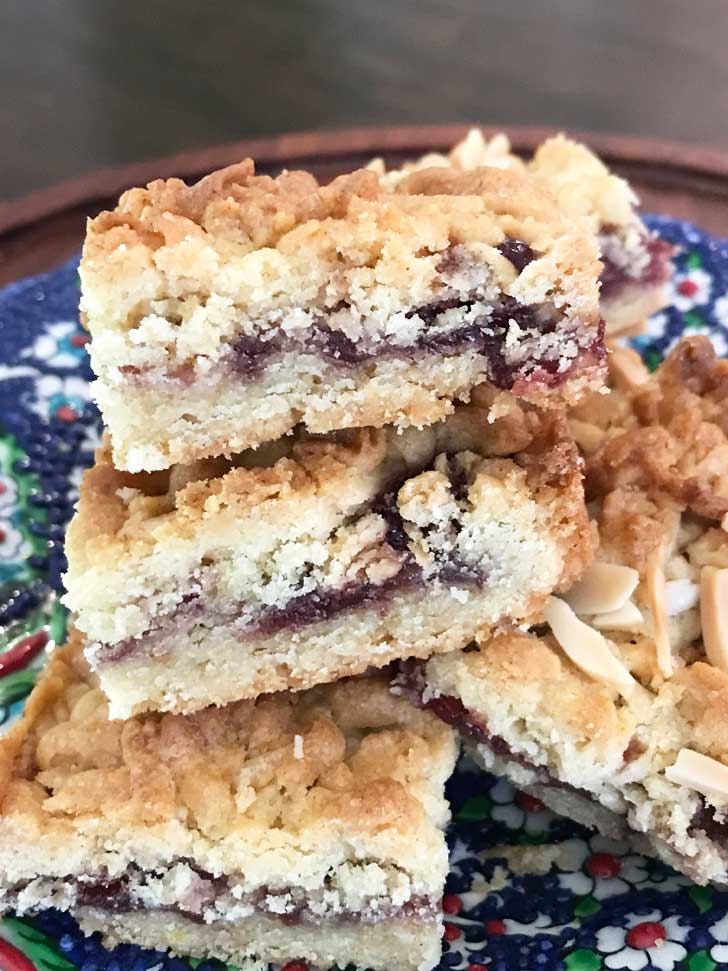 Baking at the 20th Century Cafe
I'm not sure how I missed this recipe back when I had the book. Perhaps I was too fixated on the brownies? But what brought it to my attention present day was Michelle Polzine's book, Baking at the 20th Century Cafe. Michelle makes a rose petal jelly filled grated shortbread and calls it Bulgarian Shortbread in honor of Bulgarian roses. She mentions being inspired by Julia and Gale's recipe, but her recipe is completely unique. It has less sugar, different flavorings and is on a slightly smaller scale. The original Hungarian Shortbread Bars recipe calls for a pound of butter and 4 cups of flour!
Grated Shortbread Dough
So all these famous pastry chefs have made this with unique fillings, but what I was most curious about was the shortbread itself. In addition to the grating, the recipe calls for several egg yolks and a good amount of baking powder to keep it light. I had to try it, but I didn't need a huge pan of shortbread so I made a loaf pan version.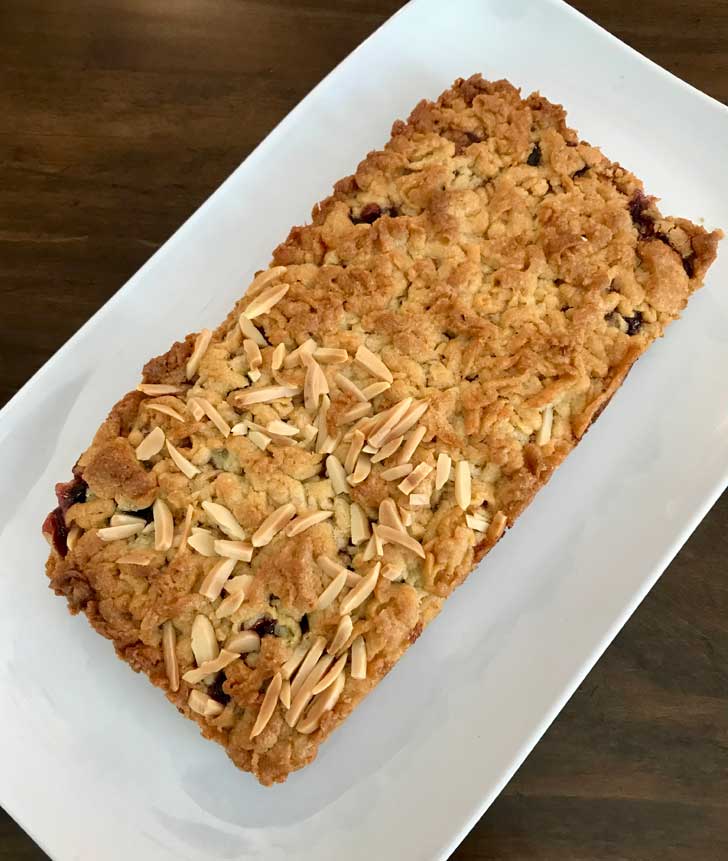 Loaf Pan Grated Shortbread Bars
I am very happy with how my small batch grated shortbread bars turned out. Or to be honest, batches. I made it three times, so I used almost as much butter as the original and now Todd and I have loads of shortbread. Anyhow, the ratios I used were more in line with Michelle Polzine's than Gale Gand's, so the bars are a little less sweet and have cardamom and lemon flavoring to liven things up. For the loaf pan version, I kept those two flavors because we love a little cardamom, but I made the bars saltier and used our favorite preserves as filling.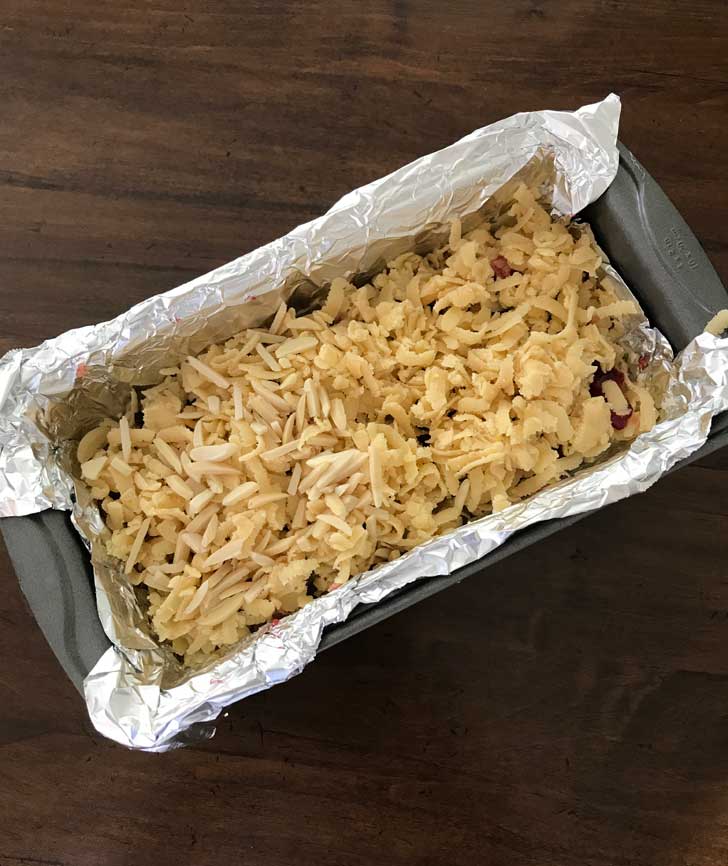 So here's my Loaf Pan Grated Shortbread aka Hungarian Shorbread recipe and a few tips for those of you who who like small batch shortbread recipes.
Loaf Pan Shortbead Tips
Loaf Pan -- Loaf pan shapes tend to vary, but what matters is the size of the bottom, since we are using the loaf pan mainly for surface area. A standard size 9x5 or slightly smaller or larger should work. I recommend one with a bottom that measures 8x4. This means the top will probably measure 8 ½ by 4 ½ or 9x5 inches depending on how slanted the sides of the pan are. But don't overthink the pan. Use whatever loaf pan you have and just know that your bars might be a little thinner or thicker.
Stand Mixer -- A stand mixer with paddle is ideal because this is a thick dough. It's kind of dry and crumbly at first so a little difficult to mix by hand. You could also use a handheld mixer and mix in short pulses so as not to overbeat the dough. I have a handheld electric mixer that seems to go from 0 to 60! I like it, but sometimes its blades are too powerful for cookie dough.
Flour -- I used the weight given as usual.
Foil -- Foil is a little easier to deal with when lining loaf pans (at least for me), but feel free to use greased parchment if that's what you prefer. The lining makes it easy to lift the bars from the pan. If you aren't too worried about lifting them neatly from the pan you can just butter the pan well.
Butter -- You can use unsalted or salted. I tested with both and liked the salted version best.
Baking Time -- Even in a loaf pan, the bars still take a while to bake. I baked them in a Breville toaster oven and they took about 40 minutes.
Don't go overboard on the preserves. About ¼ cup is just right. If you use more, the bars will be softer, and they're already soft enough. Also, it's surprisingly easy to spread the preserves over the grated dough if you keep it frozen.
Recipe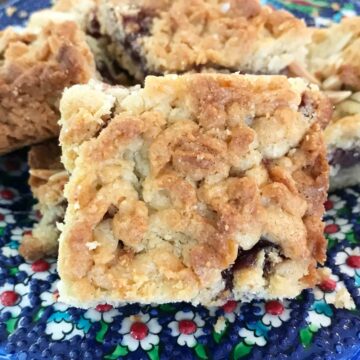 Loaf Pan Hungarian Shortbread Bars
Inspired by Baking with Julia and The 20th Century Cafe Cookbook
Ingredients 
¾

cup

plus 2 tablespoons all-purpose flour

(110 grams)

⅜

teaspoon

baking powder

⅛

teaspoon

salt

⅛

teaspoon

ground cardamom

¼

cup

raspberry jam or preserves or cherry

7

tablespoons

salted butter plus another ½ tablespoon for the pan.

¼

cup

sugar

(90 grams)

½

teaspoon

grated lemon zest

1

large

egg yolk
Instructions 
In a large bowl, whisk together the flour, baking powder, salt and cardamom.

With an electric mixer, preferably a stand mixer with paddle attached, beat 7 tablespoons of the butter until light and fluffy. Add the sugar and lemon zest and continue beating for another 2 minutes. stopping to scrape bowl as needed.

Reduce the speed to low and add the egg yolk, beating just until blended.

Add the flour mixture and stir with the paddle attachment just until a dough forms. You can also do this step by hand or carefully with the very lowest speed of a handheld mixer. If using a handheld, be careful not to overbeat the dough.

Scrape the dough onto a piece of plastic wrap and shape into a log. Wrap tightly and freeze for 30 minutes.

Preheat the oven to 350°F. Line the inside of a loaf pan with foil leaving an overhang for lifing. Rub the reserved softened ½ tablespoon butter across the bottom and about 1 inch up the sides.

Using the large holes on a grater, grate half the dough into the pan. Do not press down. Put the pan with the grated dough back in the freezer for about 5 minutes while you get the jam ready.

Using the back of a large spoon, spread the jam or preserves over the grated dough, then grate remaining dough over the jam. You will pile it pretty high, but it will bake down quite a bit.

Bake until the top is golden brown, about 35 to 40 minutes. Let cool completely, then lift from pan and cut into squares.