This recipe is a cross between two of my old favorites, Scottish Shortbread and Pecan Sables. I wanted to make it gluten-free and was successful substituting gluten-free flour, but I also tested with AP and the pecan shortbread was just as good. I'm really happy with how these turned out! One bite reminded me of Christmas back in Texas where there are always plenty of sandy textured pecan type cookies.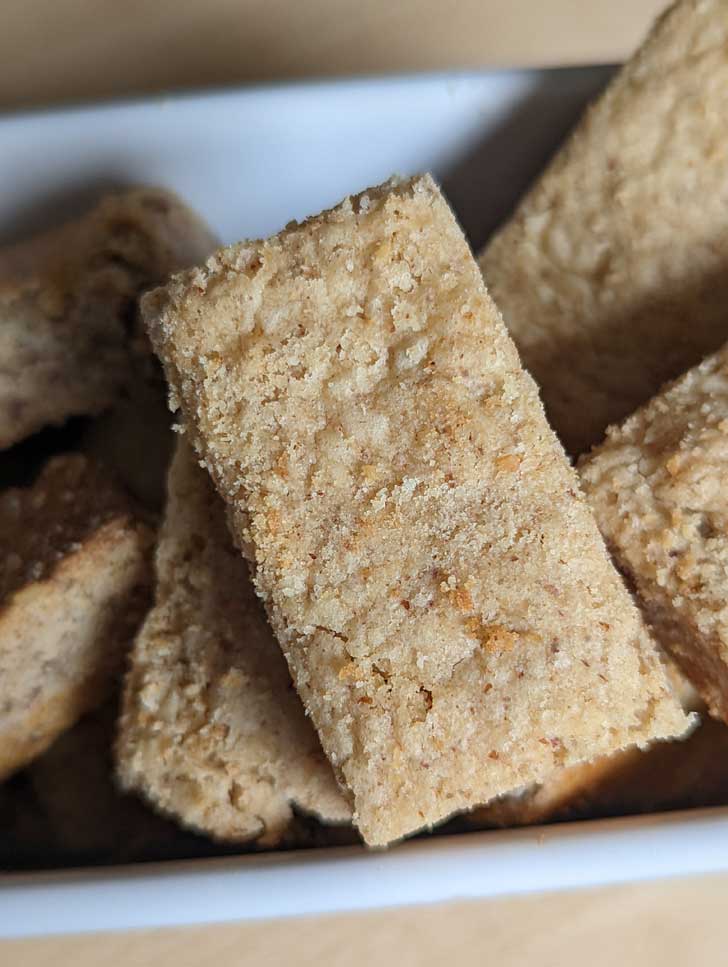 Toasted Pecan Meal
The key to the sandy texture and flavor is using using toasted pecan meal. To make it, you toast ¾ cup of pecan halves for about 8 minutes, let them cool, then grind them in a food processor along with 2 tablespoons of the confectioners' sugar. If you don't want to pull out the processor, you can use a coffee or spice grinder. That's what I did, but I have to admit using the coffee/spice grinder was a bit of a pain too because I had to keep grinding in small little batches and be careful not to turn them into paste. So if you have food processor, it's probably the way to go.
AP Flour or a 1:1 Gluten Free Blend
For the AP flour I used whatever was in my bin, which I think was King Arthur. For the gluten-free blend I used King Arthur's Measure for Measure. At some point I'll test the pecan shortbread again with a different storebought blend or make my own (which I've been doing a lot lately), but for now I can 160 grams of the Measure for Measure worked perfectly.
Make-Ahead Gluten-Free Pecan Shortbread
If you want to make the shortbread ahead of time, you can shape the dough into a square and/or go ahead and put it in the pan, cover tightly and chill until ready to bake.
Small Batch Pecan Shortbread
Butter is expensive right now, but if you make a small batch of pecan shortbread you'll only need half a stick! For a small batch version, halve all the ingredients (inluding that egg yolk -- half an egg yolk is about 9 grams) and press into the bottom of a lined loaf pan. Use the same bake times, but for the first round check the pecan shortbread at 20 minutes.
Recipe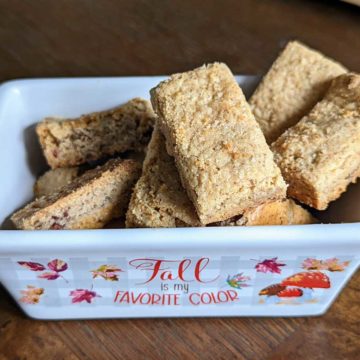 Gluten-Free or Not Pecan Shortbread Bites
Rich and buttery shortbread type cookies made with wheat or gluten-free flour and pecan meal.
Ingredients 
¾

cup

pecan halves, toasted and cooled

(84 grams)

⅔

cup

plus 2 tablespoons confectioners sugar

(95 grams)

1 ¼

cups

all-purpose flour or a 1:1 gluten-free flour such as Measure for Measure

(160 grams)

½

teaspoon

salt plus a pinch but omit pinch if salted

¼

teaspoon

baking powder

1

stick

unsalted butter, softened, but I think salted would be good too

(120 grams)

½

teaspoon

vanilla

1

large

egg yolk
Instructions 
Preheat oven to 325°F. Line a 9 inch square pan with foil and spray lightly with a little bit of cookie spray or grease with a little extra butter. Make sure you put enough foil over the pan so that you can grasp it and lift it.

Pulse toasted pecans with 2 tablespoons of the confectioners' sugar in a food processor until finely ground.

Whisk together flour, salt, and baking powder in a bowl.

Beat the softend stick of butter (114 grams), with the remaining ⅔ cup confectioners' sugar, and vanilla in a bowl with an electric mixer. Add the egg yolk and beat until blended. Add flour and ground-pecan mixture and mix at low speed until just combined.

Press the dough into the lined pan, making the top as flat and as even as possible. I found it easier to empty the dough onto a piece of parchment paper, press it into a large square and just transfer it to the pan.

Bake for 25 minutes at 325 degrees F. Let cool for 5 minutes and reduce heat to 300 degrees F.

Carefully lift foil from the pan and place the square on a flat surface. The square will not be completely cooked at this point. With a chef's knife, score into sticks.

Return the scored shortbread to the oven and bake at 300 for another 25 minutes. Let cool completely, then separate the shortbread pieces. Store in a tin.