There are a lot of recipes for Danish Butter Cookies out there, and while I haven't tried them all, this one is the best so far. It's from Erin Mylroie's cookbook, 101 Greatest Cookies on the Planet, and it's a little different. Like the famous Danish biscuits that come in the blue tin, these cookies bake up very light and buttery. But unlike the store bought cookies (and a lot of the other copycats), these contain egg yolks. So not only does the recipe make delicious butter cookies, it's an excellent way to use egg yolks.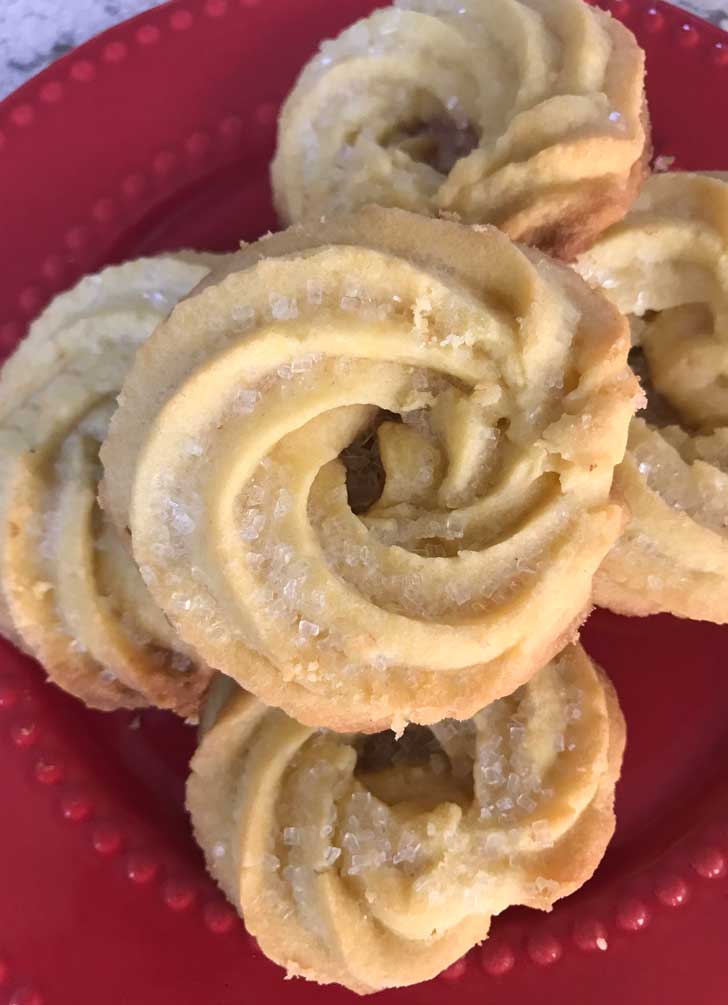 Egg Yolks in Danish Butter Cookies
The egg yolks give the dough a bit of a yellow tint. They also make it easy to pipe and help hold the shape of the beautiful ridged rings. And lastly, they add softness to the texture so you don't need cornstarch or powdered sugar -- just granulated. The flavor of the yolks is also very good with the butter. I'm a little bit sensitive to the flavor of things baked with a lot of yolks, but I do like these cookies.
Star Tip
The other thing that makes these cookies special is their shape. The dough is piped out of a bag fitted with a ½ inch star tip. You can use an Ateco 828 (the churro piping tip), or my personal favorite, the Ateco 826 -- the Cadillac of star tips. Actually, I have no idea if it's better than other star tips, but I seem to use the 826 often. I've also injured myself with it, so be careful! Those open star tips can be sharp.
Pastry Bags
For bags, I recommend good quality disposable ones that you pull from a roll. The Montreal Baking pastry bags (15 inch size) are very sturdy and work well for things with a thick consistency such as cookie dough. Having a pack of sturdy disposable bags at the ready makes any sort of piping job more convenient because you don't have to hunt down your pastry bag or clean it.
A Few Ingredient Notes
You can use any brand of butter, but my cookies tasted better and were prettier when made with Kerrygold. I will update when I test with Plugra or Danish butter, but I do think the European style butters are the way to go here.
The cookies spread less with King Arthur flour. I'm thinking the extra protein in the KA helps with the structure, but it could have had more to do with the butter.
The cookies are not very sweet so don't skip the step of dusting the dough with sparkling or even regular granulated sugar.
Recipe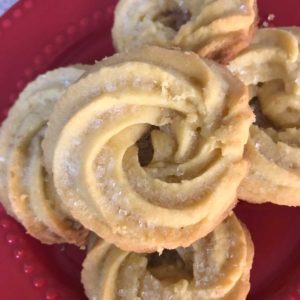 Erin's Danish Butter Cookies
You can make these with a piping bag and ½ inch start tip or just snip off the corner of a freezer bag and pipe in circles.
Ingredients 
1

cup

unsalted butter, best quality, softened

(225 grams)

½

cup

granulated cane sugar

(100 grams)

½

teaspoon

salt

1

tablespoon

vanilla extract

3

large

egg yolks

(54 grams)

2

cups

unbleached all-purpose flour (King Arthur)

(250 to 270 grams) -- I used 270

¼

cup

coarse or sparkling sugar for garnishing
Instructions 
Preheat oven to 350 degrees F. Line two baking sheets with parchment paper or Silpats.

Put a ½ inch wide star tip in a large pastry bag and have it ready to go.

In a mixing bowl, using an electric mixer, beat the butter and sugar together until very light and fluffy. Beat in the salt, vanilla and egg yolks and mix well.

Gradually add the flour, ½ cup at a time, stirring until fully blended and you have a soft dough. Spoon about ⅓ to ½ of it into your pastry bag.

Pipe the dough into circles somewhere around 3 inches in diameter. Sprinkle generously with sparkling sugar.

Bake one sheet at a time for about 12 to 14 minutes or just until the cookies start turning golden brown around the edges. Let cool on baking sheets for 5 minutes before transferring to a wire rack.