Chocolate Sheet Cake with Milk Chocolate Ganache Frosting is from The Complete Cookbook for Young Chefs, 100+ Recipes That You'll Love to Cook And Eat, a new book from America's Test Kitchen. But before I say more about the cake, I'm happy to share the news that America's Test Kitchen has launched a new media brand called www.ATKkids.com.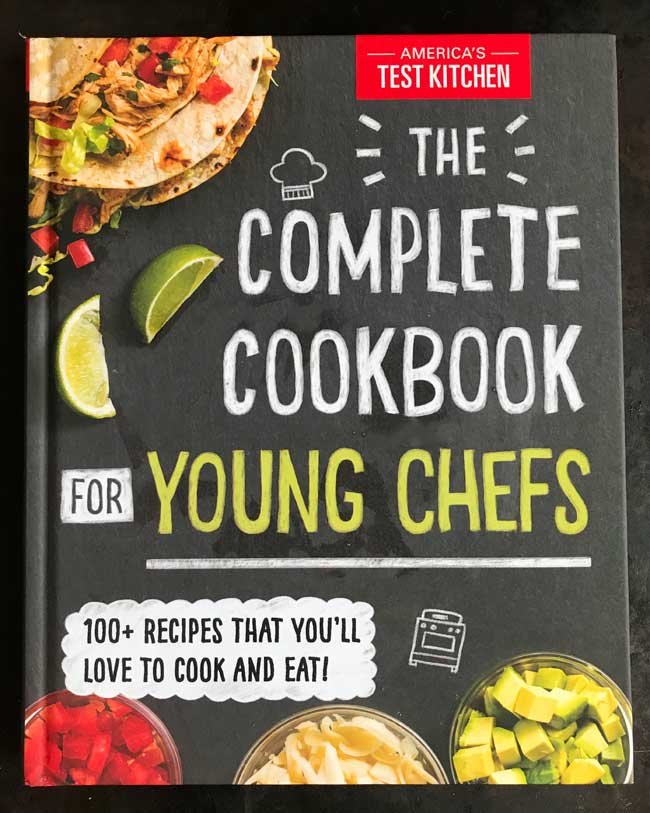 ATK Kids
ATK Kids is designed for cooks ages 8 through 13, and while I'm a wee bit older than the target market, I perused the new site and immediately found 3 recipes I want to make for the family -- Avocado Crema, DIY Hot Cocoa Mix and Sweet and Tangy Glazed Salmon. Update: The book has a lot of other great tips and recipes. I liked it so much I ordered a copy for all my kid relatives. Hopefully they are enjoying it.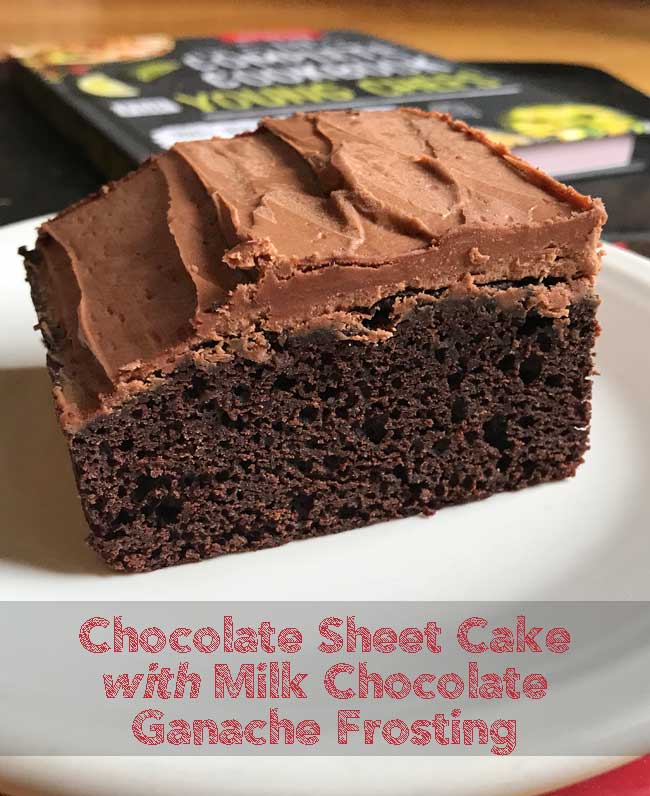 Chocolate Sheet Cake
But back to the cake! It's a rich chocolate sheet cake that along with Dutch process cocoa, calls for 8 oz of melted chocolate chips.  As you can imagine, this is not a light and fluffy cake but rather a deep, dark cake. And then there's the method used to make the cake.  The batter is stirred together by hand in a large saucepan.  While you will need an extra bowl for mixing the dry ingredients, the process of just stirring everything in the saucepan is pretty relaxing and the recipe has a great flow to it (which is probably why I've made it twice now).
Milk Chocolate Ganache Frosting
The milk chocolate ganache frosting is also special because it's made with just three ingredients -- milk chocolate chips, heavy cream and softened butter. I had fun watching the melted chocolate, cream and butter mixture transform from ganache to a fluffy batch of frosting and experimenting with different types of chocolate.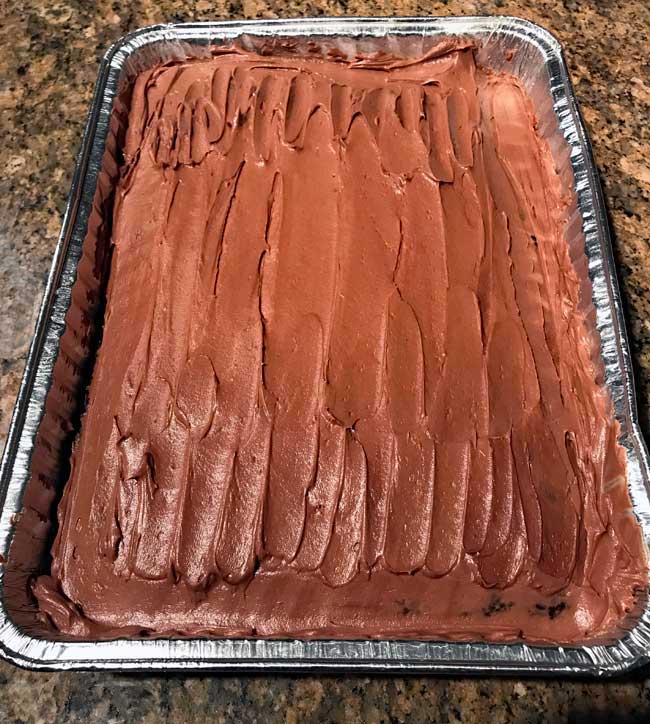 The frosting in the first photo is made with melted milk chocolate chips (as per the book) and the lighter colored frosting in the second photo is made with Lindt milk chocolate. The chocolate chip version was actually a little better in my opinion, proving once again that ATK always has a reason for what ingredients they use. Still, it was fun to experiment.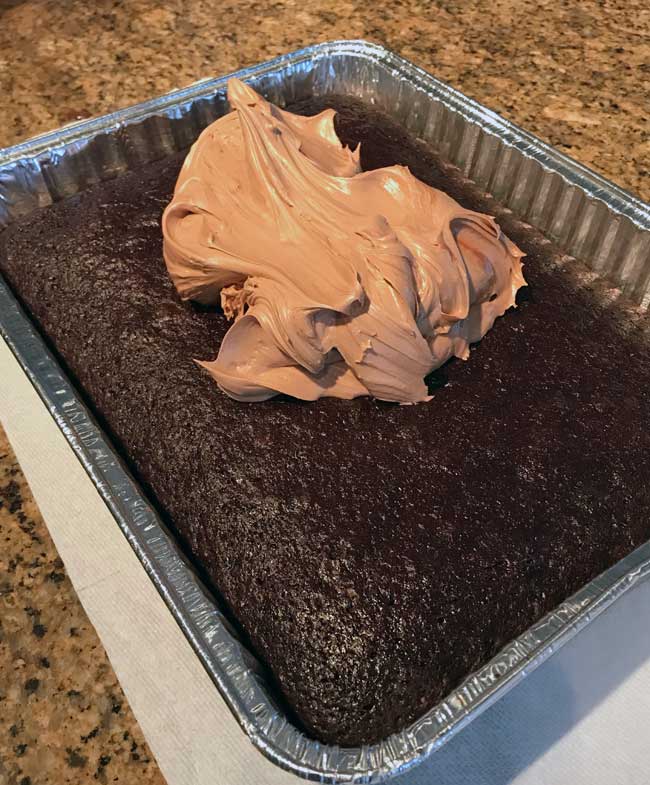 I've made this cake twice now and am looking for a third excuse to make it.  Hmm, it would be nice to know how it fares in a glass pan...
Related Recipes
Recipe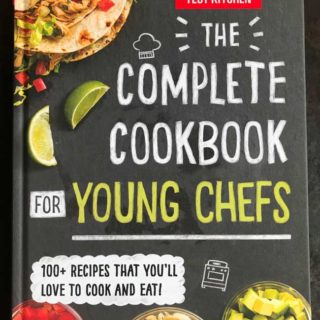 Milk Chocolate Sheet Cake
Milk Chocolate Frosted Sheet Cake Makes about 16 servings From "Complete Cookbook for Young Chefs" by America's Test Kitchen.
Ingredients 
Vegetable oil spray

1 ½

cups

sugar

290 grams

1 ¼

cups

all-purpose flour

175 grams

½

teaspoon

baking soda

½

teaspoon

salt

1 ⅓

cups

bittersweet chocolate chips

1

cup

whole milk

¾

cup

Dutch-processed cocoa powder

⅔

cup

vegetable oil

4

large eggs

1

teaspoon

vanilla extract
Milk Chocolate Frosting
1 ⅓

cups

milk chocolate chips or 8 oz chopped milk chocolate

⅓

cup

heavy cream

8

tablespoons

unsalted butter

cut into eight pieces and softened
Instructions 
To make cake: Adjust oven rack to middle position and heat oven to 325 degrees. Spray a 13-by-9-inch metal baking pan with vegetable oil spray.

In medium bowl, whisk together sugar, flour, baking soda and salt.

In large saucepan, combine chocolate chips, milk and cocoa. Place saucepan over low heat and cook, whisking often, until chocolate chips are melted and mixture is smooth, about 5 minutes.

Remove saucepan from heat and let mixture cool slightly, about 5 minutes.

Add oil, eggs and vanilla to saucepan with chocolate mixture and whisk until smooth, about 30 seconds.

Add flour mixture and whisk until smooth, making sure to scrape corners of saucepan.

Use rubber spatula to scrape batter into greased baking pan and smooth top.

Place baking pan in oven. Bake until toothpick inserted in center comes out with few crumbs attached, 30 to 35 minutes.

Remove baking pan from oven and place on cooling rack. Allow cake to cool completely in pan, about 2 hours.

To make frosting: In a large microwave-safe bowl (I used a Pampered Chef batter bowl for this), combine chocolate and cream. Heat in microwave at 50 percent power for 1 minute. Take out and stir with rubber spatula. Heat in microwave at 50 percent power until melted, 1 to 2 minutes. Remove bowl from microwave.

Add softened butter to chocolate mixture and use whisk to stir and break up large butter pieces. Let sit until butter is fully melted, about 5 minutes. Whisk until completely smooth.

Refrigerate frosting until cooled and thickened, about 1 hour.

Use electric mixer to beat frosting on medium-high speed until frosting is light and fluffy, 30 seconds.

Use icing spatula to spread frosting evenly over cooled cake. Cut cake into pieces and serve.
Notes
Recipe adapted from America's Test Kitchen, the home of Cook's Illustrated and Cook's Country magazines, is also a cookbook publisher, a TV show, an online cooking school and a subscription website. Visit www.americastestkitchen.com.