My personal preference would be double fudge cookies or something with more chocolate and less sugar, but for those of you who like the idea of chocolate sugar cookies, here's a recipe.  My family loved these, noting the chewy texture. And apparently America's Test Kitchen loved them too since they put the recipe in their cookie book.  Adapted from The Perfect Cookie: Your Ultimate Guide to Foolproof Cookies, Brownies & Bars, these are worth a try if you like really sweet, chewy cookies.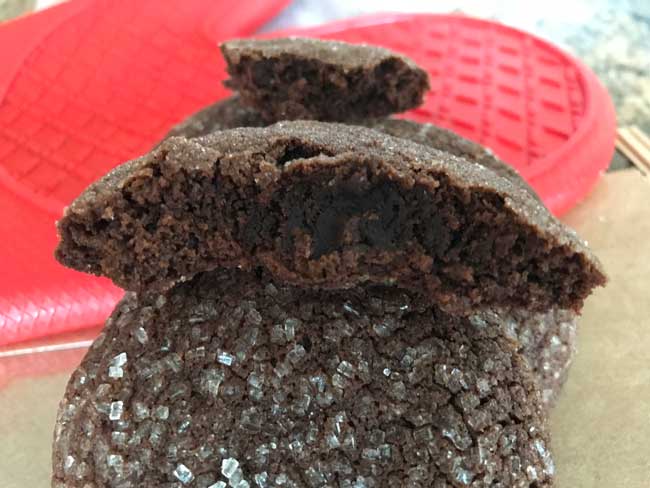 As mentioned, my family thought the Chocolate Sugar Cookies were good as did Arthi at The Pittsburgh Post Gazette. I'm interested to hear what you think, so if you try the recipe let me know! At least they are pretty.
Update:  I feel like I was a little hard on these cookies so I'm going to try them again with a different brand/type of cocoa powder -- maybe Dutched this time.  Even though I used a perfectly good cocoa powder, different brands have different flavor profiles and fat levels.  Cook's Illustrated published a very helpful article about this back in April.
Cook's Country Chocolate Sugar Cookies
Update 2: A reader sent me a link to Cook's Country where the Chocolate Sugar Cookies recipe lists ½ teaspoon of baking soda and ¼ teaspoon of baking powder. This is actually the reverse of what The Post Gazette had. Up until now I've been using ½ teaspoon baking powder and ¼ teaspoon baking soda, which may explain why my cookies didn't have the beautiful crackles. I made them again using the Cook's Country measurements and the cookies are crackly, a bit thinner and perfect. Measurements have been adjusted below.
Recipe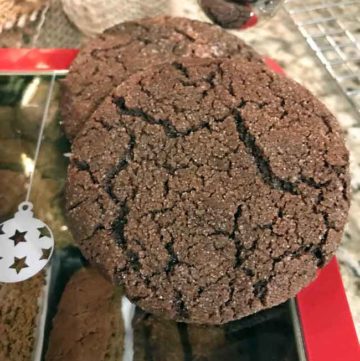 Chocolate Sugar Cookies
Chocolate Sugar Cookies adapted from — "The Perfect Cookie" by America's Test Kitchen (America's Test Kitchen; August 2017)
Ingredients 
14

tablespoons

unsalted butter, melted and cooled

(168 grams)

1 ½

cups

plus 2 tablespoons all-purpose flour

(230 grams)

¾

cup

unsweetened cocoa powder**

¼

teaspoon

baking powder

½

teaspoon

baking soda

½

teaspoon

salt

1 ¾

cups

packed dark brown sugar

(300 grams)

1

tablespoon

vanilla extract

1

large

egg plus 1 large yolk

⅓

cup

granulated sugar for rolling
Instructions 
Preheat the oven to 350 degrees F. Line two baking sheets with parchment paper or just have ready two ungreased baking sheets.

If you haven't already, melt your butter and allow it to cool. The best way to do it is to melt 10 tablespoons of the butter completely, then add the remaining 4 tablespoons of butter and stir until melted.

Whisk flour, cocoa, baking powder, baking soda and salt together in a bowl.

Whisk together brown sugar, vanilla, and melted butter until no lumps remain, scraping down bowl as needed. Whisk in egg and yolk until smooth.

Stir in flour mixture until just combined.

Spread granulated sugar in a shallow bowl; set aside.

Working with 2 tablespoons dough at a time, roll into balls. Then roll in granulated sugar to coat; space dough balls evenly on prepared sheets. Alternatively, you can scoop dough with a large cookie scoop.

Using bottom of dry measuring cup, press each ball until 2 inches in diameter. Evenly sprinkle remaining granulated sugar over cookies.

Bake 1 sheet at a time until cookies are slightly puffy and edges have begun to set (cookies will look raw between cracks and seem undone), about 15 minutes, rotating sheet halfway through baking.

Let cookies cool on sheet for 5 minutes, then transfer to wire rack. Let cookies cool completely.
Notes
I used Ghirardelli natural but I think a Dutch chocolate such as Guittard Cocoa Rough would also be good.