No-Cook Blender Vanilla Ice Cream is a recipe I've been holding on to for about a year. I was making it on repeat last summer and thinking I should share it, but wondering if maybe it was too good to be true. Would it really work for other people? I was surprised I liked it so much since I'm usually a fan of homemade ice cream recipes that begin with a custard. Here, all you do is blend together the ingredients and throw them in the ice cream maker. The result is a super creamy, flavorful vanilla ice cream. It reminds me of a cross between Blue Bell Gold Rim and Dairy Queen Vanilla.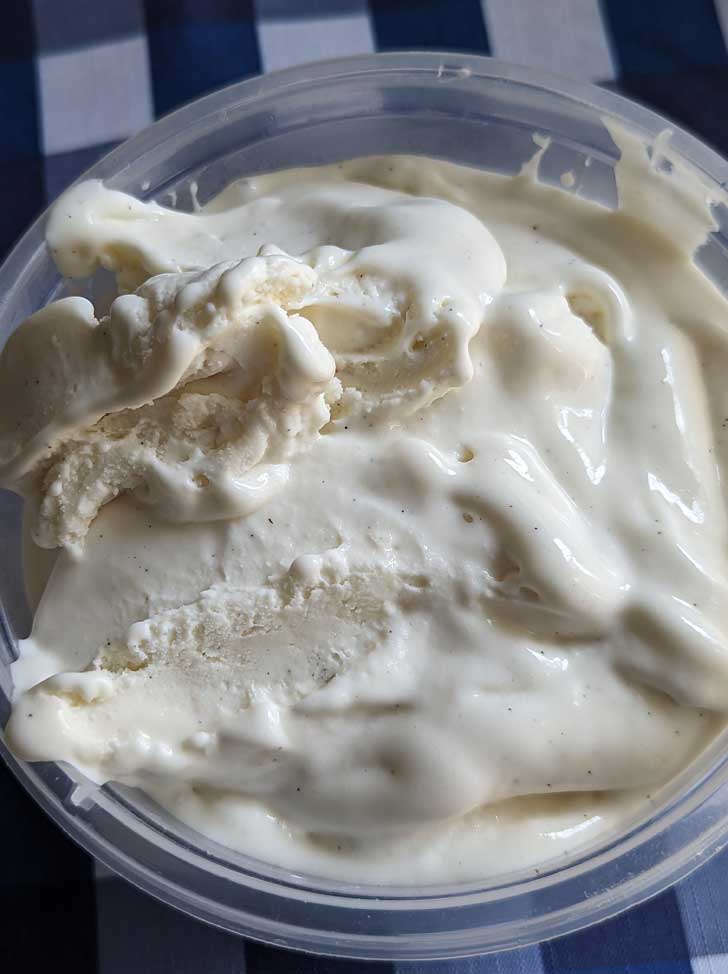 I learned how to make this ice cream from Carl at Dream Scoops. Carl is an ice cream genius, and if you want to know the chemistry of ice cream making he's shared much of his knowledge online and in print. He has several other recipes, but this one is my personal favorite because it's a good base for other flavors. It also motivated me to try making my Rocky Road recipe in a blender, and it worked! So now that recipe is easier too.
Blender Vanilla Ice Cream Notes
There's not much to say about the technique because it's pretty straightforward, but blending times may vary depending on your blender. I'm still using my Instant Pot Ace Blender for everything. I like it a lot and am not sure why they discontinued it, but it's powerful and doesn't take very long to do its job. So the blending times are just a suggestion.
Setting Blender Container on Scale
One thing I do that's not critical but saves on clean-up is I put my whole blender container on the scale, set the tare to zero, then add each ingredient by weight. You may or may not be able to do this depending on your scale and the size of your blender container. The scale I use is this one.
Blender Vanilla Ice Cream Ingredient List
Cane Sugar (just regular sugar that says cane sugar on the bag)
Xanthan Gum
Salt
Whole Milk
Heavy Cream or Whipping Cream
Condensed Milk
Nonfat Dry Milk
Vanilla Bean Past
The ingredients are all easy to find, including the xanthan gum, which is widely available now thanks to the popularity of gluten-free baking. It's pricey, but will last you a long time and is useful for other things. Nonfat dry milk is also handy to have around. As for the vanilla bean paste, you can substitute regular vanilla, but the paste makes the ice cream so much better! I made my last batch with Nielsen Massey and it was the best.
Packaging Homemade Ice Cream
If you try the Blender Vanilla Ice Cream and find yourself making it over and over, treat yourself to some ice cream containers! They're fun to use and you can decorate the cartons or make your own labels. I kept thinking I would, but never got around to it and ended up just labeling my cartons with a Sharpie. The exact cartons I bought are no longer available, but the ones I've linked to seem to be the same with the matte outside and slick coated inside.
Recipe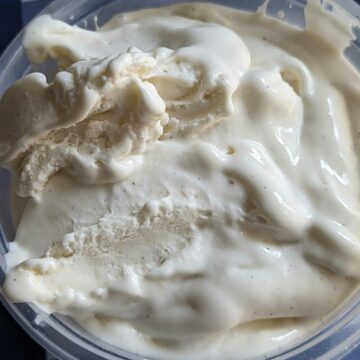 Vanilla Ice Cream
A recipe that does not require a stove.
Ingredients 
¼

cup

sugar

(50 grams)

½

teaspoon

xanthan gum

¼

teaspoon

salt

1 ¾

cups

whole milk

(about 14 oz)

1

cup

heavy whipping cream

(8 oz)

6

tablespoons

condensed milk

(90 grams)

3

tablespoons

nonfat dry milk powder

(25 grams)

½

tablespoon

vanilla bean paste

Nielsen Massey
Instructions 
In a small bowl, mix together the sugar, xanthan gum, salt and milk powder. Set aside.

Put the milk, cream and condensed milk in a blender and blend for 30 seconds. Add the sugar mixture and blend for another 30 seconds. Add the vanilla paste and blend for 30 seconds.

Transfer to the prepared ice cream container and process as per manufacturer's directions. Also, you have the option to chill the mixture before processing. I usually use very cold milk and cream and just go straight from blender to freezer.
Notes
Variation:  For coffee ice cream, warm the milk in a saucepan and add 1 ½ cup of regular or decaf coffee beans.  Let steep for 1 hour.  Drain the beans.  Make recipe as directed using the coffee flavored milk.  For a cheesecake base, reduce the cream by ¼ cup and add ¼ cup soft cream cheese.