Years ago a reader named Lisa sent me the original version this recipe. Lisa got it from a friend, so I named the cookies Lisa's Friend's Oatmeal Chocolate Chip Cookies. Here's a new gluten-free version called Oat Flour Oatmeal Chocolate Chip Cookies, where oat and almond flour stand in for all-purpose. The ingredients are pretty easy to come by and the recipe does not require xanthan gum.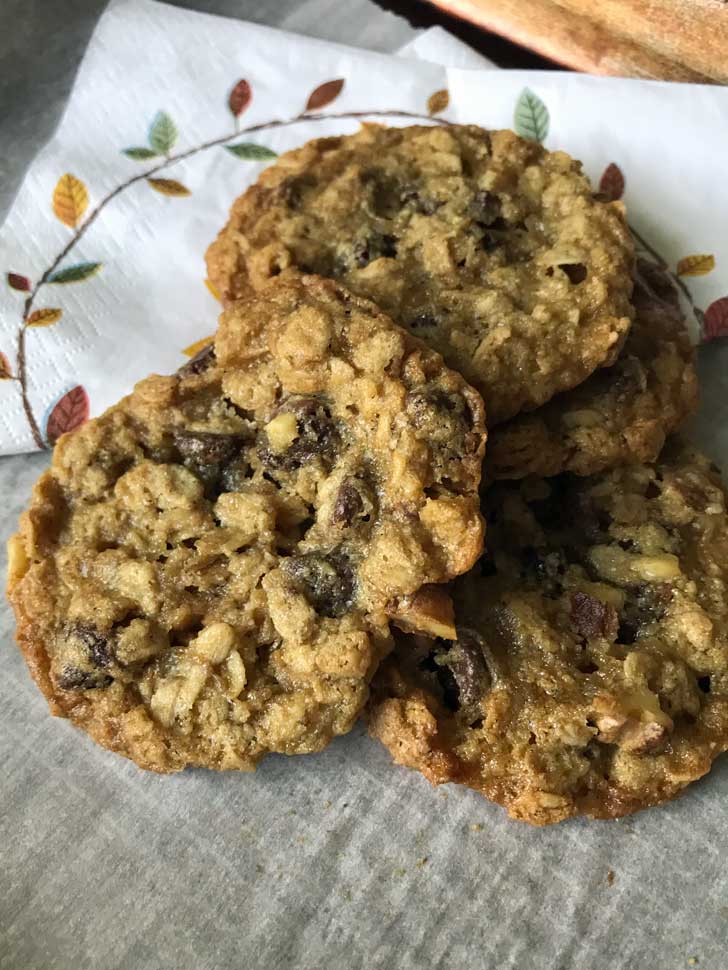 Chewy, Crispy or In-Between
Gluten-Free Oat Flour Oatmeal Chocolate Chip Cookies, which need a catchier title by the way, can be made chewy or crispy or somewhere in between. If baked at 350 and left to cool directly on the parchment, they should be chewy. If baked at 375 and removed from the parchment after about 3 minutes of cooling. For crisper cookies, I always have the best luck baking at a lower temperature for a longer time.
Cinnamon in Oatmeal Chocolate Chip Cookies
Back when I first made Laura Bush's Cowboy Cookies, I realized just how much a tiny bit of cinnamon enhanced chocolate chip oatmeal cookies. Too much and it's overpowering, but just a tad adds some character. I left the cinnamon as optional in these cookies, but it's a very good addition.
Making Your Own Oat Flour
I always wonder where people get their oat flour. Do they actually buy it or just make it by grinding oats in a coffee or spice grinder? I've purchased oat flour a time or two in the past and loved the finely milled texture, but most of the time I just grind whatever oats are around. Both old fashioned oats and quick oats work.
Recipe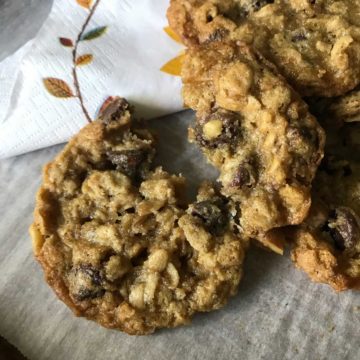 Gluten-Free Thin Oat Flour Oatmeal Chocolate Chip Cookies
Chewy and rich cookies made with oat flour, almond flour and oats.
Ingredients 
¼

cup

oat flour (you can make it in a spice grinder)

(30 grams)

¼

cup

blanched fine almond flour

(20 grams)

¼

teaspoon

baking soda

½

teaspoon

baking powder

¼

teaspoon

salt

⅛

teaspoon

cinnamon

optional

1

stick

unsalted butter, softened

(114 grams)

½

cup

dark brown sugar, firmly packed

(120 grams)

¼

cup

sugar

(50 grams)

1

large

egg

¾

teaspoon

vanilla or vanilla paste

1 ⅓

cups

old fashioned oats

quick might work too

½

cup

chopped walnuts or chopped toasted pecans

⅔

cup

chocolate chips or as many as you like
Instructions 
Preheat oven to 375°F. or 350 F if using convection.

Mix together the oat flour, almond flour, baking soda, baking powder and salt. If using cinnamon, add it too.

In a separate bowl, cream butter and sugars with a handheld mixer. Add the egg and vanilla and beat until blended, then add flour mixture and stir until blended. Add the oats, nuts and chocolate chips.

Using a small cookie scoop, scoop out about 26 to 28 balls of dough. At this point they might not hold together so well, so scoop them onto a foil lined tray (or a couple of plates -- whatever can fit in your refrigerator) and chill for about 30 minutes.

Once chilled, roll the dough balls so they are tighter and more compact. Arrange on baking sheets spacing 2 inches apart and press them flat so they'll bake evenly. Bake for about 10-12 minutes or until they appear browned and set. Time will vary depending on whether you are baking at 375 conventional or 350 convection.

For soft cookies, let them cool on the parchment and then peel off. For crisper cookies, carefully transfer to a wire rack and let cool completely on the rack.
Notes
If you really want crisper cookies and the baking temps above aren't working for you, try lowering the heat to 325 degrees F. and cooking for a longer time.