Thinking I'd expand my gluten-free recipe repertoire, I impulsively purchased a box of "multi-purpose" gluten free flour. Since then I've used it in only one recipe -- these gluten-free fudge brownies. If I never make one more thing with the special flour other than these brownies, it will have been worth it. They are my new favorite.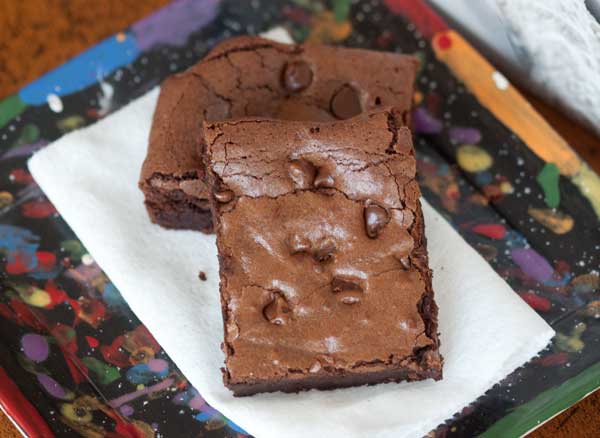 Gluten-Free Fudge Brownies Notes
This recipe is based on one of my older gluten free brownies recipes which calls for unsweetened chocolate. Because I didn't have enough unsweetened chocolate to make the recipe the usual way, I used a mixture of unsweetened chocolate, cocoa powder and chocolate chips. Another improvement was to whip the eggs and sugar. I've been baking tons of different brownie recipes lately and the recipes made with whipped eggs and sugar almost always have the best texture. Also, since the brownies lack gluten I suspect the whipped egg and sugar mixture gives them some support and improves the texture. They're fudgy and light at the same time, yet still sturdy.
I hope you try the recipe. If you do, let me know what you think! I think my next experimental brownies will be paleo. I've seen a lot of good ones that use coconut flour, almond flour and honey.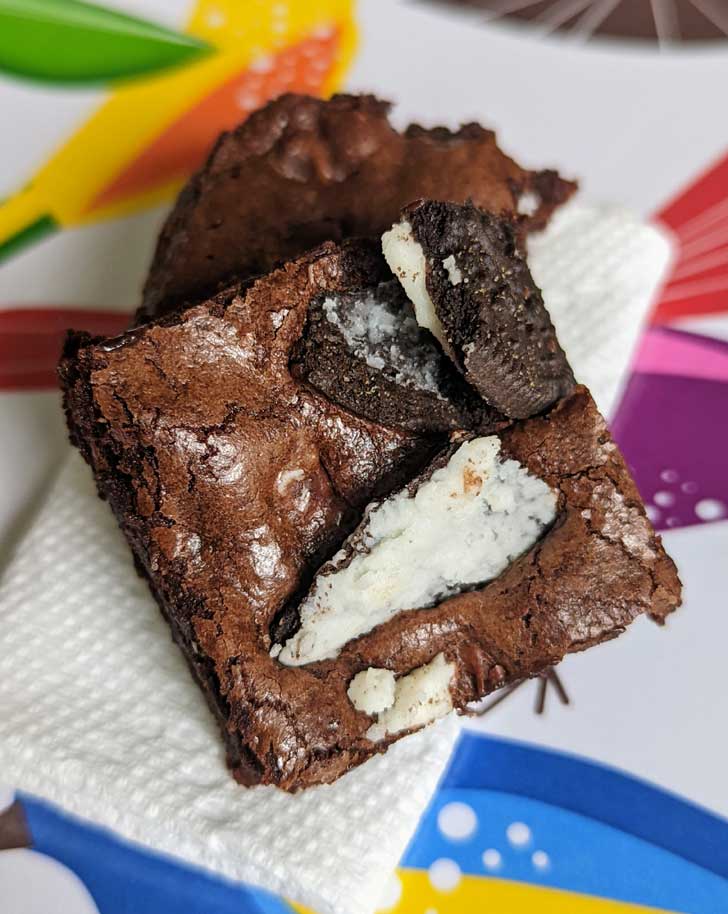 Updates: Gluten-Free Flours & Xanthan Gum
I first made these with King Arthur's Multi-Purpose Gluten-Free Flour, a blend that does not contain xanthan gum. Since then I've used other blends that do contain xanthan gum including Bob's 1:1 and King Arthur's Measure for Measure. To get the correct amount, weigh out 60 grams. The volume amount of ⅓ cup only really applies to King Arthur's Multi-Purpose.
Gluten-Free Oreos Brownies
Now that Oreos come in a gluten-free variety, there's no reason not to throw some broken chocolate sandwich cookies on top before baking! I love the texture of the Oreos with the brownies. This really is still one of my favorite recipes.
Recipe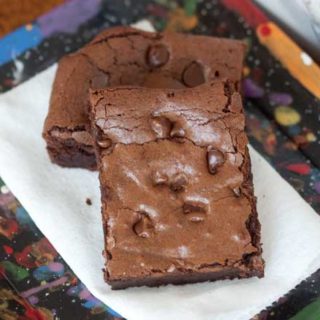 New Favorite Gluten-Free Flour Brownies
Gluten-free flour plus a mixture of whipped eggs and sugar help keep the texture both light and fudgy at the same time. Makes sure to use a really good cocoa powder. I haven't tested with natural yet. So far I've only made these with Rodelle brand Dutch. For the chips I've tested with Guittard semisweet and Nestle's new "dark" chips.
Ingredients 
4

ounces

unsalted butter, cut into chunks

(114 grams)

1 ½

ounces

unsweetened chocolate, chopped

(42 grams)

4 ½

tablespoons

unsweetened cocoa powder

(25 grams) -- Best to weigh, since cocoa varies. Dutch usually weighs a little more.

3

tablespoons

dark chocolate chips (or semisweet Guittard)

(28 grams or 1 ounce)

1

cup

ultra-fine or granulated sugar

(7 oz/200 grams)

2

large

eggs

¼

teaspoon

salt

1

teaspoon

vanilla extract

60

grams

King Arthur gluten-free flour (see note about brands)

(⅓ cup or ⅓ cup plus 2 T based on brand)

Another 3 tablespoons or so dark chocolate chips
Instructions 
Preheat oven to 350 degrees F. Line the inside of an 8 inch square metal pan with nonstick foil.

Melt the butter in a saucepan set over medium heat. When it is about halfway melted, add the chocolate and reduce heat to low. Stir until chocolate melts, then stir in the cocoa powder and the 3 tablespoons (28 grams) of chocolate chips. Stir in only ½ cup of the sugar, then remove from heat.

Put the eggs in the bowl of a stand mixer and beat with the whisk attachment for about a minute. With mixer going, add remaining ½ cup sugar and continue beating for about 5 minutes or until mixture is pale and thick and falls off the whisk attachment in ribbons. Beat in the salt and vanilla.

Fold about ⅓ cup of the egg mixture into the warm chocolate mixture, then fold the chocolate mixture back into the bowl with the egg mixture. Stir in the gluten free flour.

Spread batter in pan and sprinkle chocolate chips on top.

Bake for 25-27 minutes or until top appears set. Remove from oven and let cool completely. Lift from pan and cut into squares.
Notes
I've also made these with Bob's Red Mill All-Purpose Gluten Free Blend. That flour is a little fluffier and requires about ⅓ cup plus 3 tablespoons to make the requisite 60 grams (2.1 oz by weight).  Since posting this I've also tested with King Arthur's Measure for Measure, which also requires more than ⅓ cup to hit 60 grams.  For best results, weigh the flour.